---
Summary:
Utapao Rayong-Pattaya International, which is meant to supplement two existing Bangkok airports in handling tourist arrivals, is moving into development mode;
Most of the contract bidders are Thai companies, but the airport's biggest market is currently China and that could deliver further foreign interest;
Utapao will ultimately take its place as a 'Bangkok' airport, but one dedicated to tourists as it serves nearby Pattaya.
---
In total, 24 Thai firms and 18 foreign firms had previously expressed interest in submitting bids for the project, which is a PPP to boost capacity from three million ppa to 15mppa and is expected to be completed in 2021. Ultimately, the government envisages the airport will be able to handle 60 million ppa but that certainly seems a long way down the road just now.
Charoen Pokphand Group, Thai AirAsia's parent company Asia Aviation and the BBS consortium comprising Sino-Thai Engineering and Construction Plc, Bangkok Airways, and BTS Group Holdings are reported to be among those that have submitted bids.
The EEC scheme's aviation objectives aim to transform Thailand into an ASEAN aviation hub. The development complements that which will take place at the two main Bangkok airports, Suvarnabhumi and Don Mueang, which was highlighted in a The Blue Swan Daily article last month.
https://corporatetravelcommunity.com/bangkoks-second-terminal-gets-go-ahead-considerable-investment-at-both-the-citys-main-airports/
Our previous article questioned if there was still a role for Don Mueang and concluded that there was. Equally, there will be a role for Utapao, which is formally part of the Bangkok airports system despite its distance from the capital (90 miles), and which will eventually be connected by high-speed rail to the centre of Bangkok and to the other two airports.
Utapao's role is underwritten by tourism, specifically beach tourism as it is situated close to the traditional vacation centre of Pattaya, one of the first to be established there, still statistically the second most popular Thai destination, the most popular beach resort, and in which the hotel rooms' consolidator Trivago offers no less than 3,162 hotels to choose from.
CHART - While it has dropped back to +2.5% in the first two months of 2019 international tourism growth to Thailand has been fairly consistent at been 10% and 20% since 2010 in all years other than 2014 when it fell to -6.5% mainly on account of the coup d'état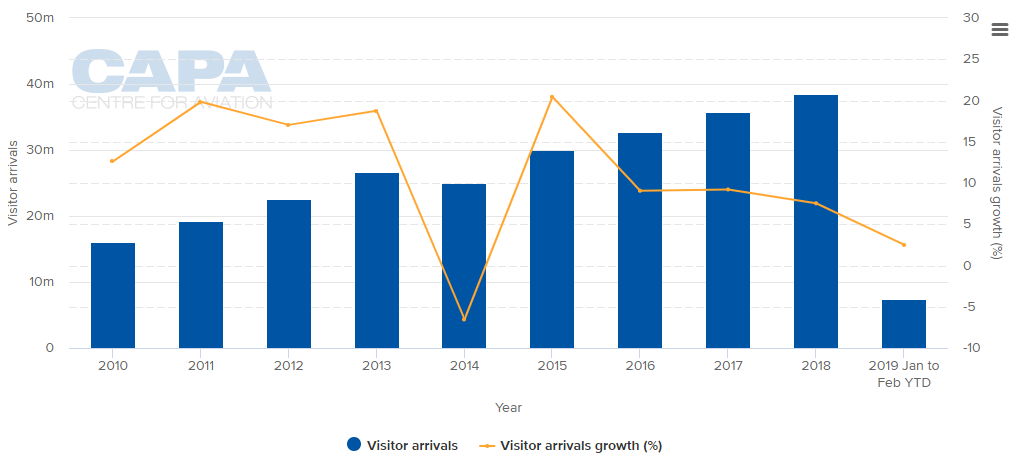 Source: CAPA - Centre for Aviation and Thailand's Ministry of Tourism and Sports
While official traffic figures are not available, unofficial sources count around 1.5 million passengers at Utapao Rayong-Pattaya International in 2017, rising to two million in 2018. Statistics on seat capacity are available though, and they show that there was dramatic growth in 2015 and 2016 of 138% and 312% respectively, since when it has settled in the 37% to 42% region, a still significant annual rate of growth
CHART – To say the growth in system capacity at Utapao Rayong-Pattaya International airport has been significant during the second half of the decade would be an understatement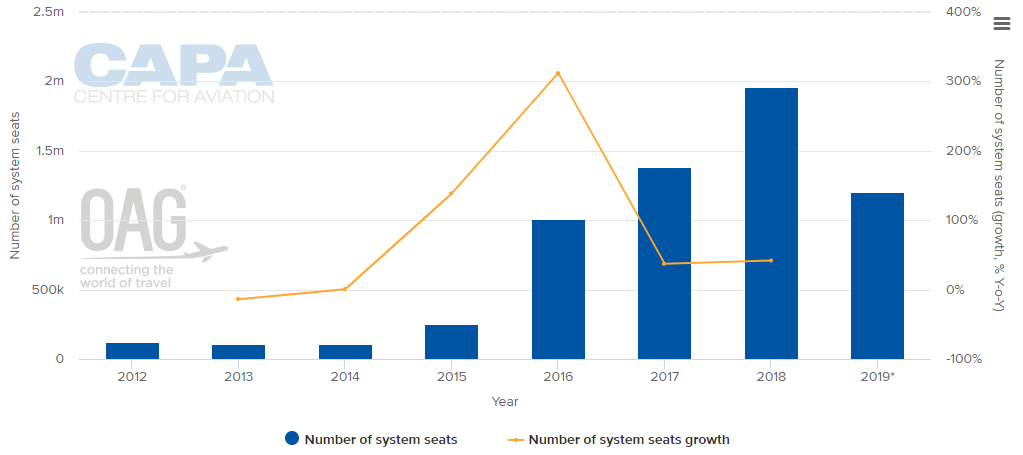 Source: CAPA - Centre for Aviation and OAG (NOTE: * The values for this year are at least partly predictive up to 6 months from 01-Apr-2019 and may be subject to change)
Looking at current schedules for this week, the split between international and domestic seats is in the ratio 45:55%, and local (i.e. Thai) carriers have 72% of capacity.
About two-thirds of international capacity is to and from North Asia (China is the biggest individual country with almost half of the capacity itself, and Southeast Asia (Kuala Lumpur is the city with most capacity) with the other third to and from Eastern and Central Europe.
So far, Western Europe has made no impact at all, even with charters, which make up 15% of all capacity. Indeed, 83% of seats are on flights of between one and four hours.
MAP - Utapao Rayong-Pattaya International airport is located in Ban Chang, the westernmost district (amphoe) of Rayong Province in eastern Thailand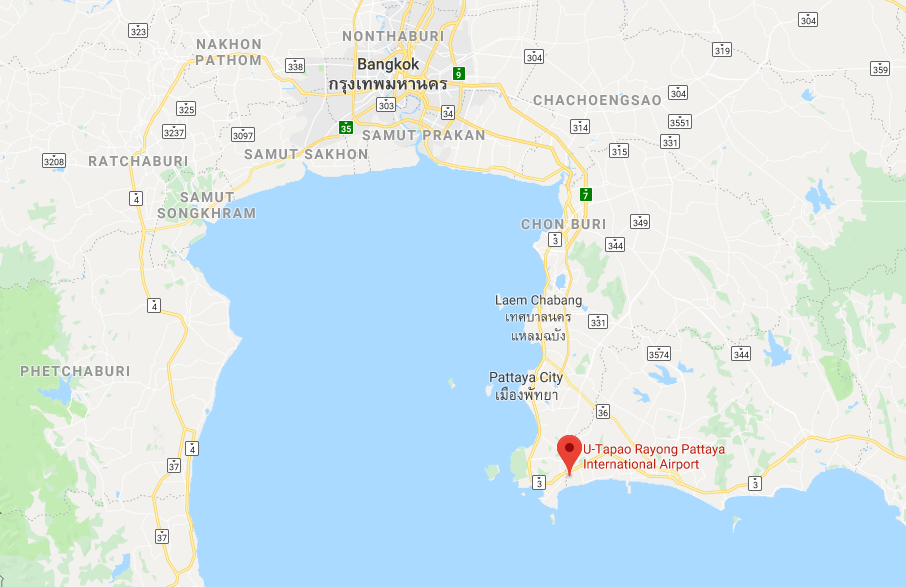 Source: Google Maps
With a runway in excess of 3,000 metres that might come as a surprise because it should be able to accommodate equipment appropriate to the longest flights and there is still a strong Western European market for this resort area.
However, it appears many travellers are opting to take advantage of cheaper flight options and transit over airports such as Dubai, Istanbul and even those in the CIS, into the main Bangkok airports. The same applies to travellers from Australia. But in the greater scheme of things both countries supply only a minimal percentage of overseas tourists to Thailand. In 2018 it was 2.8% and 2.5% respectively.
Concerning the redevelopment of the airport, that will take the form of a new terminal (which is already open), runway extension, an industrial estate and MRO facilities (AirAsia will invest USD150 million into a facility) according to the CAPA Airport Construction Database.