---
Summary:
A second terminal will be built at Bangkok's Suvarnabhumi International Airport within a USD4.26 billion master plan;
The master plan will also see other terminal developments and another runway at the airport, the main gateway to Thailand;
But construction also continues apace at Don Mueang Airport, which is enjoying a second lease of life.
---
The airport opened in 2006 to replace Don Mueang Airport and become the main international gateway to Bangkok. Don Mueang closed but capacity problems at Suvarnabhumi meant that it had to be reopened and, unusually in situations like this, Don Mueang, which caters mainly to low-cost airlines, has been growing faster than Suvarnabhumi in terms of passenger numbers.
Indeed at one stage it looked as if it would catch and overtake it. The variation is evident in the two highest growth years at each airport since 2009 – 175% and 41% at Don Mueang and just 14% and 12% at Suvarnabhumi, though it should be noted that they growing at approximately the same level momentarily.
CHART – Suvarnabhumi International airport (top) was solution to Bangkok's capacity constraints, but it is ultimately the reopening of Don Mueang airport (bottom) to cater for growing LCC demand where the strongest growth has been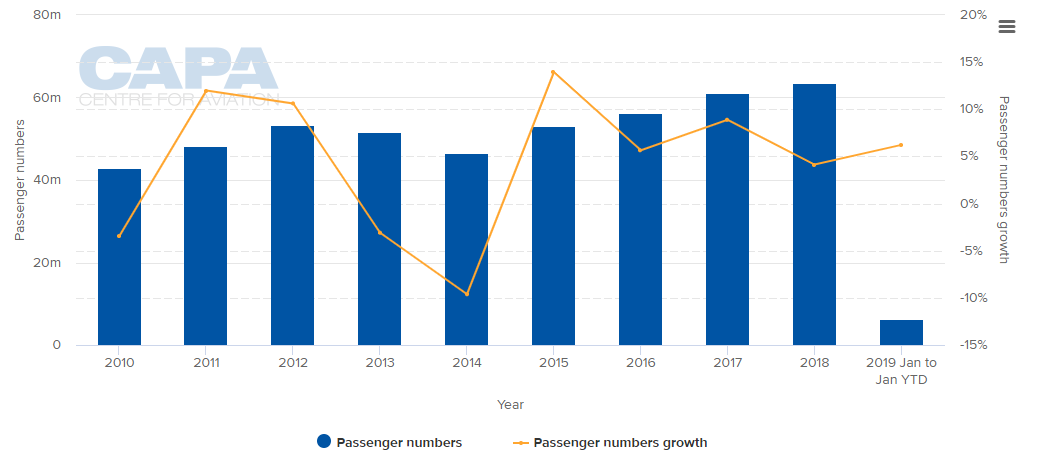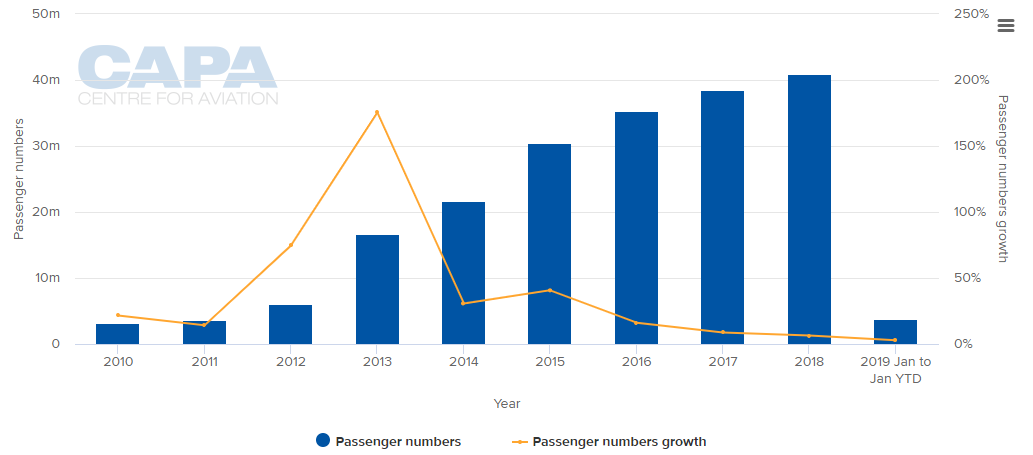 Source: CAPA - Centre for Aviation and Airports of Thailand PLC
The charts below details how the allocation of capacity differs significantly between the airports. It is immediately clear that while Suvarnabhumi has been impacted by budget airlines it is predominantly a full-service airport while Don Mueang is almost exclusively supporting the low-cost sector.
CHART - Suvarnabhumi International airport (top) is predominantly a full-service airport while Don Mueang airport (bottom) is almost exclusively supporting the low-cost sector seat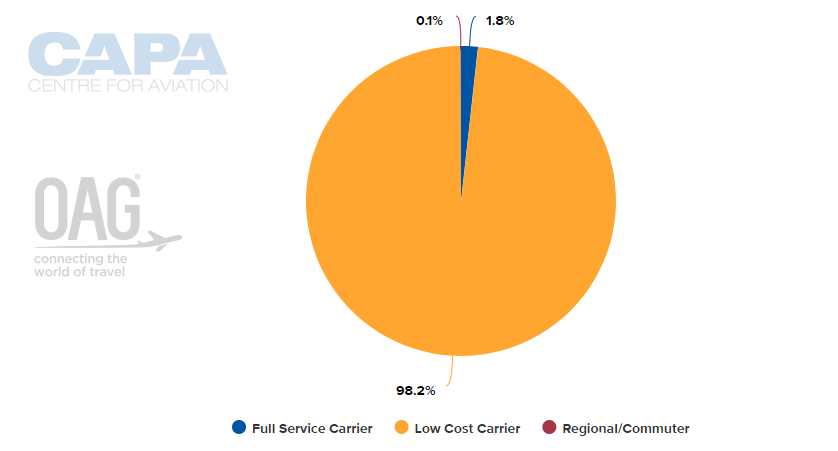 Source: CAPA - Centre for Aviation and OAG
The International Air Transport Association (IATA) has always taken the line that in the case of major cities like Bangkok, as far as possible network airline activity of the sort undertaken by its member airlines and associated alliances should be retained at one location rather than spread out at two or more. Indeed that has been its stated position recently concerning the cancellation of the New Mexico City International Airport project and its replacement with ad hoc expansion of several existing facilities and the creation of a new airport out of a military base.
And that was notably IATA's position in 2006 and immediately thereafter when it became clear that inadequate planning meant that Suvarnabhumi International opened at almost full capacity with no option to grow further within those parameters. Despite those difficulties IATA was adamant that further expansion of Suvarnabhumi International was the pressing issue rather than reopening Don Mueang. Pragmatically speaking, it's a good thing they did reopen it.
AoT intends to invest THB140 billion (USD4.26 billion) to expand Suvarnabhumi International under the aforementioned master plan. A new satellite terminal will be constructed, as well as a third terminal and fourth runway (the third remains at the planning stage), though as the second terminal has taken 13 years to gain approval, the realistic timescales for this further infrastructure is anyone's guess. The expanded airport is expected to handle up to 150 million passengers per annum by 2030.
Bearing in mind those initial capacity problems one might argue that runways are more important than terminals. A glance at the chart below shows that the 24/7/365 airport is saturated, with arriving and departing seat capacity spread over the full 24-hour spectrum with hardly any respite.
CHART -Suvarnabhumi International airport sees stable demand throughout the average day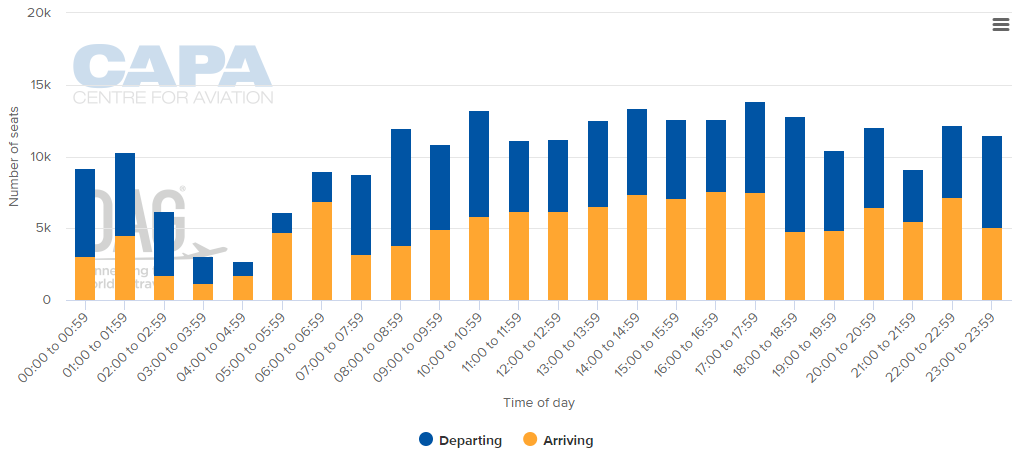 Source: CAPA - Centre for Aviation and OAG (data: 01-Mar-2019)
With these development plans the question again arises… is there still a role for Don Mueang? Almost certainly. This infrastructure will not appear overnight and tourism demands alone mean there will always be a need for the budget airlines that keep Don Mueang going and which are surplus to requirements at Suvarnabhumi International.
According to the CAPA Airport Construction Database there is close to USD1 billion earmarked for infrastructure Cap Ex until 2025 at Don Mueang including demolition of a disused existing terminal building and replacement by a larger Terminal 3 which will presumably be built with budget airport needs in mind.
Whatever IATA might think it is highly unlikely AoT would make the mistake of closing Don Mueang again and in any case it is already part of the high-speed rail scheme which would connect both the airports with central Bangkok and with the Utapao Rayong-Pattaya airport well to the south which serves vacation resorts and which is now also regarded as a Bangkok airport.