Now, Delta believes that reaching 200 daily departures for its operations in Boston during the next couple of years is optimal, and is singling the airport out as one of the top performers in its system.
Back in 2017 Boston was one of three "focus cities" for Delta, joining Raleigh-Durham International airport and the airline's former hub in Cincinnati.
Now Delta has elevated Boston to a hub. Company CEO Ed Bastian recently explained to analysts and investors that "to the extent that we're beginning to connect…more and more traffic over Boston, we would consider it a hub". He explained that during 2019 Delta is connecting approximately 1,000 passengers per day from the US to Europe over Boston.
Ahead of JetBlue's announcement that it would launch trans-Atlantic services to London from its second largest base in Boston sometime in 2021, Delta and its JV partner Virgin Atlantic declared plans to launch flights from Boston to London Gatwick in the US summer of 2020. JetBlue has not stated which London area airport it intends to serve, but once the new Gatwick service starts, Delta and Virgin Atlantic will serve London's two largest airports.
Delta's other service to Europe from Boston includes flights to Paris alongside its JV partner Air France, service to Amsterdam (a hub for JV partner KLM), and a codeshare on Alitalia's flights to Rome. Delta also operates seasonal service from Boston to Edinburgh and Lisbon.
Data from CAPA - Centre for Aviation and OAG from mid-Jul-2019 show that Delta and its partners have a combined 34.6% seat share from Boston to Western Europe.
Earlier in 2019 Delta stated that it was planning to offer more than 150 daily departures from Boston by Mar-2020, which would be a 25% increase year-on-year.
During a discussion about the airline's 2Q2019 earnings performance Delta's executive singled out Boston, noting that the airport led its system revenue performance, with growth of 25% year-on-year and a 10% improvement in unit revenues.
Delta president Glen Hauenstein remarked that the airline was planning to bolster its daily departures from Boston to 200 during the next 18 to 24 months. That level of service will result in a "very sustainable and very profitable franchise for us", he said.
CHART - As of mid-Jul-2019 JetBlue represented 26.8% of Boston's weekly departing frequencies and Delta's share was 20.6%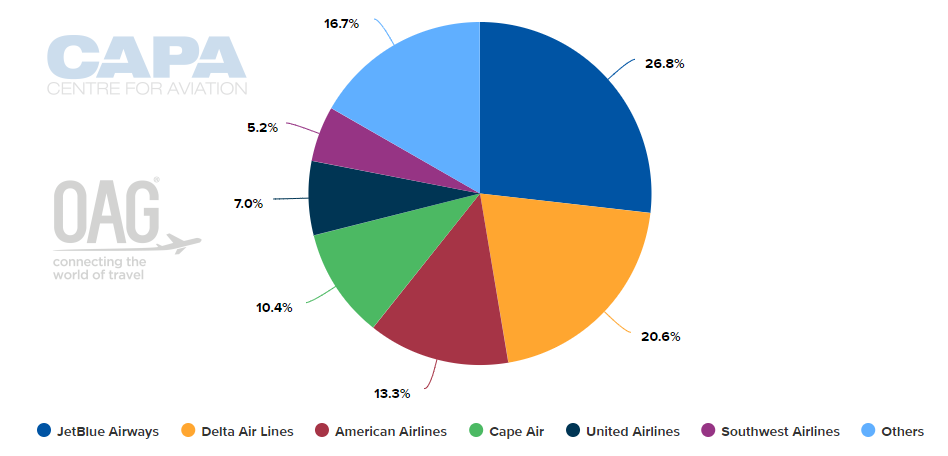 Source: CAPA - Centre for Aviation and OAG (data: w/c 22-Jul-2019)
JetBlue also has a goal of reaching 200 daily departures from Boston, and with Delta's declaration of reaching the same level of operations, the growing competition between the two airlines will only intensify.
It will be interesting to see how the competition unfolds in Boston. Both Delta and JetBlue are strong brands within the US airline industry and are generally well regarded by customers.
Obviously JetBlue has no intention of backing down from the growing competition in Boston, especially given the investments it has made in building up its corporate base in the market. But Delta brings considerable heft to the market, and will use its scale to up the competition to secure corporate contracts.