Tourism Ireland CEO Niall Gibbons expressed disappointment in the decision. He said direct air services into Northern Ireland are critical to achieving growth in inbound tourism, adding: "We continue to promote Northern Ireland vigorously around the world, positioning Northern Ireland as a year round, 'must visit' destination, to ensure that the contribution of overseas tourism to the local economy continues to expand".
Since the Good Friday Agreement in 1998 which was intended to bring to an end over 30 years of sectarian warfare, tourist visits to the province have increased along with investment including that in the leisure sector such as the Titanic Quarter, although popular tourist sites still include places made famous by 'The Troubles.'
That, together with a much-improved economy, has meant that in 2018, there were an estimated 2.8 million overnight trips to Northern Ireland by external visitors with estimated expenditure, when added to domestic trips, of GBP968 million. An estimated 2.2 million hotel room nights were sold with hotel room occupancy estimated at 70%. 128 cruise ships docked at Northern Ireland ports in 2018, up from just 62 in 2013.
When all sources are considered together, the statistics point towards an upward trend in overall tourism activity in Northern Ireland between 2013 and 2018. The headline measures of trips and spend are the highest estimates on record. So one can understand the decision by the Republic of Ireland– based airlines Ryanair, and Aer Lingus, to increase their presence in the province, previously.
CHART - Passenger traffic at Belfast International airport (top) has been rising since 2014 and so far in 2019 is one percentage point higher than in the whole of 2018 at +8.4%; At the more central George Best airport (bottom) traffic has just started to grow again this year following three years of small losses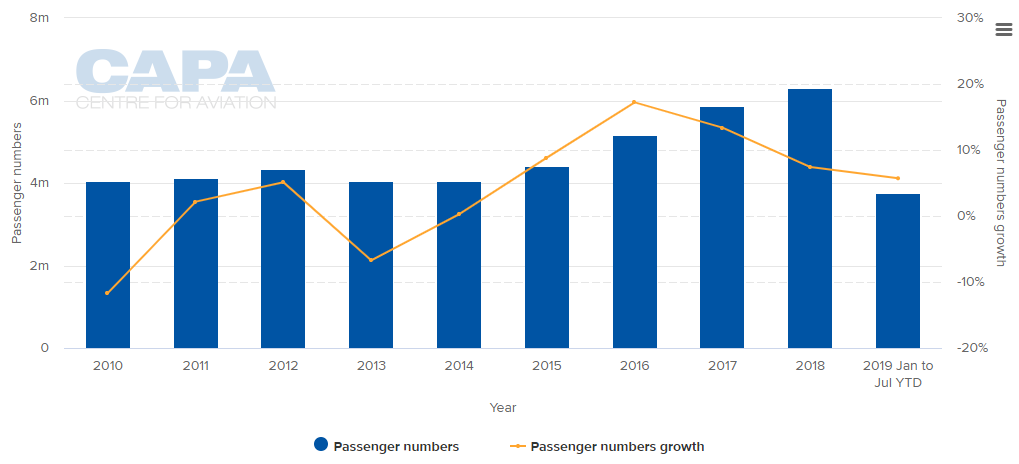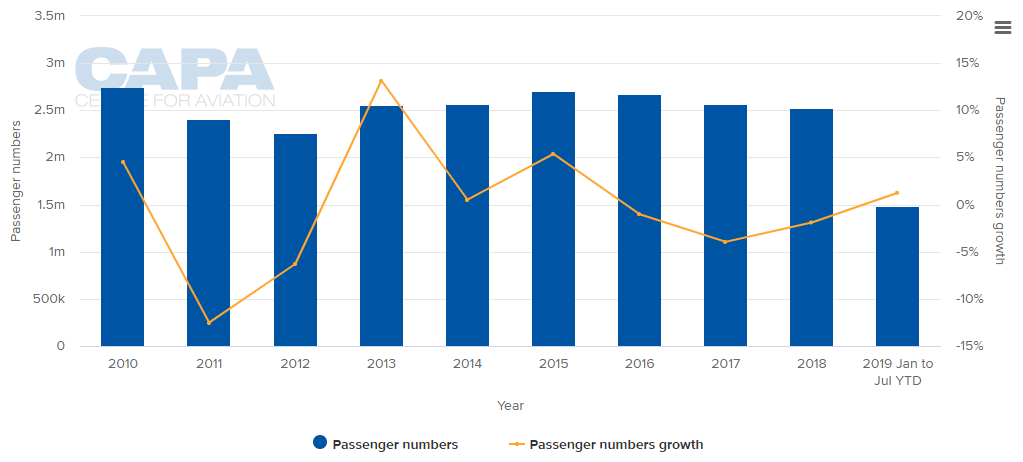 Source: CAPA - Centre for Aviation and UK Civil Aviation Authority
In Ryanair's case, it's withdrawal of routes at Belfast International is at least not a base closure – yet – although that could follow. It is closing routes to Berlin, Manchester and Lanzarote, having already dropped routes to Poland and Malta, offering "a commercial review", "a weak UK market" and "the UK's Air Passenger Duty" (APD) as a reason.
APD is expressly not payable on the few long-haul routes out of Northern Ireland but it is on short-haul ones, which disadvantages its airports compared to those down the road in Dublin and many people still travel there to commence their air journey.
But separately Ryanair had already said that numerous bases would see route cutbacks or be closed altogether as a result of late deliveries of 30 of the Boeing 737 MAX aircraft it has on order.
That is the trouble with Ryanair. It is often difficult to identify a specific reason(s) for its decisions. Consequently, airport and tourism authorities can be working blind trying to figure out if they should attempt to attract alternative carriers, in the knowledge that if they do, and if Ryanair then decides to re-instigate the routes, it can price the competition out of the airport altogether. Currently, Ryanair has 10.1% of seat capacity on 13.4% of movements.
In Aer Lingus's case it is withdrawing routes from the City airport to Malaga and Faro in summer 2020, again following a "commercial review" while it underlined its commitment to the London Heathrow route. Currently Aer Lingus has 13.4% of seats there, on 7.7% of movements.
One wonders though if there are other, underlying reasons for these cuts, and if they presage other, deeper ones. Firstly there is the 'Brexit' situation, which will impact Northern Ireland more so than any other UK region irrespective of how it plays out in the end.
The 'backstop', which is an insurance clause in the UK's Brexit 'deal' provides for EU rules to continue in a "transition period" until 31-Dec-2020. But after that it would be necessary to put up checkpoints along the 310-mile border between Northern Ireland and the Republic, creating a 'hard border' (although some politicians dispute that checkpoints would be needed). As well as making transactions and travel more difficult it could impact on the peace process.
The backstop could be thrown out altogether as with it in place the UK would become a 'colony' of the EU. Should that happen the 'hard border' could be in place on 01-Nov-2019.
Already, terrorism has been increasing again this year with numerous pipe bombs being placed, vehicle explosions, attempts made to murder police officers and a journalist shot dead during rioting in Apr-2019. These are headlines the tourist authorities dread, along with the airlines.
Without understanding the real reasons for the airline cuts we may assume the airlines have simply re-evaluated their Northern Ireland investments and the upshot might be much more extensive air service cancellations than we have already seen.