Based on a survey of travel and transportation executives IBM believes it has developed an accurate vision for the industry's cognitive future and has a set of recommendations as a path for realising that vision. It claims that after aligning cognitive priorities with core strategic objectives, travel companies can easily embrace their organisations' data complexities to generate cognitive insights, deliver those insights to frontline staff and apply lessons from cognitive-ready travel leaders.
These actions will ultimately help travel companies create cognitive programs that improve the travel experience, streamline travel operations – or in an ideal scenario do both.
The study 'Beyond bots and robots – exploring the unrealized potential of cognitive computing in the travel industry' found what IBM describes as an industry "just starting to explore this transformational technology" rather than "blazing a trail in the travel industry". While initial exploration of chat-bots and robots is taking place, neither have matured enough to advance crucial strategies in the industry or demonstrate the technology's full capabilities, according to IBM, but can provide the necessary experience with cognitive computing to provide useful lessons to others.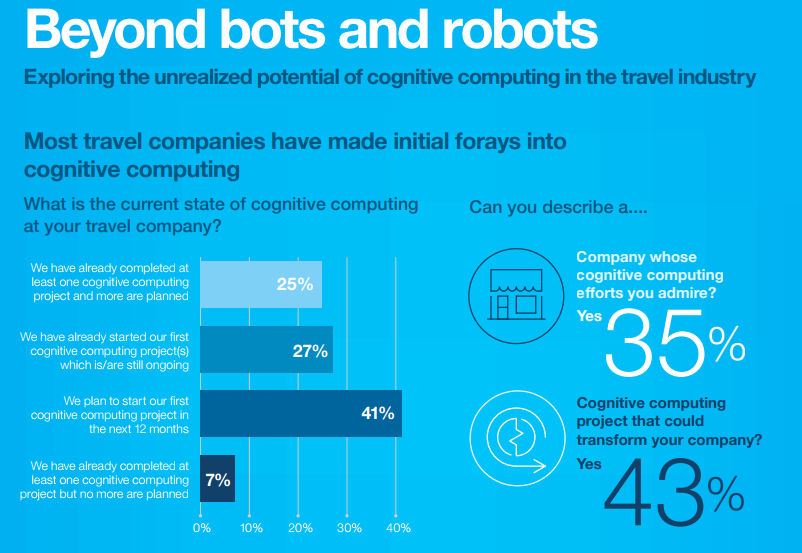 ENLARGE INFOGRAPHIC
"For now, most of the industry is in a wait-and-see mode, with just a few players conducting fairly small-scale, low-risk cognitive projects," it says. "These companies tend to view cognitive investments as part of a larger strategic agenda. They are also more likely to focus time and energy on both the solution design and data quality associated with their cognitive plans."
The study warns travel executives to ignore cognitive computing at their peril with the potential for cognitive computing now well understood in the travel industry. But while it would seem logical to apply cognitive computing to every aspect of their businesses: for example from inspiration and marketing, to shopping and distribution, to provisioning of services and post-trip traveller engagement, most companies are a long way from realising these lofty ambitions.
IBM says cognitive computing has the power to accelerate much-needed industry transformation. The promised industry transformation would bring travel providers closer to their customers by exploiting the mysteries locked away in big data. Simultaneously, it would transform current complex operational and business-decision-support mechanisms into more automated, efficient systems, run on and improved by artificial intelligence.
As an example, Korean Air is proving these assertions by applying cognitive computing solutions to its complex, high-cost but strategically vital maintenance, repair and overhaul (MRO) operation. "The new system amplifies human expertise by detecting diagnostic clues in unstructured maintenance data," says the IBM report.
The company argues that cognitive tools could help travel providers understand and anticipate customer wants and needs, and assist in providing enhanced, highly personalized offerings for individuals and market segments. To execute on this vision of traveller personalisation, implement an effective cognitive operational improvement program or advance any other set of strategic cognitive-enabled objectives, IBM says travel companies must erect cognitive building blocks.
More specifically, travel companies should:
Delight in data complexity – recognize that data is the key to cognitive success by embracing all sources of data and incorporating them into cognitive platforms;
Drive cognitive program excellence – managing a successful cognitive transformation is similar to managing other large-scale enterprise changes;
Deliver actionable insights – cognitive projects and the larger transformation programmes they help create are designed to turn raw, unstructured and seemingly unrelated data into insight. But to make that insight useful, it must also be delivered to end users – both employees and customers – in a timely and relevant manner.
Not all travel companies will want to lead the way in cognitive computing; some will prefer to adopt a wait-and-see approach to this rapidly evolving technology, only implementing proven solutions thoroughly tested by other companies. According to the report, striking the right balance between speed of cognitive adoption and development, and use of unique cognitive solutions will define the strategic path for most travel companies.
DOWNLOAD the full 18-page 'Beyond bots and robots' report from IBM Institute for Business value.