Passengers:
9 million, +1.7% year-on-year;
Scheduled passengers: 4.7 million, +1.8%;
Passengers (12 months to Jun-2017): 59.3 million, +1.5%.
Key statistics:
Aircraft movements: 55,334: +0.8%;
Revenue passenger kilometres (RPKs): 5.46 billion, +0.4%;
Available seat kilometres (ASKs): 7.05 billion, +0.6%.
Load factor: 77.4%, -0.2 ppts.

Load factors on individual regular public transport (RPT) routes decreased on 29 of the 65 routes with data available for publishing.
Busiest routes:
Melbourne–Sydney remained Australia's busiest RPT route with 721,462 passengers, +4.5%.
Brisbane-Sydney with 382,389 passengers (+2.9%); and
Brisbane–Melbourne with 279,450 passengers (+0.9%);
Routes with traffic decreases:
Hamilton Island-Sydney (-40.6%);
Brisbane-Gladstone (-19.9%);
Cairns-Melbourne (-9.5%): and
Newman-Perth (-8.8%).
RPT passenger numbers increases:
Brisbane–Proserpine (+19.9%);
Canberra-Melbourne (+14.7%):
Darwin-Perth (+10.2%); and
Sunshine Coast-Sydney (+10.0%).
Domestic RPT passenger traffic (moving annual totals)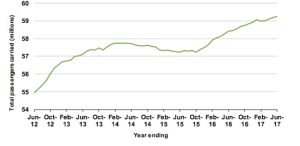 RPT Network utilisation (moving annual totals)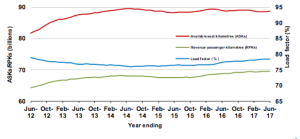 Source: BITRE
Regional airport traffic almost flat
Regional airports suffered in the month with 1,950,000 domestic passenger movements, an increase of just 0.1% year-on-year.
Out of the top 50 regional airports, the strongest growth was at Orange Airport (+40.5%), while the largest decrease was at Hamilton Island Airport (-33.5%).
Fixed-wing charter operators carried 205,700 passengers, down 0.3%. Perth airport accounted for 38.0% of all charter passengers in Australia.
Domestic cargo traffic
Total cargo movements at Australian airports on domestic regular public transport (RPT) flights were 36.4 thousand tonnes in Jun-2017, up 6.3% year-on-year.

Source: BITRE