The below figure summarises a new business model and was recently published in the International Journal of Hospitality Management, co-authored by Professor Kaye Chon, who is the Dean and Chair Professor of the School of Hotel and Tourism Management of The Hong Kong Polytechnic University. In this and the next edition of "Bow-Tie Briefing" we will deep-dive into and elaborate on below model from the travel managers' perspective.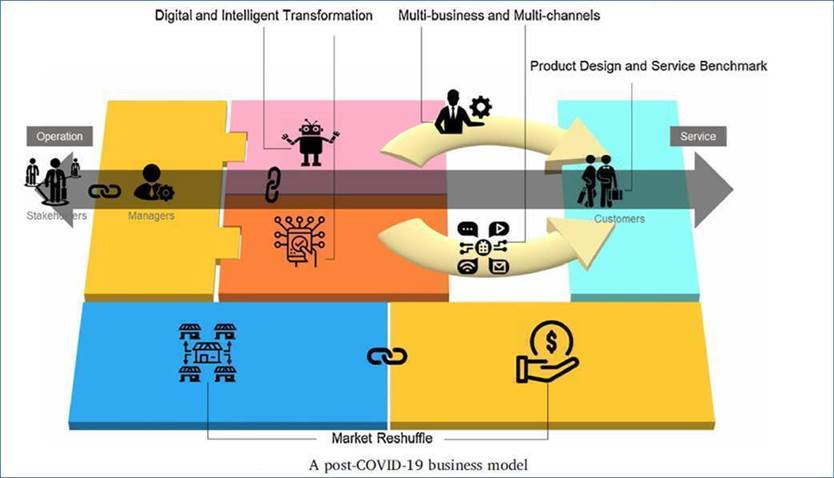 Multi-business and multi-channel platforms
Revenue from accommodation and catering are traditionally the main sources of income for hotels. But due to the COVID-19 pandemic which relentlessly reduces clientele and diminishes cash flow, hoteliers can no longer simply depend on these conventional revenue pillars. In the case of Accor, chairman and CEO Sébastien Bazin believes that in the short term, "probably until summer of 2021," he sees levels "minus 25% to 30%, almost as a certainty". Longer term, his expectation is that "it's probably a permanent 10% to 15% impact". He warns that, "the recovery will be gradual".
Therefore, hoteliers have to proactively restructure the business portfolio and try their utmost to re-scope the diversity of the hotel business. For example, hotels can maximise their space and utilise it for exhibition purposes instead of just accommodation. One innovative hotel in Asia will be using hotel rooms on one whole floor of the property to display fine art for a top-notch exhibition.
This is a tripartite win-win-win situation for the hoteliers, exhibitors and clients. First, the image of the hotel property is perceived more prestigious and asserts more traction. Second, all the exhibitors pay the hotel room tariff. Third, the exhibition participants are by special invitation only, so social distancing control is strictly adhered to. "Instead of expo in giant venues such as convention and exhibition centres, this is a new trend of niche higher-end expo." commented Janice Lee, director, Informa Markets.
Product design and investment preference
China's hotel industry has evolved rapidly over the past 40 years. While most hotels were poorly managed and state-owned independent properties in the 1980s, a diverse and thriving brand landscape emerged in 2010s. These successful brands emerged not only in the upscale sector but also in the economy and the upper-midscale ones.
Recently, personalised, innovative, and non-standard hotel brands have appeared in China, such as the new brand Muji Hotel, which is under the management of the same Japanese famous retailer Muji (無印良品). Guests at the hotels can use more than 700 products sold at a Muji store, including furniture, bedding sets and toiletries. This brand new inter-disciplinary concept emerged as a trendy gimmick. "The brand already enjoys high popularity, especially among young people, for the simple lifestyle it and its products champion" said Takahiro Adachi, manager, business structure transformation of fast retailing, Uniqlo. Mr Adachi added: "During the pandemic, some hotels exhibited their high competitiveness and good financial performance through excellent product design and investment preference and Muji Hotel is one of them. A new way for survival!"
We will continue to discuss this interesting business model in our next edition of "Bow-Tie Briefing", so check it out in two weeks time! ?
Bow-Tie Briefing shares the views of Benson Tang, a corporate travel thought leader and executive director of CTC - Corporate Travel Community. Benson's remarkable career in travel started more than 25 years ago and his extensive knowledge of the corporate travel sector has made him a sought-after speaker and lecturer.