IEA has been criticised in the past for serving the interests of the fossil fuel industry and downplaying climate change as all the member states hold significant oil or gas reserves. But because of the influence the IEA has in global energy policy, their comprehensive and detailed net-zero scenario should not go unnoticed by tourism policy makers and scholars.
We will illustrate "Net-Zero by 2050 - A Roadmap for the Global Energy Sector" the most recent and comprehensive net-zero roadmap from IEA in 2021, to examine the potentially transformative implications for the future of tourism.
The aim of the net-zero scenario is not solely to decarbonise the global economy, but is consistent with the IEA mandate to advance affordable universal energy access and economic growth. The IEA net-zero scenario for 2050 assumes a global population of 9.8 billion, which is the median by a United Nations projection, and a global GDP that has increased by 72%.
The scenario relies on six key pillars of change:
The rapid expansion of renewable energy sources
Electrification of many energy end uses
Gains in energy efficiency
Notable behavioural change and willingness of citizens
The deployment at scale of a number of emerging and immature technologies including negative emission technologies
International cooperation to facilitate an orderly whole of society transformation
Two of the most commented on elements of the roadmap are the call to end all investment in new fossil fuel extraction projects within one year, and that nearly half of the reductions come from technologies that are in the prototype stage of development. Both are highly uncertain and standing in sharp contrast to existing fossil fuel subsidies criticised by the UN Sectary General António Guterres in article of The Guardian on 11-Jun-2021. This below table is the key milestones of IEA in the pathway to net-zero.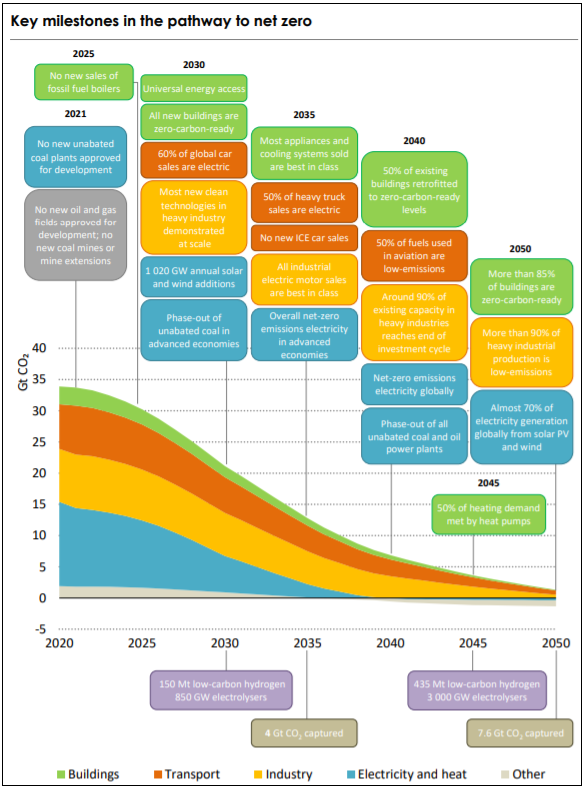 In the next edition of "Myth-buster of Net-Zero", we will continue to investigate more on the details of IEA roadmap and how they will affect our corporate travel industry to the global aspiration of carbon net-zero by 2050, please stay tuned. 😊
Bow-Tie Briefing shares the views of Benson Tang, a corporate travel thought leader and executive director of the CTC –Corporate Travel Community. Benson's remarkable career in travel started more than 25 years ago and his extensive knowledge of the corporate travel sector has made him a sought-after speaker and lecturer.