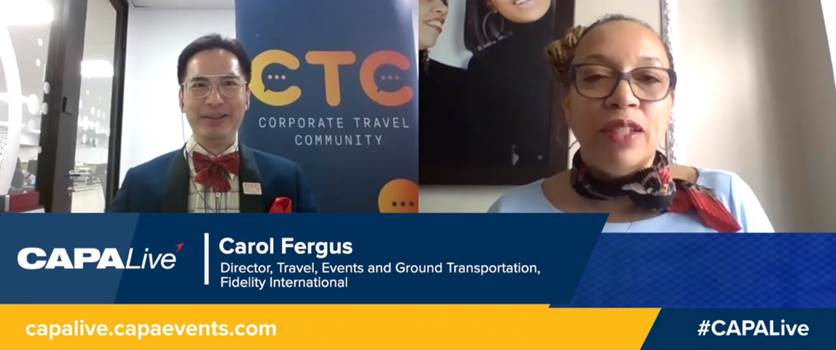 Benson: There is a lot of discussion on vaccine passports, particularly in Europe. What is your view about it? Do you think staff will need to have vaccines before they travel?
Carol: The position of our company is we cannot force people to do anything. It is about the individual. Obviously, if the staff's role requires business travel, if that staff is not vaccinated, s/he needs to think very carefully about the role and how to take that forward. So the dynamic of the organisation will be quite interesting in the next couples of months because we cannot force people to take vaccines but staff have to think about their roles and responsibilities. It will be very much governed around what they do for a living and how it will impact their role.
Benson: Qantas Group CEO Alan Joyce mentioned in the past that Qantas might in the future requires all passengers to provide proof of vaccination before boarding, what do you think?
Carol: From a purely personal view, I actually think for people to feel safe they would want to travel with people who have done exactly the same as them. It's almost taking the rules away from individuals and forcing them to make a decision. Some people might not like that. But in my role, especially when I talk to my senior leadership team, they want clarity, they want guidance, and they want to be able to make sound decisions. And as a travel manager, the expectation is I will give them the information to make the informed decision. The airline's position on supporting vaccination of all passengers could have a good impact, as this will take the responsibility from us of whether staff need vaccinations. To keep everybody safe, travellers should follow the same rules. From airlines' pragmatic angle, it will be difficult to have a mixture of people onboard.
Benson: Please tell us a little about the business travel situation in your company?
Carol: In our company, we are still very much controlling and monitoring business travel. We still have the layers of special approval process staff need to go through. Checks and balances are levied. Our travel went down by 98%. We have some domestic travel in countries like China and Australia. We also have some global mobility travel. But there are restrictions, and there are a series of approval procedures that staff have to do before they can travel.
Benson: Any other new travel policies/strategies that you focus on right now?
Carol: Sustainability is a big thing. The reduction of carbon emissions is a huge topic. We have a target to reduce our carbon emission by 50%. This is a very aggressive target to reach. In order to do that, we have to look at the way we travel. The area which makes sense is non-essential travel which is related to non-revenue earning areas in our company. We have created some guidelines in the company and are transparent. For example, if there is a manager who has staff responsibility, of course the travel department expect the manager to have to travel. If there is any projects or trainings that have to be done face to face locally, this is classified as essential travel. However, if that is not the case and technology can be applied, then use the technology instead.
As a sneak preview, in the next edition, Carol will make the conclusion and comment on her bold view towards the future of corporate travel. Please stay tuned with us in this in-depth dialogue! 😊
Bow-Tie Briefing shares the views of Benson Tang, a corporate travel thought leader and executive director of the CTC –Corporate Travel Community. Benson's remarkable career in travel started more than 25 years ago and his extensive knowledge of the corporate travel sector has made him a sought-after speaker and lecturer.