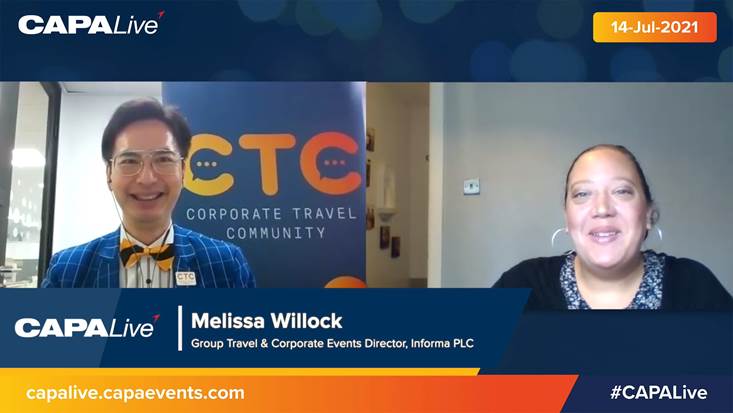 Benson: Melissa, how are you? Red carpet rolled out to welcome you for joining our tête-à-tête. I know you have many fantastic stories to share with us. But, first thing first, please update us on the latest situation from the UK.
Melissa: Thank you Benson for inviting me. Well, our vaccination programme in the UK is going very well. Lockdown is slowing ending, I think not as quickly as what we would like for various reasons, but we are seeing the light at the end of the tunnel. Fingers crossed for 19th of July which is supposed to be the end of the lockdown or our freedom day! We are over with the worst of it, let's start the recovery.
Benson: So glad to learn this. Let's focus on corporate travel. What do you think are the major risks and challenges of our beloved corporate travel industry currently?
Melissa: Well, I think travel apparently has not really opened up yet. In many parts of the world, we are still waiting for the permissions of the countries to feel comfortable with people coming in for transportation and freedom of movement. The new variance of COVID is the biggest threat. The Delta variant is more transmittable. We have been affected by that quite a lot in the UK, so some countries are putting back restrictions on travel. Keeping an eye on the variant and making sure the vaccination is well equipped to tackle them is one of our biggest challenges.
Benson: Any new measures or new policies levied by the company? Do you think in the future, staff will be required to provide a vaccination certificate before a business trip?
Melissa: I honestly, personally think the vaccinate certification will be fading away. If we believe what the scientists say, hopefully COVID will move more into a flu. I think in the next few months, there won't be any need for a vaccination certificate. Obviously, that doesn't get us through now. The current situation is the government is encouraging, whenever possible and health permits it, that people should get a vaccination, as this is the only way that we will get out from this together. Informa has not levied any policy that staff have to be vaccinated, as this is a very personal decision. However, we do know that this is one of the only ways that herd immunity by vaccination can bring us out of the pandemic. Everyone must reach their own decision as to what is best for them, their families and their communities!
Benson: On top of policy related to the health situation, are there any other company policies that you are considering?
Melissa: Green travel and sustainability are very high priority issues for us and they are on the radar screen. Informa has a "Faster Forward" programme, and it is our endeavour to be as carbon neutral as possible. We are constantly updating our travel programme. Moving forward, as staff do start travelling again, they have to ask themselves: What alternative ways can you travel that will be better for the environment? Or the mode of transportation, is it the best way? Are the vehicles using bio-fuel? Are the aircraft the newest model that can help us lower our carbon footprint? All future booking tools should have these capabilities to assist the travellers with the right choice. In our event business, we have to travel for our jobs, but we want to make sure, however we travel, we are doing so in the best possible way that helps us, helps our future and helps our environment. It's been a big thing in our mind and company culture.
We will continue this in-depth dialogue with Melissa in the next edition, continuing to focus on corporate travel, so please stay tuned! 😊
Bow-Tie Briefing shares the views of Benson Tang, a corporate travel thought leader and executive director of the CTC –Corporate Travel Community. Benson's remarkable career in travel started more than 25 years ago and his extensive knowledge of the corporate travel sector has made him a sought-after speaker and lecturer.