The HIPO shows brand.com produced 26.1% of all room nights booked in July, compared to the next largest channel of Property Direct at 24.1%. This trend away from Property Direct has sustained its swift pace and is clear continued evidence of the evolution in consumer booking behaviour. The brand.com bookings were up +8.9% versus Jul-2018, while the Property Direct channel bookings declined -11.8% year-on-year.
The growth of brand.com as a booking channel represents both increased investment and effort from the part of hotel brands, and an increased loyalty. The HIPO shows the percentage of guests who are loyalty programme members continues its rapid rise, up +6.4% year-on-year to 53.9% of all room nights booked at hotels with active loyalty programmes.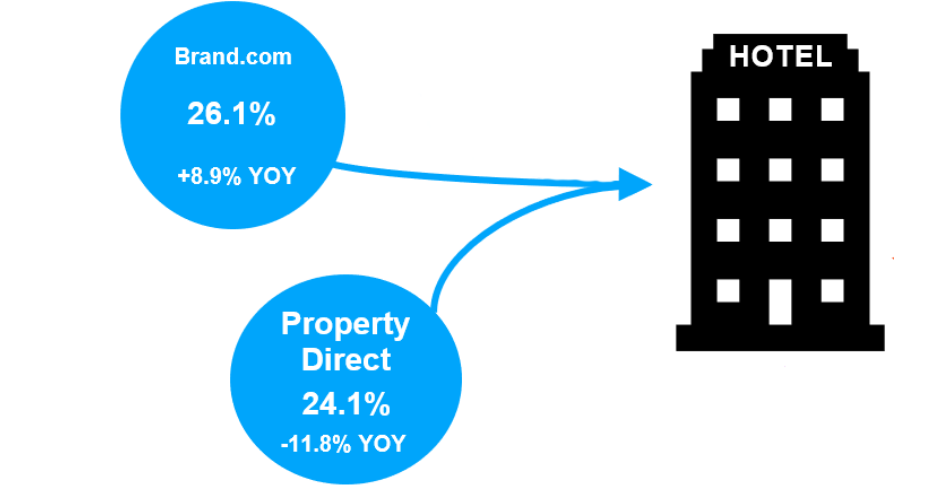 "The shift away from Property Direct bookings has created a virtual 'horse race' between Brand.com and OTA, both vying for demand share growth," says Cindy Estis Green, CEO & Co-founder of Kalibri Labs. "Brands continue to double down on their loyalty programmes to maintain the relationship with their customers with an eye towards keeping booking costs in check."
But, in another insight to be published by The Blue Swan Daily this week, it is apparent that hoteliers will need to be mindful of changing guest demographics. A report from the London School of Economics in collaboration with Inmarsat Aviation highlighted that airline loyalty programmes are fast losing their appeal, especially among younger passengers, a trend that could also impact the accommodation sector. That change is driven by the fact that by the end of the next decade Generation Z will out number Millennials as the largest global travel group.
Back to the HIPO and booking costs per room night increased slightly in July (+1.6%) but have marginally decreased year-to-date (-1.7%) when compared to the same period in 2018. New York City hotels in particular continue to struggle with room rate (ADR) growth despite high occupancies. Even with occupancies in the market of 85%, guest paid ADR declined slightly, by -2.45% year-on-year.
Guest-paid RevPAR and contribution to operating profit and expense (COPE) RevPAR (the revenue per available room based on the total room revenue paid by guests, after transaction-specific direct reservation costs have been deducted) is still down year-to-date. For the Jan-2019 to Jul-2019 period these are USD 90.02 and USD82.85, down -0.86% and -0.67% year-on-year.
Nationally, HIPO shows that the loyalty contribution to US hotel bookings for the first seven months of this year is up 4.57% versus the same period last year, to 53.89%. It also highlights that for the period booking lead time has also extended out a little, rising +0.25% to 24.2 days.
Technological developments and digitisation have certainly been clear drivers in the growth of brand.com bookings. The introduction of special loyalty features within new and updated apps that support mobile check-in, keyless entry and other benefits have helped, but as these are more widely rolled-out as part of the standard offer then the goalposts will once again change.
Another, more-detailed Kalibri Labs report from earlier this year, 'Book Direct Campaigns 2.0: The Costs and Benefits of Loyalty in 2018', highlighted that hotel companies' initial campaigns to attract loyalty members and drive direct bookings over an almost two year period from Jan-2016 had stabilised or strengthened the growth rate of bookings via brand.com sites. The question now is: how long will that growth rate continue?