Mr Bolsonaro was fast to implement aviation reforms, having had his ground paved by previous President Michel Temer, who started implementing a more liberal framework. Mr Bolsonaro's biggest accomplishment in the industry has been to negotiate, through a challenging congress, legislation allowing 100% FDI on domestic carriers whist he has also vetoed planned amendments to legislation which attempted to reinstall free luggage allowance.
These reforms came at an ironic time as Avianca Brazil filed for bankruptcy a few months prior, in Dec-2018. Lessors sought to repossess aircraft, while the carrier fought through the court to maintain its fleet. In the end, the effort was futile and only delayed the carrier's demise.
Like a wounded animal in shark-infested waters, Brazil's remaining 'carriers' started circling the water seeking to buy the carrier's remaining assets, particularly the slots it operated in Sao Paulo Congonhas Airport. However, the Brazilian regulator does not interpret slots as being a company asset, even though they can be transferred from one company to another within an airline group.
Avianca Brazil's bankruptcy plan included isolating and auctioning the healthy part of its operations, which initially included aircraft, slots and FFP. Upon repossession of its fleet the carrier had only slots and the FFP to sell and Gol Linhas Aéreas, LATAM Airlines Brazil and Azul Linhas Aereas all wanted those slots.
Azul seemed to have a firm deal for the slots up until Elliot Group, a financial stakeholder in Avianca Brazil, started to pull its strings and negotiated alternative deals with Gol and LATAM. At that moment Azul withdrew from the direct contest for the slots, and started a campaign trying to influence the public opinion and the regulator.
The factor here is that slots at the saturated Sao Paulo Congonhas Airport don't come easy. The airport is Brazil's second busiest airport by seats and operations, handling 21.5 million passengers and 175,500 operations in 2018. Passenger traffic at Congonhas represents 10% of Brazil's total traffic.
CHART - Sao Paulo Congonhas is Brazil's second largest airport after Sao Paulo's main international gateway Guarulhos Governador André Franco Montoro International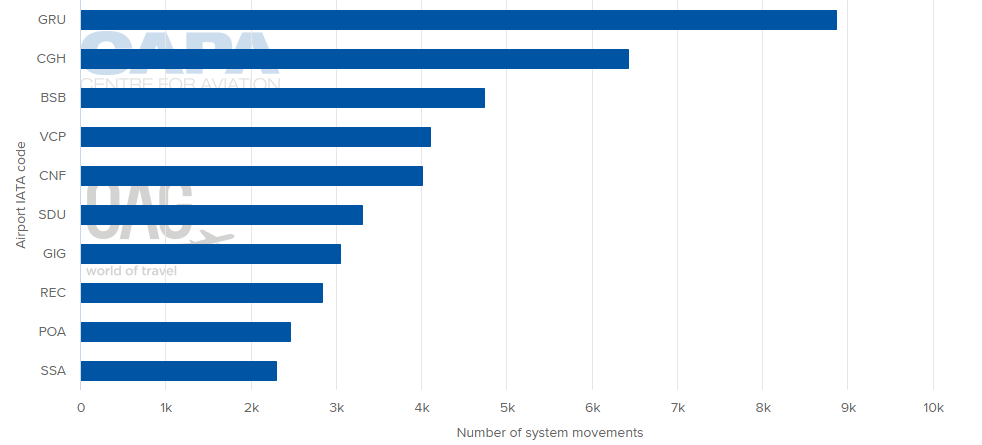 Source: CAPA - Centre for Aviation and OAG (data: w/c 15-Jul-2019)
The airport is one half of Brazil's famous Ponte Aerea air bridge linking Sao Paulo Congonhas and Rio de Janeiro Santos Dumont, both located within Brazil's largest municipalities by GDP. With GDP comes business travel and the route is business traffic intensive, therefore highly sought after by carriers.
Ponte Aerea handled 68.2 million passengers in over 38,300 operations in 2018, representing 4.5% of total passengers in the country and 4.7% of total operations. Load factor stood at 74.5% in 2018. Following the demise of Avianca Brazil, Gol and LATAM operate the Ponte Aerea as a duopoly, which led to a 64% increase in airfare prices, according to reports.
CHART - Gol Linhas Aereas and LATAM Airlines currently dominate the activities at Congonhas airport and together hold more than 95% of the system capacity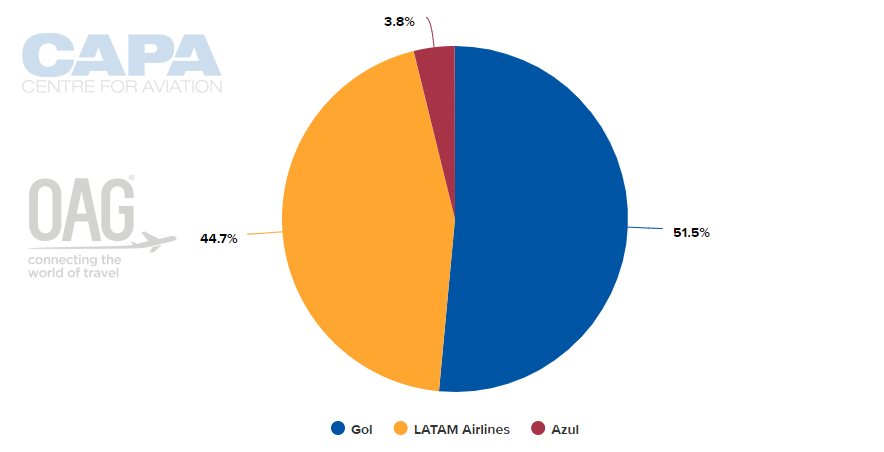 Source: CAPA - Centre for Aviation and OAG (data: w/c 15-Jul-2019)
While Avianca Brazil's slots at the airport have still not been reallocated, Brazil's air service provider ANAC has commenced process of reallocating the slots in other airports. For Congonhas, ANAC is taking a more cautious approach, seeking input from all stakeholders. One of these stakeholders is CADE, Brazil's Administrative Council for Economic Defense who has strongly positioned itself against any of those slots being allocated to Gol or LATAM.
CADE has also highlighted that ANAC should be tolerant with its interpretation of the definition of an "entry carrier", entering the Congonhas market. The current allocation process would see ANAC giving Passaredo 50% of the slots as a new entrant and distributing the rest. Azul already operates 13 slots at the airport, leading to the idea that CADE is covertly in favour of handing the slots to Azul. Avianca Brazil had 21 while Gol and LATAM have 135 each.
While this has all been ongoing, Avianca Brazil's bankruptcy process proceeded with auctioning its asset. Only Gol and LATAM participated and took all the slots. Or did they? ANAC had already stated that due to Avianca Brazil's failure to use those slots, they had returned to ANAC. It's likely that Gol and LATAM only waisted their time with the auction while Azul may seek to undercut both carriers by acquiring Passaredo, valued at USD93 million, according to reports from Bradesco BBI.