Take for example the forthcoming fourth tranche of airport concessions. Allowing for the fact that some bid offers were inflated to say the least in previous tranches, the programme to date can be considered to have been successful.
TABLE - The first three tranches of airport privatisation in Brazil has seen ten airports placed under concession - 60% of air passengers in Brazil are now handled at privatised airports

Source: The Blue Swan Daily
But confusion seems to have set in with the fourth tranche and the government and state agencies such as ANAC, the national civil aviation agency and Infraero, the state airport operator whose significance is shrinking by the day, seem to be at loggerheads as to what to do for the best.
For this forthcoming tranche the Senate proposed that the concession of Brazilian airports in future should be carried out in blocks, where a profitable capital city airport is grouped with underperforming regional airports in need of investment to become profitable. This is disparagingly referred to as 'steak with bone" in Brazil.
So, as well as the privatisation of Sao Paulo Congonhas, Cuiaba, Rio de Janeiro Santos and Recife Guararapes airports, many smaller airports were bundled in with three of them (Cuiaba, Rio de Janeiro Santos and Recife). But there was a further twist almost immediately thereafter when the government decided to continue to tender Sao Paulo Congonhas Airport but to leave Rio's Santos Dumont Airport under the administration of Infraero on the basis that without that asset it would have no profitable ones!
Then, BH Airport, the concessionaire for Belo Horizonte's Tancredo Neves airport, said it would launch legal action seeking annulment of the ordinance which allows for scheduled commercial operations to be handled at the smaller Pampulha Airport, arguing that during the signing of the concession contract there was no indication that the government would allow for commercial operations from Pampulha (which is part of the next tranche).
Then there is the matter of what will become of Infraero. In Feb-2017 the Senate announced that the Constitution Commission was analysing the need for Infraero's continuing participation in national airports. Then the government said it might "downsize" Infraero or even "terminate" it by privatising its stakes in 56 airports. At the same time it said it might consider an IPO for it. Then Infraero got caught up in the 'privatisation by block' scenario mentioned above. All this time the Transport Minister remained against any sort of privatisation of Infraero, against the recommendation of a consultant that advised it should be privatised "like AENA" in Spain.
To add insult to injury the government started to look at ways to dispose of Infraero's shares in some of the larger airports that have already been concessioned, such as Belo Horizonte Tancredo Neves, Rio de Janeiro Galeão, Sao Paulo Guarulhos and Campinas Viracopos. Then it abruptly changed its mind and said it would not try to sell stakes in Galeão and Viracopos this year, raising doubts that it could find a buyer at all.
Speaking of Campinas Viracopos, that airport is embroiled in a dispute over the concession. In Jul-2017 Consortium Concessionária Aeroportos Brasil Viracopos (ABV), consisting of Triunfo Participações e Investimento, UTC Engenharia and Egis, intended to return the concession to the government after passenger traffic and revenue failed to meet expectations.
CHART - After growth from 2012 (when the concession was granted) there was a sudden and severe (-9.7%) decline in traffic at Campinas Viracopos Airport in 2016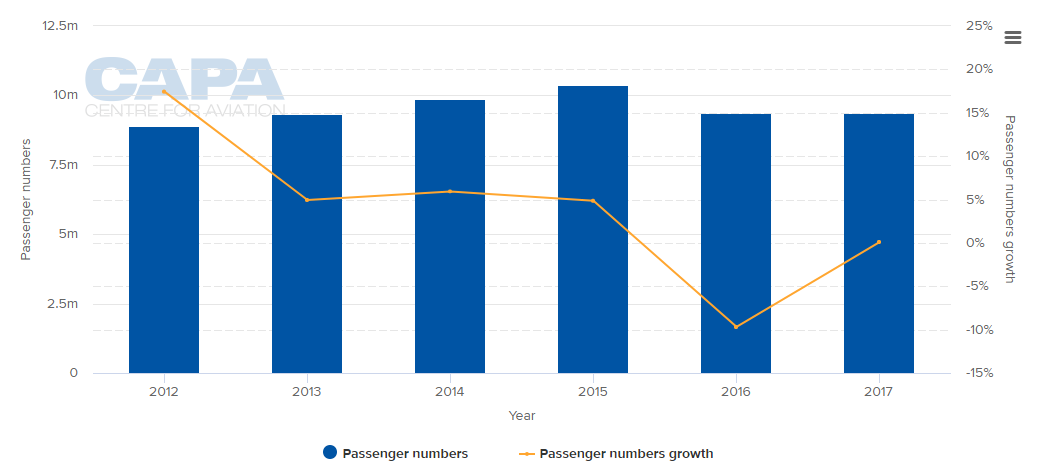 Source: CAPA - Centre for Aviation and Campinas Viracopos Airport reports
But it never did, possibly because the Brazilian economy started to improve. It set out instead to find an alternative investor to sell to but was unsuccessful. Then, last week, the government announced that it plans to re-tender the concession in Mar-2018. The concessionaire ABV would continue running the airport while the tender process is underway. But that was not before ANAC said it had launched a probe to investigate ABV over non-compliance with obligations under the concession agreement for Campinas Viracopos Airport and that the probe could result in termination of the concession agreement by a declaration of forfeiture.
Local sources believe the "investigation" is a way to pressure ABV to surrender the concession but that ANAC won't actually go ahead with its threat to terminate the contract because that might leave it without a concessionaire at all, at an important airport, just before the fourth concession tranche is launched.
Every week a new chapter in the script seems to be written, with Infraero and Viracopos the main characters but with no "new blood" (concessionaires). In the circumstances potential new investors are certain to be perplexed by this storyline.