New research from global consultancy Roland Berger highlights that the cumulative number of electric aircraft developments grew steadily until 2016 but has subsequently increased more rapidly since. In fact it claims the number of electrically propelled aircraft developments grew by ~30% in 2019 and now exceeds 200, with Europe home to the largest proportion of studies.
This change has been driven, according to Roland Berger, by rapid growth in regional (including sub-regional) and Urban Aerial Mobility (UAM) developments, which have grown at 89% and 78% CAGR, respectively. Concurrently, there are now 100 projects being conducted around the world by cities, universities and potential operators to test and develop the UAM ecosystem.
The pace of announcement of new Urban Air Taxi concepts has beaten other categories of aircraft, rising from ~40% to 45% of the developments in Roland Berger's research database. General aviation is close behind, comprising ~85 projects globally.
The fact that urban air taxis and general aviation projects dominate the fully-electric propulsion projects is no real surprise. "Not only are smaller developments easier to fund and test, but current electrical systems technology still favours lower power and shorter distance flights," explains the research.
But, a wider landscape of electrical propulsion is emerging, with airline operators and other stakeholders joining the fray. Aircraft manufacturers and their associated technologies are just one piece of the puzzle, explains Roland Berger. "For electrically-propelled aircraft to feature in everyday life, all stakeholders have a role to play in the transition," it says.
CHART – There has been a rapid growth in electrically-propelled aircraft projects over the last couple of years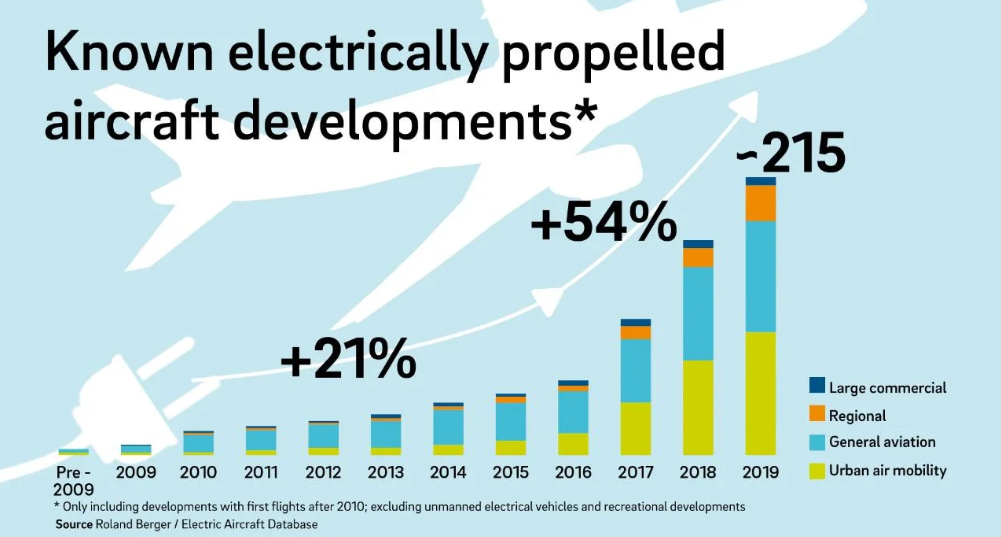 Source: Roland Berger's Electric Aircraft Database
Increasingly, airports and airlines are becoming more involved in electric aircraft studies. Roland Berger highlights that Royal Schiphol Group is among those leading the change to sustainable and electrical flight and investigating infrastructure adjustments that will be required to accommodate electric aircraft. It also highlights how Vancouver-based floatplane operator Harbour Air is working with electrical propulsion start-up, MagniX, to electrify its aircraft fleet.
Major airline are also looking to play an active role. Last year, SAS Scandinavian Airlines stated work with Airbus to research the hybrid and electric aircraft eco-system and infrastructure requirements. Nordic carrier Widerøe is working with Rolls-Royce on zero-emission aircraft, while easyJet is assessing the potential of hybrid and full-electric aircraft for short-haul flights across Europe with Airbus, supporting an existing electric aircraft partnership with Wright Electric.
The Blue Swan Daily has reported extensively over the past couple of years on sustainability initiatives across the travel and tourism marketplace. Here's some of our latest features: Aviation Sustainability
Meanwhile, the German Aerospace Centre (DLR) has conducted its own market analysis on the subject as part of a feasibility study for hybrid-electric 19 seat aircraft. The project, entitled the Cooperation for Commuter Research (CoCoRe), identifies a need for medium-sized cities in Europe or Canada that have inadequate direct connections to hubs that could be filled using such ab electric aircraft. "For these cities, an economically viable regional air taxi service from smaller airports would be conceivable", DLR noted, citing Mannheim-Berlin, Bremen-Berlin and Muenster-Leipzig as examples.