The findings of its '2018 Hotels Market Report' which shows that London continues to be a key market for business travellers with 663,000 room nights booked in 2018, an increase of 5% when compared to 2017. But Edinburgh experienced the highest level of growth in 2018 with room nights booked increasing by 16%, Belfast was up 13% and Cardiff up 5%.
The report is based on data from corporate hotel bookings made between Jan-2018 and Dec-2018 by Advantage's TMC members, who represent around 40% of the UK business travel sector, and highlights business travel trends and booking behaviour.
Alongside the growth across the capitals, the report also shows significant growth for cities in the Midlands and North East, with Derby seeing the highest growth with 31% more booked room nights compared to 2017, while York (22%), Nottingham (18%) and Gateshead (10%) also saw double-digit percentage increases. Others reporting double-digit rises comprised Plymouth (21%), Inverness (20%), Reading (15%) and Norwich (11%).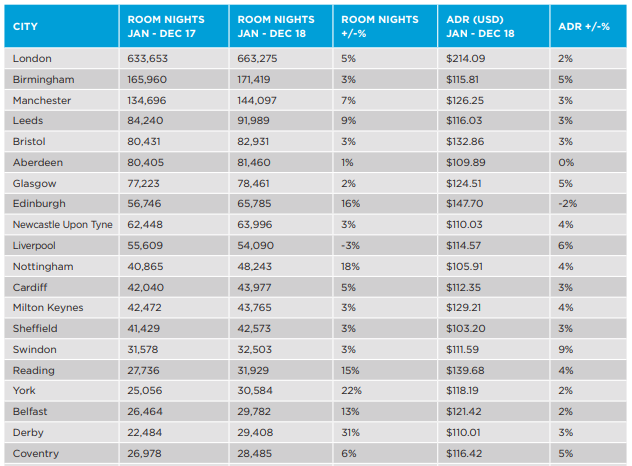 The findings show that average daily rates (ADR) grew across most UK cities last year with the exception of Edinburgh and Inverness in Scotland, which saw small decreases and Aberdeen and Luton which remained flat. This, it explains, was due in part to higher occupancies driving increased hotel rates and also due to the weakening of the US dollar.
On a global scale, the study shows the business world continues to travel widely and that hotel demand remains strong in many international cities with New York, Auckland, Wellington, Houston, Paris and Sydney topping the international city list. In total, worldwide volume grew by over 393,000 room nights, a total increase of 8.74% compared to 2017, indicating that SME (Small and Medium Enterprise) corporate accounts, in which Advantage TMCs specialise, continue to perform strongly.
The total number of bookings made by Advantage business travel members in 2018 saw similar growth – up 8.76% – while the average length of stay remained constant, at 1.87 nights. Increased demand and higher occupancy globally meant hotel rates have increased by USD2 to an ADR of USD169.41.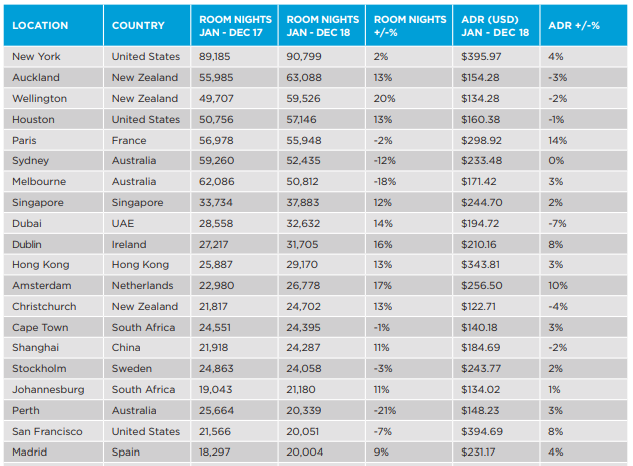 The report also looks at trends on bookings and ADR for cities and locations around the world, with New York once again topping the list as the highest volume worldwide city outside the UK, with 90,799 room nights booked at an average rate of USD395.97 per night. Increases were also seen in Bangalore (up 54%), Kuala Lumpur (up 36%) and Boston (up 27%).
"Despite continued uncertainty in both the global and UK economies including Brexit, hotel room night demand is at record levels in many destinations," says Neil Armorgie, global product director at Advantage. "It is clear that the corporate hotel sector continues to grow, with another significant increase in bookings year-on-year, made by independent TMCs."
The study shows that despite scepticism and uncertainty in some economies, the business world was travelling and hotel occupancy was trending at record levels in many destinations in 2018. However, economic forecasts were, however, reined in following signs of growth deceleration in the third quarter of 2018. Economic growth is slowing in some regions, but is still predicted to remain positive. "As a result, hotel performance will continue to show increased rates and occupancy," says the study.
There will be significant regional variations, it acknowledges. As for the UK, it will be London that influences performance strongest, and with significant room growth both in the capital and elsewhere in the country, it could impact the dynamics. And with ongoing uncertainty around Brexit and subsequent depressed exchange rates between the pound and other currencies "London will remain attractively priced for international clients," it says.
Among the trends identified by the report are new hotel openings in cities and towns meaning hotel price increases will slow, major chains will get larger through acquisition and there will be further consolidation (the top ten hotel chains now have 135 brands between them, it acknowledges), and there will be a continued blurring of the lines between four-to-five-star/upscale hotels and three-to-four-star/midscale hotels. "Amenities and service levels are becoming indistinguishable," it says.