The rewards for being the first mover into a new market are clear, but the risks are also considerable. That is why BA, or any other airline, would not make such a move without some significant guarantees from the destination economy. The prize of winning a non-stop flight to a European city such as London is immense; in the case of Heathrow it is even greater given the strong onward connection flows that are also available via BA, and worth the investment to support its foundation.
Nashville is one of a number of US destinations that has been pushing hard for renewed Transatlantic connectivity. The state has confirmed it is providing $1.5 million in incentives to BA to support the launch of the international flight, while the city government will provide a "stop-gap" of up to $500,000 to cover potential losses by the airline.
Governor Bill Haslam says it's proof not only Nashville, but the state is growing and will help strengthen relationships in Europe. "We will outperform projections because there are a lot of companies that I think are going to use this flight to connect, not just to Nashville, but we already know companies that are looking at other parts of Tennessee," he says.
Nashville is probably best known as 'music city, USA' and the 'home of country music', but it and Tennessee are also centres for the healthcare, publishing, banking and automotive industries, and home to numerous colleges and universities. From a corporate perspective the largest employer in the state is Vanderbilt University and Medical Centre, while Gibson, Nissan North America and Bridgestone have a big presence and Dell, Hospital Corporation of America (HCA), the world's largest private operator of hospitals, Tractor Supply Company, UBS and Dollar General all have offices in the city.
Nashville does have a pedigree in the Transatlantic market and was previously served by American Airlines into London Gatwick during the 1990s. It is currently the third largest unserved US market from Europe behind Cleveland and Indianapolis.
While the arrival incentives will reduce the risk, BA will also have been influenced by its own experiences of introducing new flights into the US, especially its London Heathrow – Austin route which has already seen an increase in seat capacity and helped the US city attract additional flights. Up until BA introduced its flights in March 2014, there were no non-stop flights between Europe and Austin.
This is a route that has been born from advancements in aircraft technology and one which BA and airport officials acknowledge would not have been economically viable before the UK carrier introduced the Boeing 787 Dreamliner into its fleet. BA initially served the route with a 787-8 growing to a daily service from May 2014. In winter 2015/2016 strong demand saw a 777 deployed on the route and from July 2016 it has been exclusively flown by a 787-9.
Analysis by The Blue Swan Daily of traffic data from OAG shows that BA has significantly stimulated demand on the London – Austin city pair and will expect a similar pattern for the Nashville flights. Since BA's arrival Austrin, the state capital of Texas, is now considered one of the world's major centres for the tech industry and recently confirmed the addition of new links in 2018 from Delta Air Lines (Amsterdam) and Norwegian (London Gatwick).
CHART – Annual Origin & Destination passenger flows between London and Austin (2007 – 2016)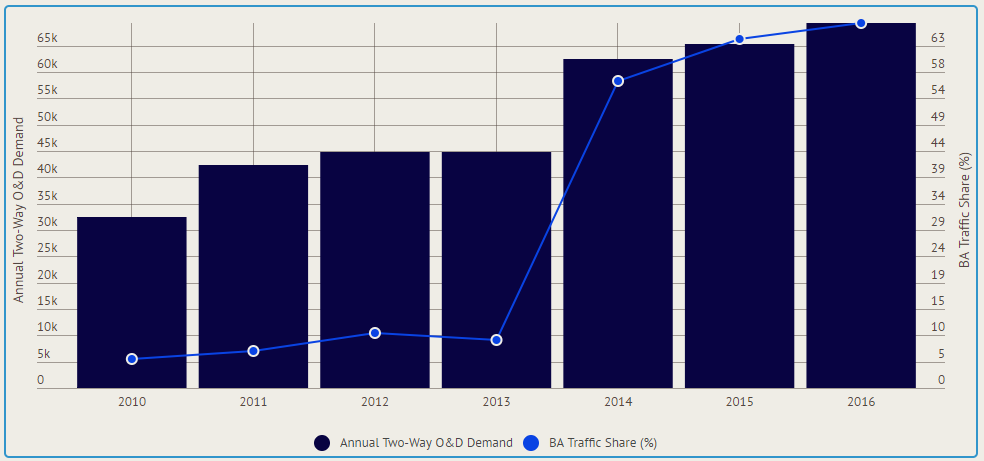 Source: The Blue Swan Daily and OAG
The new BA flights to Nashville will provide 2,140 weekly seats into an estimated O&D market of around 179,000 annual passengers in 2016 (around 3,450 passengers a week) and Governor Haslam says the announcement is "a game-changer" for the local economy.
As a state, Tennessee led the nation in job creation from foreign direct investment in 2013 and 2015, and he says the BA link will undoubtedly help it strengthen current and build new relationships in Europe, helping to bring more employment opportunities to Tennessee.
"This is a big day, not just for Nashville, but for all of Tennessee because London is a gateway to and from all of Europe," he says. "Having a direct connection to London and Europe opens up Tennessee to even more investment and economic opportunities.
Nashville International Airport has seen strong growth over the last couple of years, rising from 11mppa in 2014 to almost 13mppa last year, most recently buoyed by a significant 11.2% year-on-year rise in 2016. Its network is currently dominated by domestic markets with the strongest passenger flows into US hubs for transfer connectivity.
International flights are currently limited to seasonal flights to Cancun, Mexico from American Airlines and Delta Air Lines (a market Southwest Airlines will also serve from November 2017) and Calgary by WestJet Airlines. Meanwhile, regular international flights are also provided by the regional business of Air Canada and WestJet - Air Canada Express and WestJet Encore.
CHART – Nashville International Airport annual passenger demand (2014-2016)
Source: CAPA – Centre for Aviation
A monthly demand profile for the Europe – Nashville market for the last five years shows significant regional variations across the year. The O&D traffic demand data shows annual peaks between May and July so BA should enjoy strong loads during its initial months. However, traffic levels decline considerably during the winter months, hitting a low in February. In 2014 and 2015 traffic levels in the peak month (June) were more than three times those recorded in February. That seasonality eased in 2016, but peak month demand was still almost double that recorded in February.
CHART - Monthly O&D demand between Europe and Nashville (2013-2016)
Source: The Blue Swan Daily and OAG
BA would have considered Nashville in 2016 as an alternative destination ahead of selecting New Orleans for a summer 2017 route launch and will be encouraged to see demand growing at double-digit rates between 2015 and 2016, especially after growth in this market was relatively flat in 2015. This market growth has continued in 2017 with estimated passenger bookings up 6.4% across the first five months of the year.
Alongside the new Nashville link, BA has also announced the deployment of its Airbus A380 on one of its two daily London Heathrow – Chicago rotations during the summer 2018 season, while three additional weekly flights will be added to schedules to Philadelphia from April 9, 2018 and Phoenix from May 1, 2018, each increasing to ten weekly flights.