---
Summary:
British Airways' link between London Heathrow and New York JFK is the world's most lucrative airline route with revenues of more than one billion dollars in the last year;
Analysis by OAG shows the British Airways transatlantic link had annual revenues of USD1.03 billion in the year ending Mar-2018, more than a fifth more than its closest rival;
OAG describes these high revenue routes as "high cost operations" that combine generally widebodied services with high flight frequencies;
The Emirates Airline Dubai International - London Heathrow route is the highest earner per hour at USD25,308.
---
The famous 'BA001/002' flight number used on the supersonic service may now fly subsonic on the airline's business-only Airbus A318 route to New York from London City, but highlights the value of the New York market to BA. And now, analysis from intelligence provider OAG has revealed just how important the New York market is to the UK's national airline.
More than a billion dollars in fact! Combining its flight schedules and traffic data OAG has compiled a list of the world's biggest air routes in terms of revenue produced and BA's London Heathrow – New York route is way out at the top with a annual revenue for the 12 months ending Mar-2018 of USD1.03 billion, that's equivalent to around 6% of the airline's total revenue last year.
BA's London Heathrow – New York JFK route is more than a fifth (21.4%) more valuable than any other single airline global route. Ranked in second place with estimated revenues of over USD850 million is Qantas' domestic Australian link between Sydney and Melbourne. This high-frequency service is flown around 65 times a day using both single-aisle and widebodied capacity.
This is a trend among all of the top ten route revenue earners, which OAG describes as "high cost operations" that combine generally widebodied services with high flight frequencies. "Typically, these routes also include a high proportion of business traffic, later booking and higher yielding in nature. Whilst the cost of operating may be high, at least the revenues are likely to be even higher," says OAG.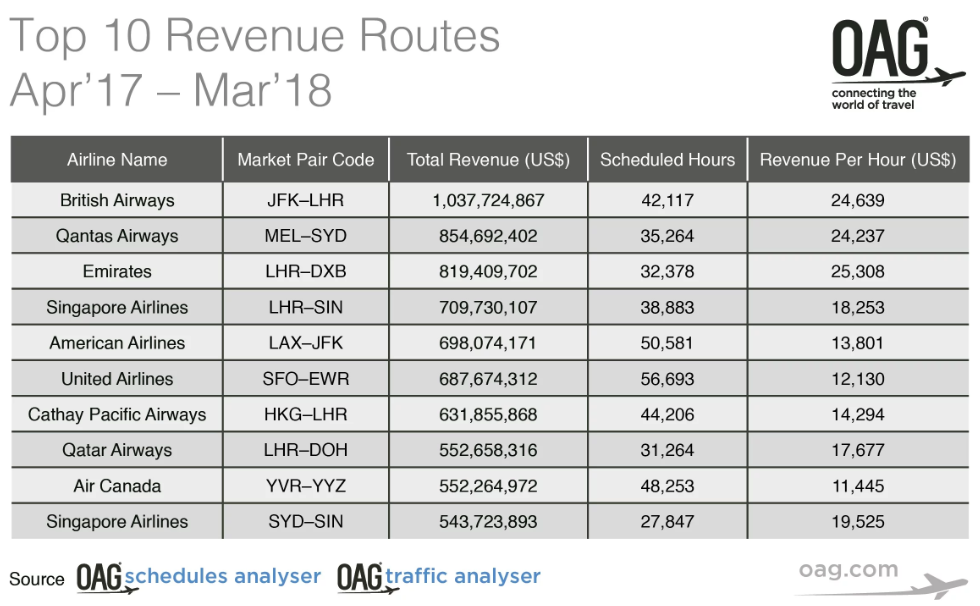 While the BA London Heathrow – New York JFK route may be the top earner, it is the most successful route in terms of earnings per hour. On an hourly basis, the BA transatlantic route equates to USD24,639 in revenue, less than a USD1,000 less per hour than the top performer under this classification, Emirates Airline's Dubai International – London Heathrow link at USD25,308. This is the third top earner in terms of total annual revenues.
Incredibly, five of the top ten revenue earners by airline involve flights into London Heathrow. In fact, it is one end of the five largest international routes by airline revenues. This perhaps helps highlight why such strong focus has been placed on the ongoing debate about the third runway. More access may allow airlines to grow their operations, but similarly could bring additional competition, forcing down fares and yields alike.