This year's insight shows that the British Airways London Heathrow–New York JFK service retains its number one position and billion dollar position with some USD1.15billion of revenue. In fact, the top ten airline routes by revenue are the same as last year, but there has been some movement with individual services switching places in the analysis.
United Airlines' domestic San Francisco-Newark has replaced American Airlines' Los Angeles-New York link in fifth; Qatar Airways' Doha-London Heathrow has leapfrogged Cathay Pacific's Hong Kong-London Heathrow into seventh; and Singapore Airlines' Singapore-Sydney has jumped ahead of Air Canada's Vancouver-Toronto flight into ninth.
While this content is well used by OAG for marketing its data, the assumptions are purely speculative, based only on its own internal data. Interestingly though, all the revenue levels for the top ten global routes are up on the same levels recorded in last year's analysis, but in nine of the ten cases are down on the adjusted revenue levels used in this year's version – the exception being Qantas' Sydney-Melbourne links, the world's biggest domestic route by revenue.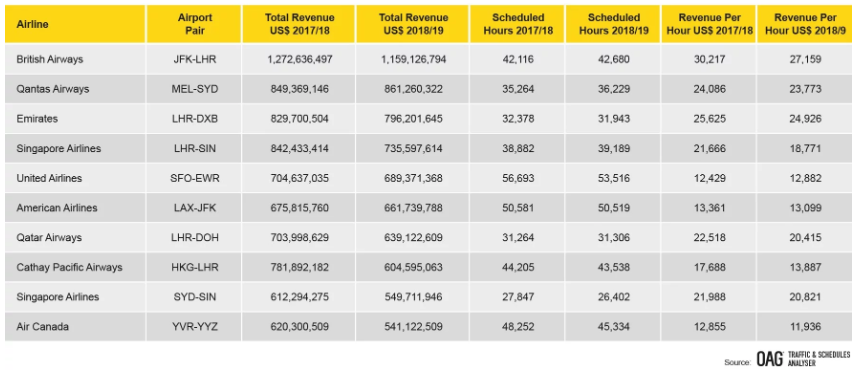 What can't be dismissed is OAG's assertion that the top ten routes highlights "both how valuable and incontestable some of these are in terms of size and scale". Its analysis of the data on a revenue per hour basis this year reveals some wide variations, amongst the top ten revenue routes, British Airways' London Heathrow-New York JFK is valued at USD27,159 per hour and is highest whilst an increasingly competitive Toronto–Vancouver market and low-cost competition probably accounts in part for only USD11,936 per hour for Air Canada, it says.
Incredibly, five of the top ten revenue earners by airline involve flights into London Heathrow. In fact, it is one end of the five largest international routes by airline revenues. This perhaps helps highlight why such strong focus has been placed on the ongoing debate about the third runway and why slots are selling for such a premium at the UK hub as airlines fight access.
It is a similar story in North America when you look more closely at OAG's geographical data with New York home to seven of the top ten revenue routes to and from the region, albeit these are split between five at John F Kennedy International and two at Newark Liberty International. The top ten includes a mix of international and trans-Continental US domestic routes, with all three US majors included.
The top ten in North America also includes British Airways' London Heathrow-Boston route, which may generate less than half the revenue the airline gains on its flagship London Heathrow-New York JFK route, but generates more revenue per hour, but by just a mere USD120.
It is not the most lucrative airline route by this metric though, as OAG notes that it is "not only long-haul flights can generate significant revenues". Its analysis puts Singapore Airlines in that position, delivering an estimated USD38,957 revenue per hour for its Singapore-Jakarta route.
CHART - British Airways is the largest operator in the London - New York market which is also served by five other airlines

Source: CAPA - Centre for Aviation and OAG