If the timing of a major airline collapse can ever come at a good time then it perhaps did for Budapest. While a notable investment in the airport had recently been concluded to support Malev's developing hub transfer model, LCC growth was still in its infancy and has been a major factor in the turnaround. Wizz Air and Ryanair are now the largest carriers at Ferenc Liszt International and LCCs now account for around two thirds of system seats.
While the LCCs and have supported point-to-point demand, Europe's flag carriers have also played a role – LOT Polish has introduced long-haul flights and Lufthansa, British Airways, Air France, KLM and Turkish Airlines offer one-stop options via their own hubs.
CHART - After a small decline in 2012, the year of Malev's collapse, Budapest's Ferenc Liszt International airport has reported strong traffic gains across subsequent years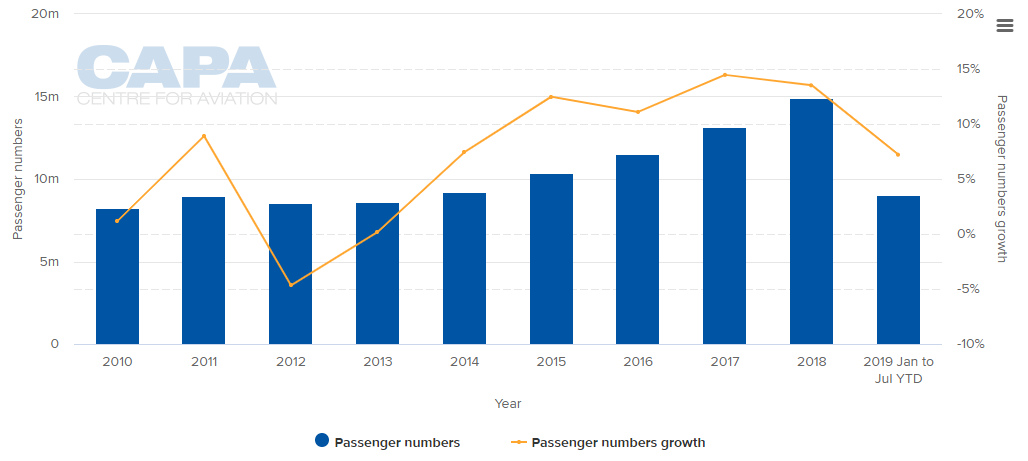 Source: CAPA - Centre for Aviation and Budapest Ferenc Liszt International airport
Now, the airport is working to ingrate its own transfer system taking advantage of its strong LCC networks and a growing awareness of self-connection opportunities driven by new digital platforms. The airport's chief commercial officer Kam Jandu says 'BUD:Connects' will facilitate self-connection processes and cater for a "growing number" of individuals and groups purchasing two tickets across airlines. "Given the composition of airlines we have now in Budapest, we see great potential in developing a self-transfer product", he explains.
Facilitating self-connection is not a new concept and is in place at airports such as London Gatwick where there is a 'GatwickConnects' desk, and Singapore Changi airport, which is widely regarded as the best in Asia Pacific for that function.
There will inevitably be more airports submitting to the demand for self-connection and it is to Budapest's credit that it has got ahead of the game here. Not only does Budapest have almost two-thirds of its seat capacity on LCCs, almost all the long-haul capacity is on full-service airlines - full-service long-haul to budget short-haul being the big growth area in self-connection).
But, it must also consider how rival airports are developing. Vienna airport is seeing huge growth at the moment for example, much of it coming from low-cost carriers it doesn't even encourage, while Prague airport has a quarter of its seats on LCCs. Both those airports also have full-service airlines operating to and from China, another key target for Budapest.
Mr Jandu says the airport is "firmly set" on targeting more Chinese destinations and increased frequencies to both Beijing and Shanghai. "Air demand between China and Hungary was around 190,000 passengers in 2018, which represented an increase of 18% compared to the previous year. Shanghai alone grew by 20% in each of the last four years and will exceed 90,000 passengers this year", he explains.
MAP - Budapest is well connected within Europe, but opportunities are there for growth in the Americas and Asia to support the current limited connectivity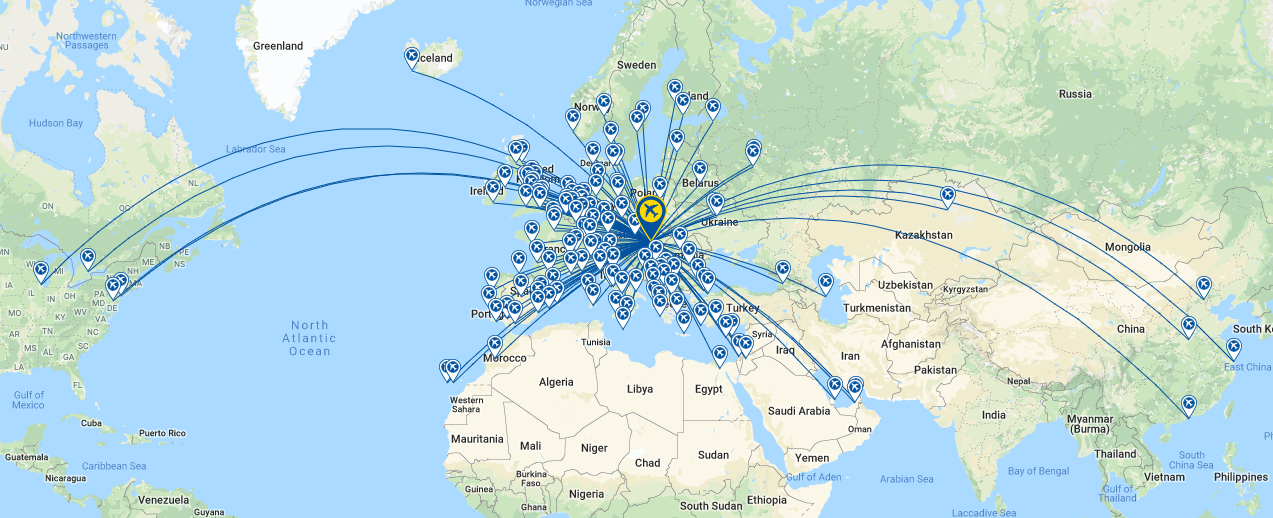 Source: CAPA - Centre for Aviation and OAG
Budapest is not alone in Eastern Europe in craving Chinese services and not only for the passengers they would carry. There is the prospect too of the airport being developed to handle considerably more cargo, either as belly hold freight or on designated cargo aircraft.
Several other airports in Central and Eastern Europe have sought to do this. Most recently airports such as Prague and Belgrade have identified the benefits of attracting Chinese passenger and freight services and a bid by Manchester Airports Group and Beijing Construction Engineering Group for the Sofia Airport concession in Bulgaria (unsuccessful but the award is being appealed) was predicated partly on the potential to increase Chinese routes.
In many cases the attractiveness of Central and Eastern European airports in general is that they lie close to major crossroads (roads that have been improved vastly by EU funding) thus making the 'trucking' side of the airfreight business less expensive.
Budapest's route map already includes Beijing and Shanghai, while Nur-Sultan, Kazakhstan, is the only other city linked to the east. The Chinese flights are by separate airlines, Air China and Shanghai Airlines. In seeking these routes the airport is looking mainly at China-Hungary travel demand.
The Hungarian capital and its aviation saga is an example of the resilience of the travel sector and Ferenc Liszt International is now becoming one of the industry innovators. The question is: after the recent years of strong growth, does anyone still remember Malev? Well, a small museum at the airport that is home to some of Malev's soviet era airliners ensures a last memory of the country's former flag carrier.