The 13th edition of the report provides a detailed analysis of business travel in 2021 with projections for 2022 and beyond, including post-COVID-19 recovery forecasts. It notes positively that global business travel activity has begun its rebound from the sharp downturn brought about by the COVID-19 pandemic.
The BTI Outlook does provide a lot of optimism about the recovery, albeit it will really take-off later than anticipated, but at a higher trajectory. This will ultimately take us back to pre-COVID levels of business travel in just a couple of years even if the impact of the crisis is becoming more and more pronounced in the short-term.
COVID cuts deeper than previously thought
This latest version of the report shows some stark differences than the previous edition from Feb-2021. Firstly, the impact of COVID-19 on the business travel industry – and the measures introduced by governments to inhibit its ability to spread – has been larger than anticipated.
In Feb-2021, the BTI Outlook estimated 2020 business travel spend to be down -51.5% year-on-year, falling from USD1,431 billion to USD694 billion. The latest report now readjusts that performance with 2020 business travel spend now estimated at USD661 billion for the full year, a -53.8% reduction.
Delta variant hits travel spend expectations
Predicting performance in 2021 was always going to be challenging. At the start of the year there was rising optimism that initial waves of the virus had been successfully passed and a growing number of vaccinations were beginning to be delivered. However, the emergence of the Delta variant meant travel restrictions remained in place much longer and still continue in some parts of the world as we approach the year's end.
The BTI Outlook estimates the cost of this on business travel spend is over USD85 billion and has reduced the rate of recovery by a third. Back in Feb-2021 it had projected a +21% year-on-year growth in business travel spend in 2021, but this will now only reach +14%, reducing annual spend from an estimated USD840 billion to around USD754 billion.
Business travel bounces back but wounds still need to heal
Unchanged from Feb-2021, the 2022 recovery pace will remain the same. That projected "surge" in 2022 will be just that, a +38% rise on 2021 performance – the same percentage rise that was projected back in Feb-2021. However, the readjustments to 2020 and 2021 performance means this will see spending increase to an estimated USD1,041 billion for the calendar year, down from the expected USD1,159 billion projected in Feb-2021, a USD118 billion reduction.
Business travel spend returns to pre-pandemic levels…
It is 2023 that we will really start to see business travel spend rise with year-on-year growth now expected to be double the level predicted in Feb-2021. The +11% rise anticipated early in the year has now translated to a +23% growth and will see travel spend projections hit USD1,286 billion, just USD 6 billion less than was expected at this stage in Feb-2021.
… and then rises to new heights
In 2024, another higher year-on-year growth (+15.6% versus +9.0%) will see business travel spend not just over take the expectations from earlier in the year (USD1,480 billion versus USD1,402 billion), but also beat the pre-COVID performance of 2019 (USD1,431 billion), passing that milestone a year earlier than previously thought.
This strong platform will then support an industry returning to more stable annual levels of growth. A further +4.3% year-on-year rise in 2025 will, according to the BTI Outlook, see the industry grow beyond the USD1,500 billion spend.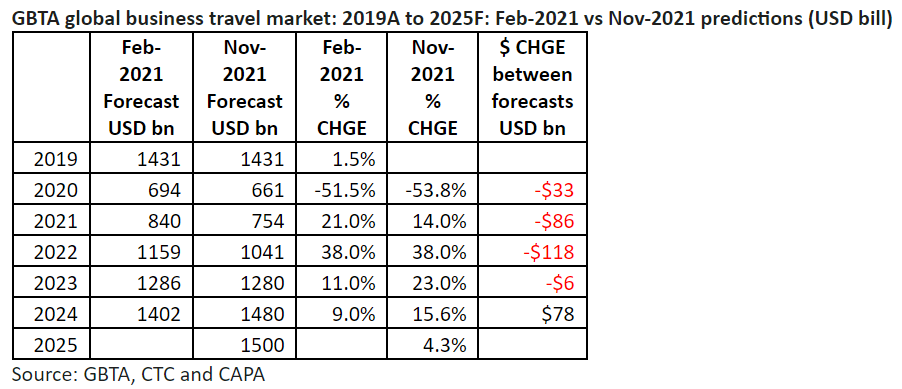 Caveats galore mean the recovery path remains uncertain
It is certainly an encouraging outlook for the industry. However, persistent COVID-related threats and disruptions, supply chain strains, labour shortages, rising inflation, increased costs, and lagging recovery in Asian markets are just a few of the risks that still could influence the recovery timescale.
Additionally, yet to be determined are the potential impacts of emerging factors including broad adoption of remote working models, long term cuts or elimination of business trips and travel volume, and the increased focus on sustainability practices and policies for business travel.