Corporate Traveller New Zealand's General manager, Keeley Alton says the high demand shouldn't be underestimated, considering the limited flights in and out of New Zealand.
"Airline capacity is currently only at about 40%, which means there are fewer flight options and subsequently more expensive airfares," she explains.
Domestic and International air fares up in New Zealand
Based on Apr-2022 and May-2022 data from Corporate Traveller, part of the Flight Centre Travel Group, when compared to the same period in 2019, domestic airfares are up 16% and international airfares are up by almost 60%.
"Interestingly, this doesn't seem to be putting off our SME customers who are busy forging international relationships again to help increase sales, expand into new markets and source new partnerships," notes Ms Alton.
The company has also reports a surge in new customers that were previously DIY travel bookers, proving the value businesses are placing in the travel advice model during a time when travel is more complex than before.
The planning stage of travel is more important than ever
According to Ms Alton, the planning stage of travel is more important than ever. She recommends customers book at least four weeks in advance to access flight options and choice, especially if they're wanting to travel in premium cabin classes.
"For the time being, last minute trips to satellite offices or to sign a quick business deal aren't always possible, you do need to book in advance to secure a seat and a better price," she says.
Health and wellness of travellers the number one priority for business
Additionally, Ms Alton says it's important to have up-to-date travel policies in place.
"We know the health and wellness of the traveller is the number one priority for business. Creating a travel plan with health and safety considerations is crucial to achieve duty of care and something our travel managers are well equipped to help customers navigate," she says.
Looking ahead – Ms Alton expects bookings to continue to increase, with travel restrictions continuing to ease, and full airline capacity expected to return as we head into the new year – pushing down prices and giving travellers more options.
Domestic New Zealand capacity remains solid
According to schedule data from OAG and CAPA aircraft seat configuration data, New Zealand domestic air capacity remains solid, recovering from a small decline from the middle of 1Q 2022 which continued into 2Q 2022.
New Zealand weekly domestic seats (2019-2022)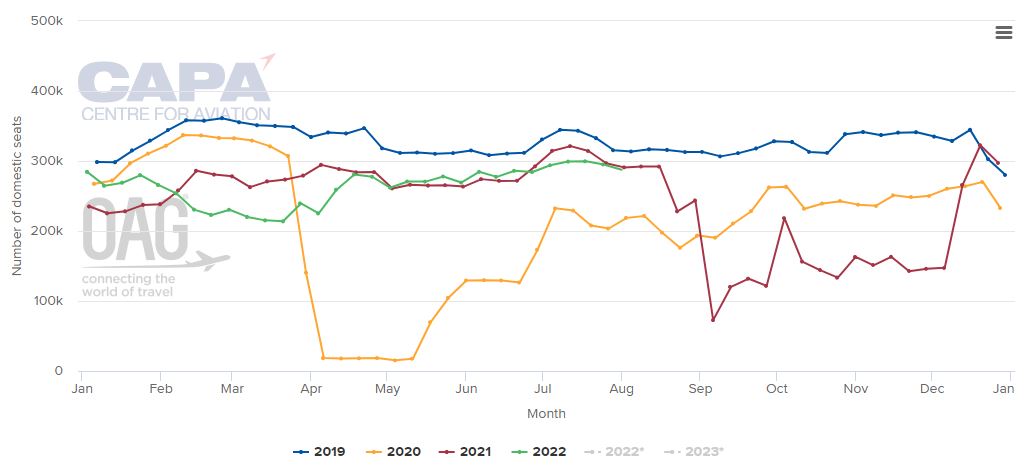 The 2022 performance is tracking closely with last year, only slightly down on the pre-pandemic performance of 2019. In the week commencing 25-Jul-2022 domestic capacity is down -6.4% versus the same week in 2019. This was the strongest weekly performance since the first week of the year.
International New Zealand capacity shows strong positive gains
According to schedule data from OAG and CAPA aircraft seat configuration data, the removal of travel restrictions and the opening of borders means that international capacity in New Zealand is on an upward trajectory having flatlined back in late Mar-2020.
New Zealand weekly international seats (2019-2022)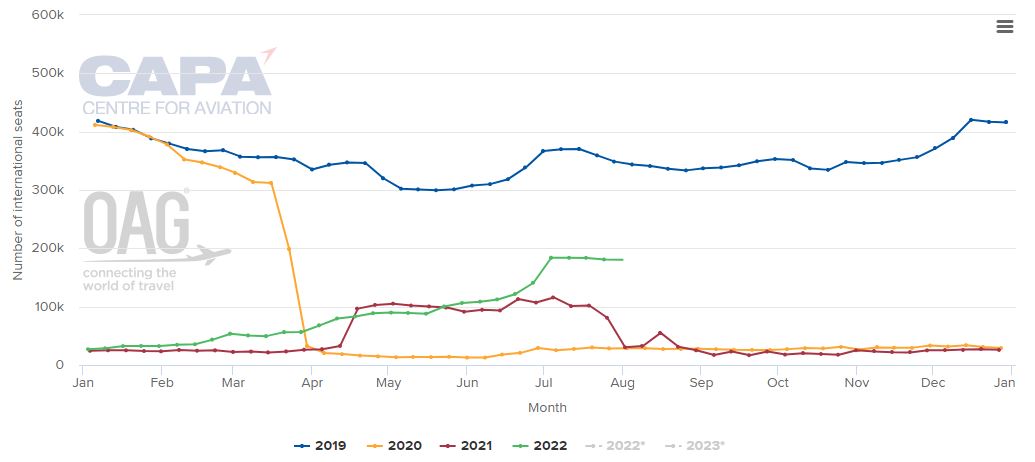 For more than a year, throughout the remainder of 2020 and into 2Q 2021, international air capacity in New Zealand was down more than -90% due to the nation's strict COVID-19 rules, at times slipping below the -95% figure.
There was a small further recovery as some local international travel was permitted in 2021 allowing levels to increase to -65%, but it has only been since 1Q 2022 that a firm recovery path has commenced.
Over the past two weeks – weeks commencing 18-Jul-2022 and 25-Jul-2022 – international capacity has now recovered beyond half the pre-pandemic levels (-48.9% and -48.1%, respectively). Advanced schedules suggest that the improvement will continue into the New Zealand spring, rising in trajectory into the summer months.