Throughout the COVID-19 pandemic, business travel flight bookings have been slower to recover than leisure, and currently still are. However, notes the latest research, that situation now looks likely to change.
As at the end of May-2023, ForwardKeys data projects that the trend is set to reverse in Jul-2023, with the recovery in business travel overtaking the recovery in leisure with business flight bookings 14% behind pre-pandemic (2019) levels and leisure 16% behind.
Moreover, the gap will probably widen in the autumn, according to Olivier Ponti, VP of Insights, ForwardKeys, as the company data shows business bookings for Sep-2023 are just 1% behind 2019, whereas leisure is 8% behind.
"It is conceivable the trend of leisure leading the recovery could continue if there is a late surge in summer holiday bookings; but the rise in inflation, including the price of hospitality and airline tickets, makes that unlikely," adds Mr Ponti.
ForwardKeys: historical and forward-looking business and leisure global air ticket data (2022-2023)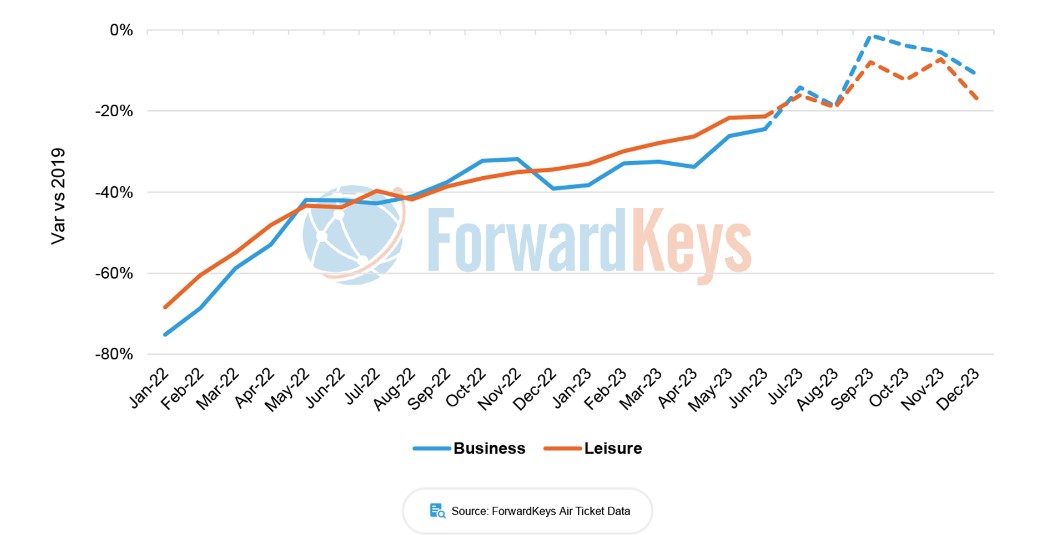 The faster than anticipated removal of restrictions in China has been heralded by many in the industry as a key factor for the bounce back in travel demand.
ForwardKeys has reported that outbound China travel will grow in 2Q as more seats connect Chinese travellers to the world with Thailand, South Korea, Hong Kong and Japan are the best-connected destinations with China.
Northeast Asian travel destinations Japan and South Korea remain highly popular among Chinese travellers despite travel restrictions on Chinese visitors imposed by these countries earlier in the year, according to consumer survey data from Dragon Trail International.
Its Apr-2023 survey polled 1,012 mainland travellers about their plans and preferences for outbound travel. Hong Kong remained the clear top choice for mainland Chinese travellers in 2023, followed by Macau. Looking beyond Greater China, Thailand is still the no. 1 country that Chinese travellers plan to visit in 2023, followed by Japan and South Korea. Like previous Dragon Trail surveys, France and Australia were the top long-haul destinations for Chinese travellers this year.
As the airline industry commenced its summer season in late Mar-2023, seat capacity for Chinese outbound travel has been enhanced.