But, which of the world's airports offers the best and worst environments for remote working? A new study from UK-based aggregation and price comparison provider BroadbandDeals means we now know where we should and shouldn't attempt to login if we need to get some work completed during our time at an airport. If you will be soon travelling in the UK, you should perhaps stop reading now!
The catalyst of technology means that remote working is more popular than ever, with work culture allowing people to work where they want by linking into internal systems and reducing business costs for increased productivity, collaboration and quality of life. The Covid-19 pandemic and related lockdowns and government distancing strategies has meant more and more companies have adopted a remote working ethos and many plan to keep them in place long after restrictions are lifted.
Air travel may have shrunk, but demand will return and according to the Airport Remote Working Index from BroadbandDeals, Singapore Changi Airport is the best airport in the world to work remotely from. The Asian hub is used to winning awards for its marketing strategy and customer convenience so it is no real surprise to hear that it leads in this ranking too.
The Remote Working Index ranks the 100 busiest airports in the world by a mixture of factors, including average internet speed, on-time performance, its service quality (cleanliness, queues and customer service), the number of services (both food and retail shops) and the number of lounges where travellers can comfortably work.
"With 29 lounges and a variety of cafes, Singapore Changi Airport is the perfect place for a productive layover," says the report. "Its high levels of service with a score of 9.2 mean that you'll have great customer service and clean surroundings whilst hopefully not missing your next meeting with low flight delays with an on-time performance of 7.8."
A significant 87 megabytes per second internet speed is also a significant factor, the highest among all the airports and more than 12 times the rate being offered at the airport with the slowest speed.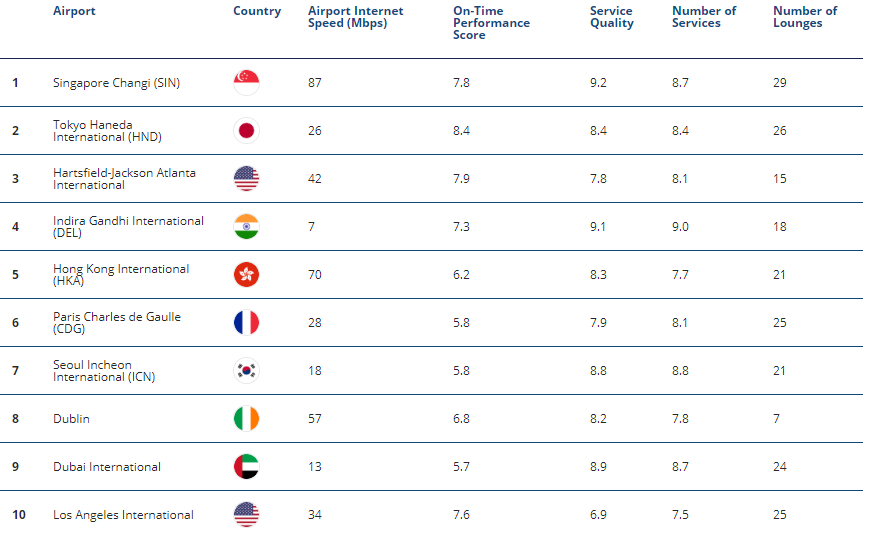 The findings show that Asia is a much easier place to work remotely at airports with Tokyo Haneda International ranked second – boosted by its amenities and services, but rather let down by its mid-range average internet speed of 26 megabytes per second making offline working perhaps more appropriate. Hong Kong International Airport is ranked fifth and Incheon International Airport, serving Seoul, is seventh.
Looking at other regions, Paris Charles De Gaulle (sixth) and Dublin (eighth) airports lead the way in Europe, according to the report, while Hartsfield-Jackson International Airport (third) and Los Angeles International (tenth) top the list from North America, while Dubai International (nine) is the highest ranked of the Middle East's major airport hubs. Delhi's Indira Gandhi International Airport (fourth) completes the top ten, but is a clear case of where remote working should be limited to offline activities.
At the opposite end of the scale some holes in the data appear with some of the airports certainly not within the "100 busiest airports in the world" parameter the report says it uses. But, still, it delivers a clear message that if you want to work remotely at a UK airport, then your time might be better spent finding an alternative activity.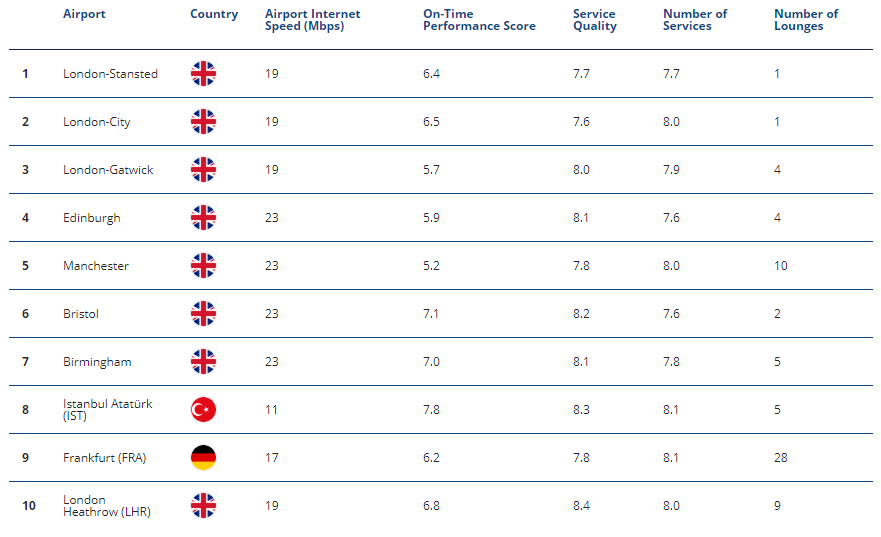 According to the Airport Remote Working Index, eight of the worst airports for remote working are in the UK with Istanbul Airport and Frankfurt Airport the only others to make the 'bottom' list. This ranking is headed by London Stansted Airport with only one lounge and a low average internet speed.
"It is these key indicators plus its poor level of service quality that mean that it is not ideal for remote working," says the report. "With less working space and slow internet, it is not likely that your time in London Stansted Airport is going to be productive. Maybe make the most of its food and shops with a low score of 7.7, they might not be great but they should keep you busy".
The Airport Remote Working Index is produced alongside the Remote Working Index which looks at 50 of the world's most popular cities and ranks them from best to worst for remote working based on average city internet speed, availability of food delivery, availability of remote working jobs, the cost of a laptop and the general cost of living.
We will feature these findings next week, but SPOLIER ALERT… Central and Eastern European capital cities and major US cities exclusively dominate the top ten!