There is a clear need for us to get out there and go places again. At a time when vaccinations are being rolled out globally, CWT acknowledges it is now "seeing a bit more light on the horizon every day". In fact, latest survey data from the TMC has found more than three quarters of regular business travellers are raring to get back to their old lives and more than half would pretty much drop everything to get back in the air.
Local restrictions, health and safety, and quarantine measures are not making it easy for us to get back to travel anytime soon, but these could soon be lifted as vaccination levels hit new milestones. In what it describes as a "temperature check" of the market CWT surveyed its 186,000 global LinkedIn followers in Feb-2021 to fathom their current feelings and eagerness to resume business travel, once restrictions are lifted.
The findings showed 58% of frequent business travellers already have their "passport at the ready" to leave for the airport as soon as they possibly can. Another 19% are "raring to go but are biding their time until they're confident it's safe to do so". Around 15% can't see themselves taking to the skies for work for a long while and just 4% said that they plan never to travel again for business, as a result of the pandemic.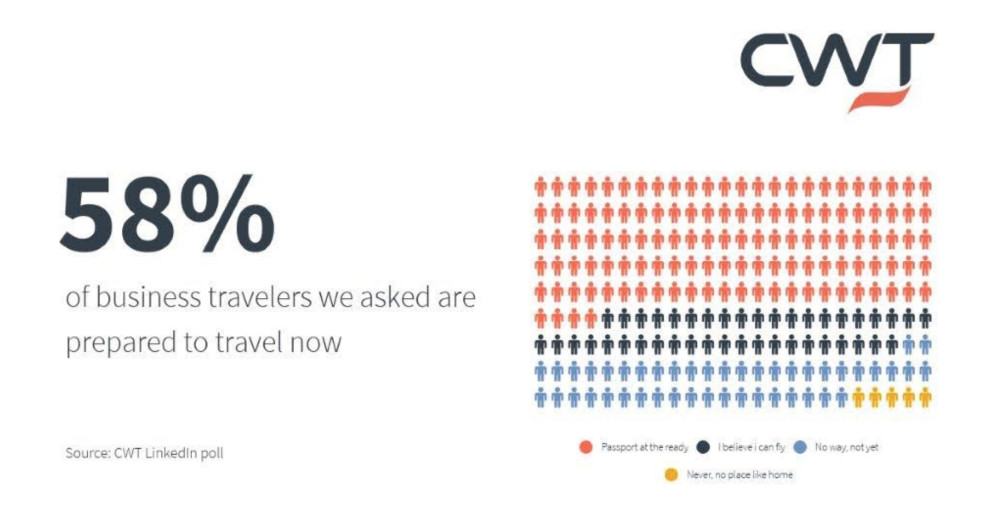 In the latest edition of its 'Business Travel On The Fly' podcast, CWT's CFO and president strategy & transformation, Michelle McKinney-Frymire and Niklas Andreen, president traveller experience and customer, highlighted that analysis of real-time data and hybrid meetings will be two of the key trends that will shape the next twelve months.
Data will be "a critical part of travel management", even more so than today, according to Ms McKinney-Frymire. A key part of the role of the travel management company is managing and analysing data at every stage of the journey – before, during, and after travel. How companies and organisations collect and analyse data will determine how well they restore and maintain confidence in travel, according to the executive.
"The pandemic demanded a whole new layer of real-time data be added to the way companies manage the health and safety of their employees, and now there's the added dynamic of health data which will remain a big focus for years," explained Ms McKinney-Frymire.
"TMCs will need to work with clients to strike the right balance between travellers' personal safety and personal privacy while industries and governments will need to work together on a common set of standards for processing digital health data and giving travellers control and clarity about how their data is being used," she added.
On the development of hybrid meetings, Mr Andreen said the trend represents a "great example of the innovation and the creativity that comes out of a challenge" and one that has "benefits both from a climate perspective and from a business continuity angle".
"The new breed of hybrid meetings brings a whole new dimension to doing business. It allows us to increase the number of people that can participate in big meetings. You can have a small group in place, and spread the message across the entire organization. The hybrid meeting is the evolution of the meetings and events space, which has historically been very binary," he added.