The growth rate is well up on the +14% average in the first five months of 2019, which itself was down by six percentage points on the full-year result for 2018, and 10 percentage points on the 2017 growth rate. In 2017, the growth rate had been the highest in 10 years, at 25%.
The growth rate is considerably higher than in neighbouring Thailand – the region's traditional travel hotspot - where the partially-privatised Airports of Thailand has not seen any passenger growth at all in 1H2019, rather a reduction of -0.7% (Jan-Jul inclusive) in traffic.
What is interesting is that Cambodia's higher growth rate comes at the Kingdom's three privatised airports, which are managed by Cambodia Airports, a part-owned subsidiary of VINCI Airports.
MAP- Cambodia Airports holds the concession for the development and the management of Cambodia's three international airports in Phnom Penh, Siem Reap and Sihanoukville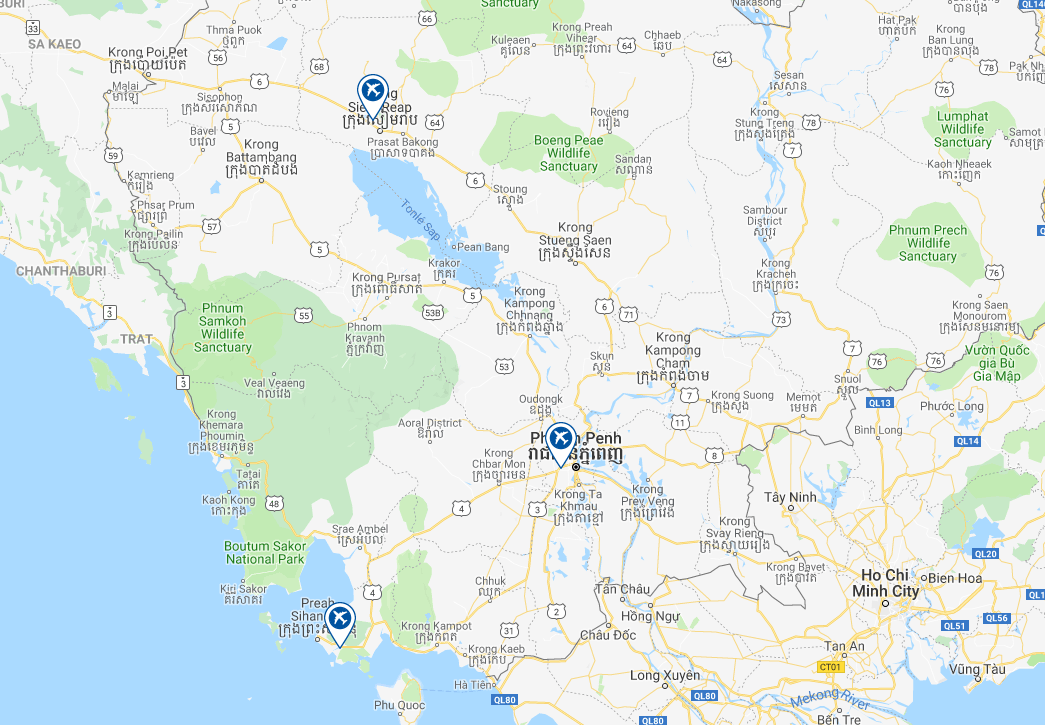 Source: CAPA - Centre for Aviation and Cambodia Airports and VINCI Airports
The airports in Phnom Penh, Sihanoukville, and Siem Reap posted an overall growth rate of +25.1% in 2Q2019. Phnom Penh saw +10% domestic growth and +21% international in Jul-2019. The star performer was Sihanoukville, where there has been "exponential" growth this year and which handled 200,000 passengers, an increase of +310% (+398% international and +78% domestic).
Though Siem Reap International has seen a decrease in passenger rates due to a reduced frequency of flights during the low season, the load factor has steadily increased, by about 3% this past month, and flights continue consistently to be more than 65% full. In Jun-2019, Emirates opened a new daily service between Phnom Penh and Dubai, while Indonesian carrier Citilink inaugurated the first direct flight between Phnom Penh and Jakarta.
It is Sihanoukville that stands out. The city has its roots in the transport sector after a joint French-Cambodian project carved a camp out of the jungle and started building the first deep-sea port in a newly independent Cambodia, but it is a focus on collaborative air connectivity that is now driving a new wave of visitors into the port city.
https://corporatetravelcommunity.com/a-spotlight-on-cambodia-new-airports-are-required-to-meet-a-projected-tourist-boom/
Named Sihanoukville after the ruling prince of Cambodia, but also known for a while as Kompong Som, the booming port and its golden beaches quickly drew Cambodia's jet-setting elite, before than becoming a popular backpacker destination in the 1990s thanks to its tranquil beach charm and a popular alternative to the more developed resorts in neighbouring Thailand.
Many Khmers and expats have settled down to run bars and restaurants after Sihanoukville was praised by The New York Times as being home to 'Asia's next trendsetting beach'. Now, it is proving a popular destination for Chinese travellers with annual visitors from the country now easily outweighing the local urban population.
Sihanoukville is riding the wave of the Chinese outbound tourism boom and more than 120,000 Chinese travellers are now arriving in the city each year, supported by increased nonstop air connectivity from the country. In 2018, ten new cities were directly linked to Sihanoukville, comprising Wenzhou, Tianjin, Shenzhen, Shantou, Kunming, Hangzhou, Fuzhou, Changsha, Chongqing, Guangzhou.
Just recently, in Aug-2019, the city's Sihanouk International airport passed through the one million passengers per annum barrier for the first time, and with one third of the year still remaining. Unlike Phnom Penh, which has 'capital city' and 'hub' status, and Siem Reap, which is the gateway to the world famous World Heritage site, the Angkor Wat ruins, Sihanoukville is merely a coastal city and seaport.
CHART - Visitor arrivals to Cambodia have risen consistently in the last ten years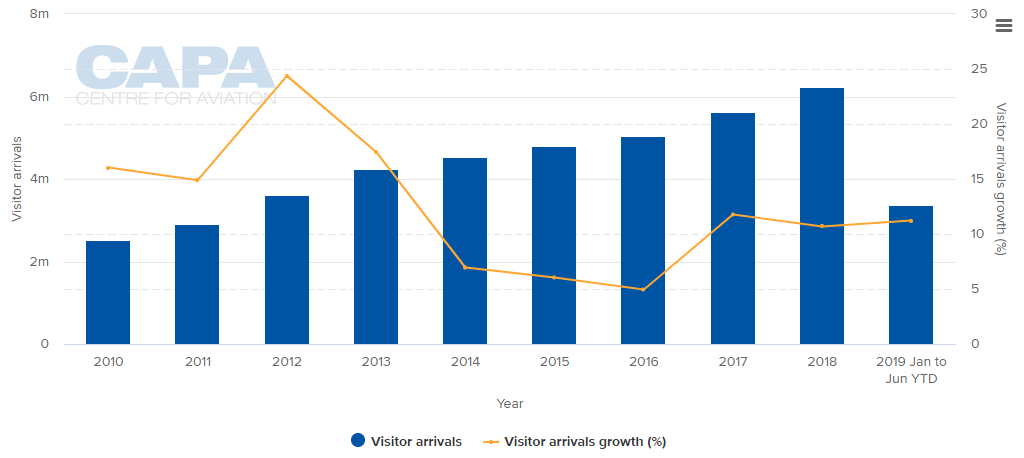 Source: CAPA - Centre for Aviation and Ministry of Tourism Cambodia
International tourism to Cambodia has risen consistently in the last 10 years, peaking at +24.4% in 2014. Again, overall that is at a higher rate than in Thailand, and right now it is a full nine percentage points higher.
The growth in Chinese arrivals in Sihanoukville is also evident elsewhere in the country with around 500 frequencies from Cambodia to China each week. Phnom Penh is connected with 23 Chinese cities by air, while Siem Reap and Sihanoukville are linked to 23 and 15 destinations respectively. Cambodia's Ministry of Tourism says establishing more international services is a priority for the government, as part of a goal to reach 15 million foreign tourists by 2030.
As key drivers for Cambodia's economy, the international airports contributed to 17% of the country's total GDP in 2014-2015. More than 1.7 million jobs, representing 20% of the working population, were related to their activities.
But like many developing economies there have been strained relationships between Cambodia and its foreign partners. In 2014, there were calls for the Government to terminate its concession agreement with VINCI Airports for Cambodia Airports, citing the contract "is robbing the nation", by "making more than USD4 billion" during the 25-year contractual period, while "undertaking (just) USD100 million of redevelopment works at Phnom Penh and Siem Reap airports.
More recently, when the government opted for a 'state' solution for a new capital city airport and a private one for the main tourist airport, VINCI was not invited to participate in the bidding procedure for the new airport.