Globalia is the largest tourism and transport holding company in Spain, comprising of companies such as Travelplan, Groundforce, Halcón Viajes, Viajes Ecuador, Be Live Hotels, Latitudes, Touring Club Iberrail and the Spanish airline, Air Europa. It has an annual turnover of more than EUR3 billion and 11,000 staff.
The Mallorca-based Air Europa is a key ingredient in this mix, having grown significantly several years ago, partly by filling in the gaps in Iberia's network as the IAG group airline contracted its Latin American operations, though many of those Iberia routes have since been reinstated.
MAP - Air Europa's Central and Latin American Route Map
Source: CAPA - Centre for Aviation and OAG
Iberia remains the larger airline by all the main measures (seats, ASKs, frequencies etc) but the gap has narrowed. Air Europa serves 18 airports in Central and South America, compared to Iberia's 28. At Madrid Barajas Airport, Air Europa has 13% of the seat capacity (w/c 14-Aug-2017) compared to 47% for Iberia, making it the second largest airline there.
MAP - Iberia's Central and Latin American Route Map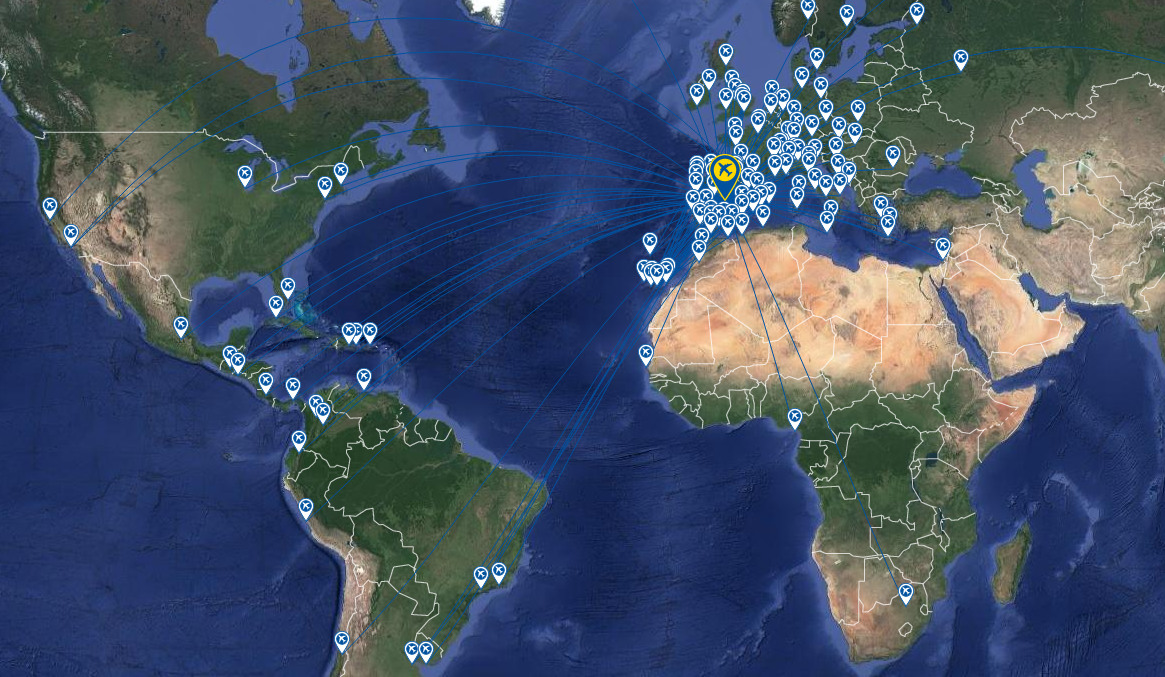 Source: CAPA - Centre for Aviation and OAG
There are no other airports in Europe with Madrid's credentials as a gateway from and to Latin America. Close to 20% of the seats available in w/c 14-Aug-2017 are to and from Upper and Lower South America, Central America or the Caribbean. The closest competitor amongst Europe's main hubs is Paris Charles de Gaulle, with almost 5%.
CHART -A Distribution of Latin America Seat Capacity by European Airport (summer 2017)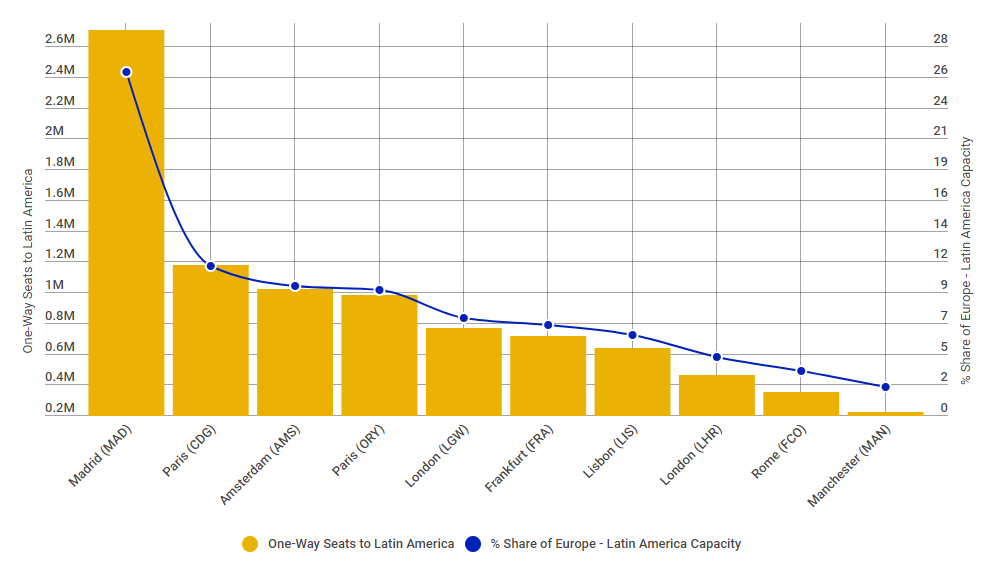 Source: The Blue Swan Daily and OAG
Apart from its Latin American operations Air Europe also serves 40 airports in Europe, so it would appear that a hub is in operation already. On the other hand, 24 of those 40 airports are in Spain – on the mainland and its islands. Of the other 16, major cities such as Paris, London, Amsterdam, Rome, Frankfurt, Munich and Lisbon are covered, but many others are not. Iberia's network is much broader and denser. It might be more appropriate for Mr Hidalgo to say he desires to create a hub in Madrid, so that Latin American passengers can stay two or three days before proceeding to travel on into the remainder of Spain.
It is interesting to contrast general tourism trends in Spain with those of Dubai and also other countries where a stopover option has historically proven to be popular such as Singapore (one of the originals) and Iceland, where stopovers have been promoted for around 25 years.
Spain hosted 75.5 million visitors in 2016 (+10.9%). The vast majority were from Europe, led by the UK (23.6%). No Latin American country provided more than 1%, which suggests perhaps that Senor Hidalgo might be better advised to promote stopovers en route Latin American rather than from it.
Dubai's tourism visitor numbers were 14.9 million in 2016, led by Europe (21%) and then the Gulf Co-operation Council Area (19%), making it the fourth most visited city in the world.
There were 16.4 million visitors to Singapore in 2016 (+7.7%), led by Indonesia and China, both with 17.5%.
Iceland recorded 1.8 million visitors (+39%). The level of sustained tourist growth there is propping the country up; without it there would be virtually zero GDP growth. But it also meant that there were almost 100,000 more US visitors than the entire population and the same number as the Icelandic population came from the UK.
In the case of all three of these, stopover passengers would have played a major part as Singapore is still an important transit point between Europe and Southeast Asia/Australasia; Iceland is also, between Europe and North America; and Dubai is hub between everywhere and everywhere else. All of them have been active in devising and supplying stopover packages.
So there is plenty of scope for the horizontally integrated Globalia to work at creating a stopover 'image' for Madrid for its Latin American passengers. For all the capacity available to them, visitor numbers to Spain from Latin America as a percentage of the whole are low. Madrid is replete with culture and history to sell; far more than Dubai or Singapore, which are really shopping destinations. And with its horizontal integration Globalia is well placed to create imaginative one, two or three night breaks in the manner of Icelandair, which adds on its Golden Circle and Blue Lagoon tours, which take in the best of the surrounding area in concentrated day or half-day trips.