Qantas suspended services to Buenos Aires in Feb-2012 as it launched services to Santiago in Chile while Aerolineas Argentinas suspended services to Sydney in Apr-2014. Air New Zealand has partially filled the void since launching flights from Auckland to Buenos Aires in Dec-2015 and is now the leader in the Australia-Argentina market by a wide margin.
In 2016 Air New Zealand accounted for 59% of bookings from Australia to Argentina, according to OAG Traffic Analyser data. In 2011, the last full year both Qantas and Aerolineas Argentinas still operated the Sydney-Buenos Aires route, Qantas accounted for a leading 69% share of Australia to Argentina bookings followed by Aerolineas with a 24% share.
Chile-based LATAM Airlines also has benefitted from the lack of direct services between Sydney and Buenos Aires. LATAM's share of the Australia-Argentina market has increased from only 6% in 2011 to 29% in 2016.
Australia to Argentina bookings share by airline: 2016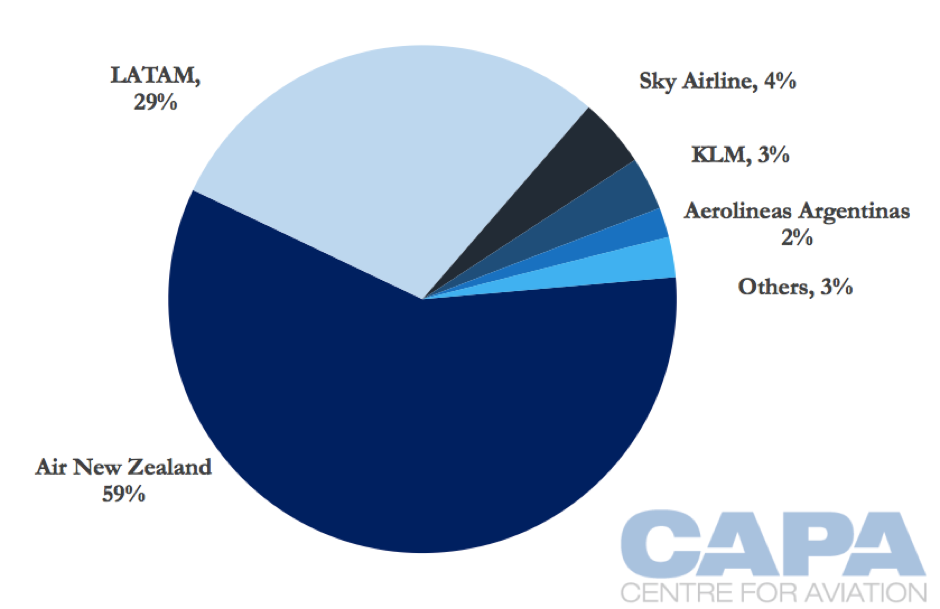 Source: OAG Traffic Analyser
Australia to Argentina bookings share by airline: 2011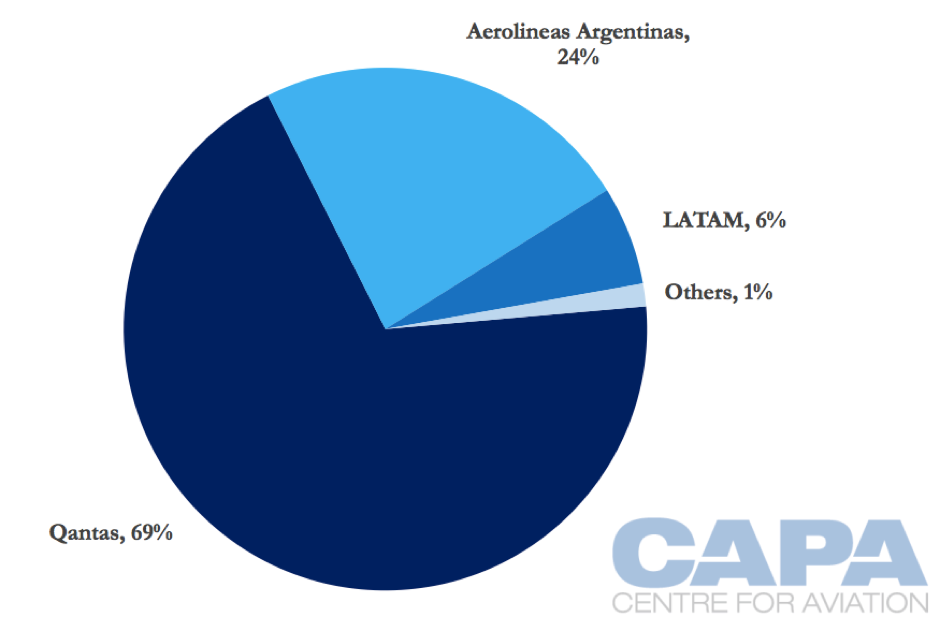 Source: OAG Traffic Analyser
LATAM and Qantas both operate services from Sydney to Santiago although the LATAM service stops in Auckland. Connections are available from Santiago to Buenos Aires – as well as to several secondary destinations in Argentina – on LATAM. As Blue Swan previously analysed, LATAM is launching non-stop services from Santiago to Melbourne in Oct-2017, which will provide a new one-stop option for passengers heading from Melbourne to Argentina. Air New Zealand now offers by far the most convenient option for Melbourne-Buenos Aires traffic.
Total traffic in the Australia-Argentina market has dropped by approximately 20% over the last five years. This is hardly surprising given the lack of nonstop options as well as the economic problems in Argentina, which have impacted outbound demand.
The potential resumption of a direct link from Australia to Argentina should lead to a new era of growth. Argentina's economy is improving and overall traffic in the country is expanding at rapid clip due in part to the new more liberal policies of the government which took over at the end of 2015. For example, domestic passenger traffic in Argentina is expected to double from 2015 to 2019.
Aerolineas Argentinas is not currently considering resuming expansion of its long haul network and is focusing on domestic growth. However, Aerolineas Argentinas could start looking at long haul growth early next decade when it expects to take delivery of new generation widebody aircraft. The airline expects to place an order in 2018 for new generation widebody aircraft for delivery from 2020. Aerolineas' current widebody fleet consists mainly of A330-200s, which do not have the range to fly across the South Pacific, as it has been phasing out its A340s.
Another potentially more likely option is for the Sydney-Buenos Aires route to be launched by Norwegian Air Argentina, a new subsidiary of European LCC group Norwegian. Norwegian Air Argentina plans to commence operations by the end of 2017 operating 737s domestically but its long-term fleet plan also includes 787s.
Norwegian Air Argentina's business plan includes 787s to North America and Europe but Sydney could emerge as an option as it expands. The 787, which is now used by Air New Zealand and LATAM on all their South Pacific crossings, would be an ideal aircraft for the Buenos Aires-Sydney route. Norwegian's low fares should also able to stimulate significant demand as the Australia-Argentina market consist mainly of price sensitive leisure travelers, including ethnic traffic.
Aerolineas' suspension of Sydney service in 2014 was somewhat disappointing given the airline's performance in the Sydney market was improving. However, the airline's limited widebody fleet as well as political and economic issues in Argentina made it difficult to sustain the service at the time.
Sydney should be able to again support a link with Buenos Aires in future – and the advent of new of new aircraft technology makes it more viable. Melbourne would also obviously be keen to gain a link to Buenos Aires, to supplement its new Santiago service, but Sydney is the more likely option given that it has Australia's largest Argentinean community.
Aerolineas Argentinas flew 63,000 passengers to and from Sydney in 2013, the last full year it served Australia, with an average load factor of 81%. It carried 17,000 passengers to and from Sydney for an average load factor of 83% in the first four months of 2014 before the last flight was operated, according to Australia BITRE data.
Aerolineas' load factor in Sydney improved following Qantas suspension of services to Buenos Aires in early 2012. The airline's performance in Australia also improved after it dropped the Auckland stop on the Sydney-Buenos Aires route in Jun-2012.
In 2011, the last full year Qantas also served Buenos Aires, Aerolineas carried 63,000 passengers to and from Australia with an average load factor of 75%. Approximately 74% of its Sydney passengers in 2011 flew through Auckland to Buenos Aires while the remaining 26% got off in New Zealand.
Qantas carried 73,000 passengers between Sydney and Buenos Aires in 2011 with an average load factor of 78%. Qantas initially launched services to Buenos Aires in 2008.
In the just under four years Qantas operated the Sydney-Buenos Aires route it carried an average of 72,000 passengers per year with an average load factor of 76%. This is a respectable performance, particularly given Aerolineas was also on the route during this period, and indicates the Sydney-Buenos Aires market is big enough to support nonstop service.
Qantas' decision to move its South America service to Santiago was driven partially by partnership opportunities. Santiago is a smaller local market from Sydney but provides connection opportunities throughout South America as it is the main hub for oneworld partner LATAM. The connection opportunities beyond Buenos Aires are more limited because most domestic and regional international services operate from a separate airport than long haul flights.
It is unlikely that Qantas will resume Buenos Aires. But the Australia-Argentina market should be large enough for a nonstop service from a foreign airline, particularly if Argentina's economy continues to improve and its overall market continues to expand. It is inevitable that at some point Australia will again have a direct link with Argentina.