---
Summary:
Canada welcomed 8.9 million overnight visitors during the high season of Jun-2018 to Aug-2018, its third strongest performance for the period this Century;
Data from Destination Canada shows in the year to Aug-2018 overnight arrival visitors to Canada from its top ten international markets improved by +1%;
A rebound in US automobile arrivals into Canada has partly driven the growth and was up +9% year-on-year in Aug-2018 and 3% in the first eight months of 2018.
---
The organisation calculated that year-to-date in Aug-2018 overnight arrival visitors to Canada from Destination Canada's top ten international markets improved by +1%, due to a rebound in US auto arrivals to Canada, which increased 9% year-on-year in Aug-2018 and 3% year-to-date for Aug-2018.
The Aug-2018 performance benefited from the timing of long weekend holidays, with the increased arrivals on the Friday of the Labour Day long weekend falling on 31-Aug-2018. New York, Washington, and Michigan continued to provide the largest share of US vehicle arrivals to Canada during the month, contributing a combined total of 40% of US auto arrivals in Aug-2018 and 42.4% from Jan-2018 to Aug-2018.
Air travel from Canada to the US was down -5% year-on-year in Aug-2018, according to Destination Canada. Total arrivals by air to Canada were up +2% year-on-year for the 8M ending Aug-2018 to 14. 8 million.
The summer period was also the best performance ever for long-haul, non US arrivals to Canada, with levels reaching 2.6 million. Destination Canada determined that arrivals from Mexico, India and France recorded the "best August ever". Mexico posted a +19% year-on-year increase in arrivals, followed by a +2% increase for India and +1% growth for France.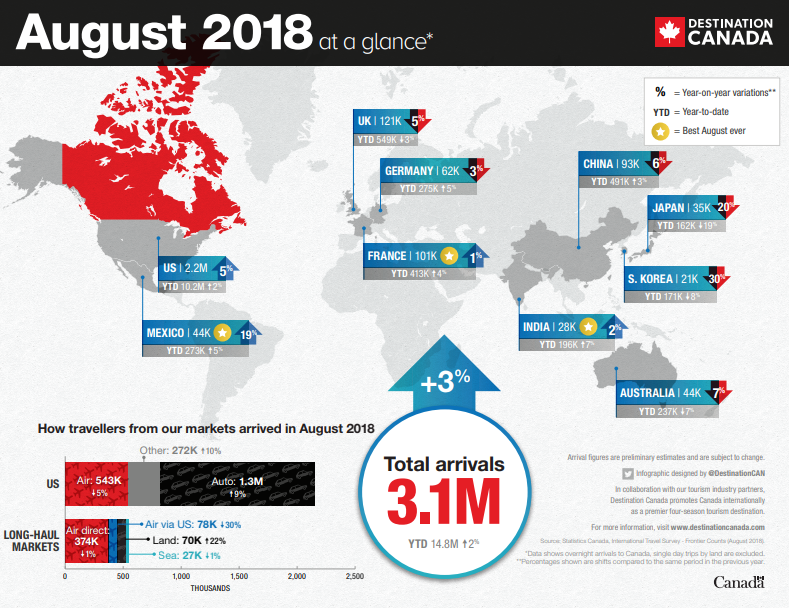 Despite the strong performance in international arrivals overall, overnight arrivals from Destination Canada's long-haul markets slipped, both in August (-4.5%) and
year-to-date (-0.7%). The gains from Mexico, India and France were outpaced by severe declines from Japan and South Korea, as well as decreases from China, the
UK and Australia. The primary source of these declines, according to Destination Canada, was ongoing significant declines in air arrivals via the US across all markets in Aug-2018, and all except India in the year-to-date period.
Overnight arrivals from China have slowed considerably following a steep -7.8% drop in the value of the Chinese Yuan against the CAD since mid-June. Destination Canada also acknowledges there have been lower consumption patterns among Chinese consumers in response to rising prices and uncertainties linked to the
economic slowdown in China and the trade dispute with the US.
Arrivals from the UK further contracted in Aug-2018 (-4.5%), as consumer confidence remains hampered by Brexit-related uncertainties, says the governmental international marketing agency. In Australia, lower consumer confidence induced by higher mortgage rates, together with declines in the value of the AUD against both the CAD and the USD was to blame, leading to fewer Australians embarking on Alaska cruises and dual US-Canada trips.
These declines may cloud the performance, but still, Destination Canada recently concluded that during 1H2018, tourism activities added USD18.7 billion to the Canadian economy, which was an increase of +6.2%.