The strong performance is linked to an increase in international arrivals into Canada during the year and a slow supply growth (up just +0.8%), with STR also highlighting celebrations around the 150th anniversary of Confederation as a further driver of hotel demand.
Performance metrics released by STR last week show 2017 occupancy up +2.4% versus 2016 to 65.9%; average daily rate (ADR) up +5.2% to CAD156.73 and revenue per available room (RevPAR) up +7.7% to CAD103.31. In absolute values, August was Canada's top month of the year for each of the three metrics: occupancy (80.3%), ADR (CAD177.43) and RevPAR (CAD142.56).
Looking in more detail at the STR data, among the provinces and territories, Manitoba recorded the year's largest year over year increase in occupancy (+6.9% to 68.7%). The Yukon Territory reported the highest lift in ADR (+8.2% to CAD138.38), resulting in the second-largest increase in RevPAR (+10.8% to CAD107.76). Nova Scotia posted the largest rise in RevPAR (+12.4% to CAD98.98), due primarily to the second-highest increase in ADR (+8.1% to CAD143.52).
On the flip side, Saskatchewan reported the steepest declines in all three key performance metrics: occupancy (-0.5% to 53.3%), ADR (-4.7% to CAD118.88) and RevPAR (-5.2% to CAD63.34). The Northwest Territories experienced the only other decrease in occupancy (-0.4% to 71.6%) and the second-largest declines in ADR (-2.1% to CAD161.91) and RevPAR (-2.5% to CAD115.92).
Official data from Destination Canada for Jan-2017 to Oct-2017, shows overnight arrivals into the country from ten of its eleven international markets increased over the same period in 2016, with the overseas markets gaining 9.0% and arrivals from the US improving by 2.9%. The UK (-3.3%) registered the sole year-to-date decline in arrivals, amid Brexit related concerns.
CHART – Preliminary arrivals data for Nov-2017 shows that visitors arrivals into Canada from Australia, Brazil, China, France, India, Germany, Mexico and South Korea hit monthly highs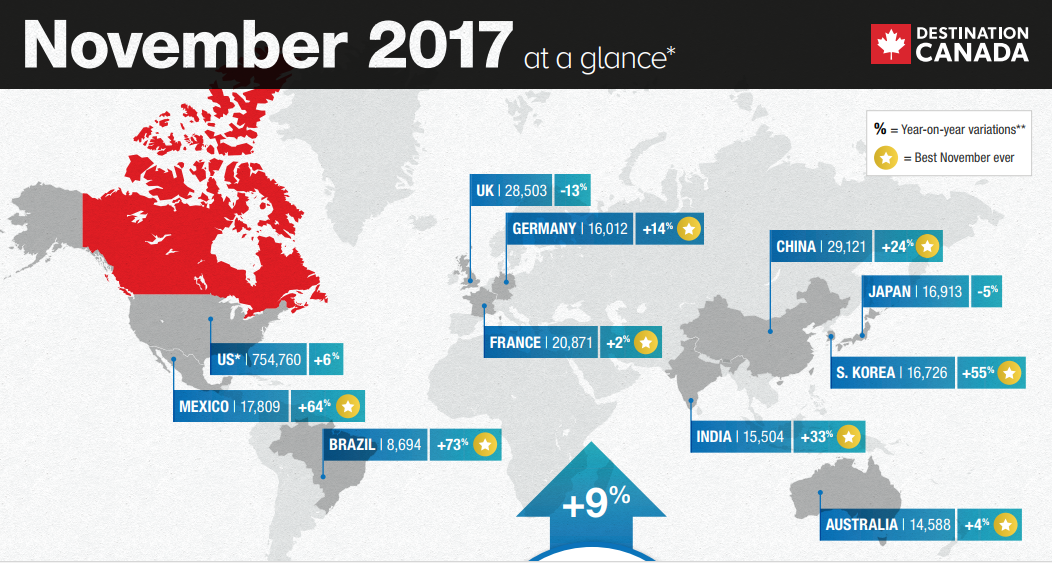 Source: Destination Canada