Saudi is not a signatory to the "Transit Agreement" which followed the Chicago Convention. Bahrain and the UAE are signatories and have airspace far more relevant to Qatar. For the open skies-seeking UAE to abandon its Transit Agreement obligation is a big call, but with this incident highly charged, uncertainty pervades. The ban on flights has a greater impact on Qatar Airways, which operates more flights than all other airlines combined. Local traffic is impacted and so too is Qatar's global network, which relies on Saudi and the UAE as large source markets supporting its superconnector network.
More significantly, public confidence in aviation has been dealt a blow and for aviation there are no long term winners from this. A speedy resolution is needed. It stems from a much broader issue than aviation alone, but hopefully, in this tight knit global industry, airline operations will not be disrupted for long.
Qatar Airways has more flights to the four countries than its peers
Qatar Airways has a larger presence in Bahrain, Egypt, Saudi Arabia and the UAE than airlines from those countries have in Qatar. This reflects partially Qatar's larger size compared to some airlines (but not Emirates) but also its need to build source markets to feed its sixth freedom transit operation.
Average daily flights between Qatar and Bahrain, Egypt, Saudi Arabia and the UAE: week commencing 29-May-2017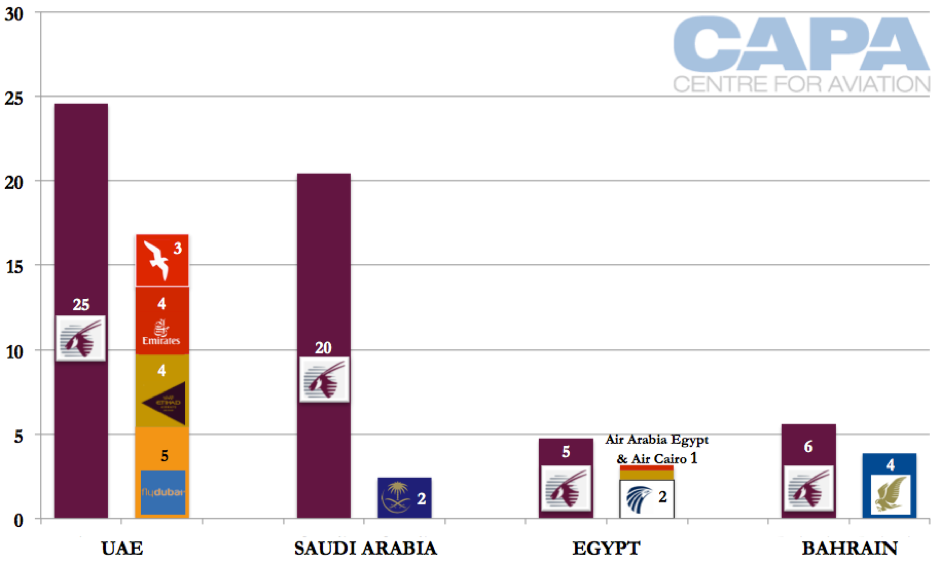 Source: CAPA - Centre for Aviation and OAG
Loss of local markets impacts Qatar Airways' global network
It is unclear how long the ban will persist but, from an aviation perspective, it is in the interest of all to resolve the matter quickly. An impact to Qatar Airways (and also Emirates and Etihad) is that, besides losing point-to-point passengers, by being cut off from markets the connecting flights around the world are also impacted.
A Saudi passenger can no longer transit through Doha enroute to Bangkok, while an Australian passenger cannot transit through Doha enroute to Dubai.
Moving forwards: there could be quick restoration but there will be residual impacts
It is difficult to see the ban persisting for long. There can be few winners from it. It has already created wider uncertainty for Gulf aviation and passengers whose bookings are months away. The nuances of the ban are too particular for the public to understand, but the broader shadow it creates spreads widely.
Amidst growing security concerns and the existing laptop ban, passengers are unlikely to dig in to the reason for this ban. Gulf aviation becomes less attractive for all.
Assuming a quick resolution – which cannot be a given – short term beneficiaries of the need to divert traffic flows are few. But for Gulf aviation a medium term negative impact is almost certain to result.
This whole incident could be forgotten by the end of 2017. Alternatively, if Saudi Arabia – which initiated the ban and appears to be leading it – is intent on delivering change at the State of Qatar, the implications could be more extensive. If Saudi Arabia wants to have political and leadership change in Qatar and then achieves it, there could be wide implications across state-owned companies, of which Qatar Airways and Doha Airport are some of the most visible.
Uncertainty continues to pervade the industry in 2017. Qatar Airways may find it has few friends among its neighbours during the turmoil, but competitors would be unwise to assume Qatar's growth story faces a slowdown.
To learn more visit the CAPA – Centre for Aviation website, article titled Qatar Airways Middle East landing & airspace restrictions; wider ramifications for global aviation