Regarded as the pre-eminent awards for strategic excellence in aviation, CAPA first established the awards in 2003 to recognise successful airlines and airports based in the Asia Pacific region. The awards later expanded to the global stage in 2012 to acknowledge aviation excellence worldwide.
CAPA – Centre for Aviation's chairman emeritus, Peter Harbison said: "In the dynamic and ever-evolving environment of the aviation industry, CAPA's Global Aviation Awards for Excellence serve as an opportunity to stop and recognise key achievements across our industry over the last 12 months and celebrate with industry peers."
The six winners in the airline category represent carriers that have shown the greatest strategic impact on the development of the airline industry within their class, and have established themselves as leaders, providing a benchmark for others to follow.
The Airline of the Year award was presented to British Airways. The airline brand may only be 45 years old, but the airline has been built on a legacy that dates back 100 years to 1919 when forerunner company, Aircraft Transport and Travel Limited (AT&T), launched the world's first daily international scheduled air service between London and Paris.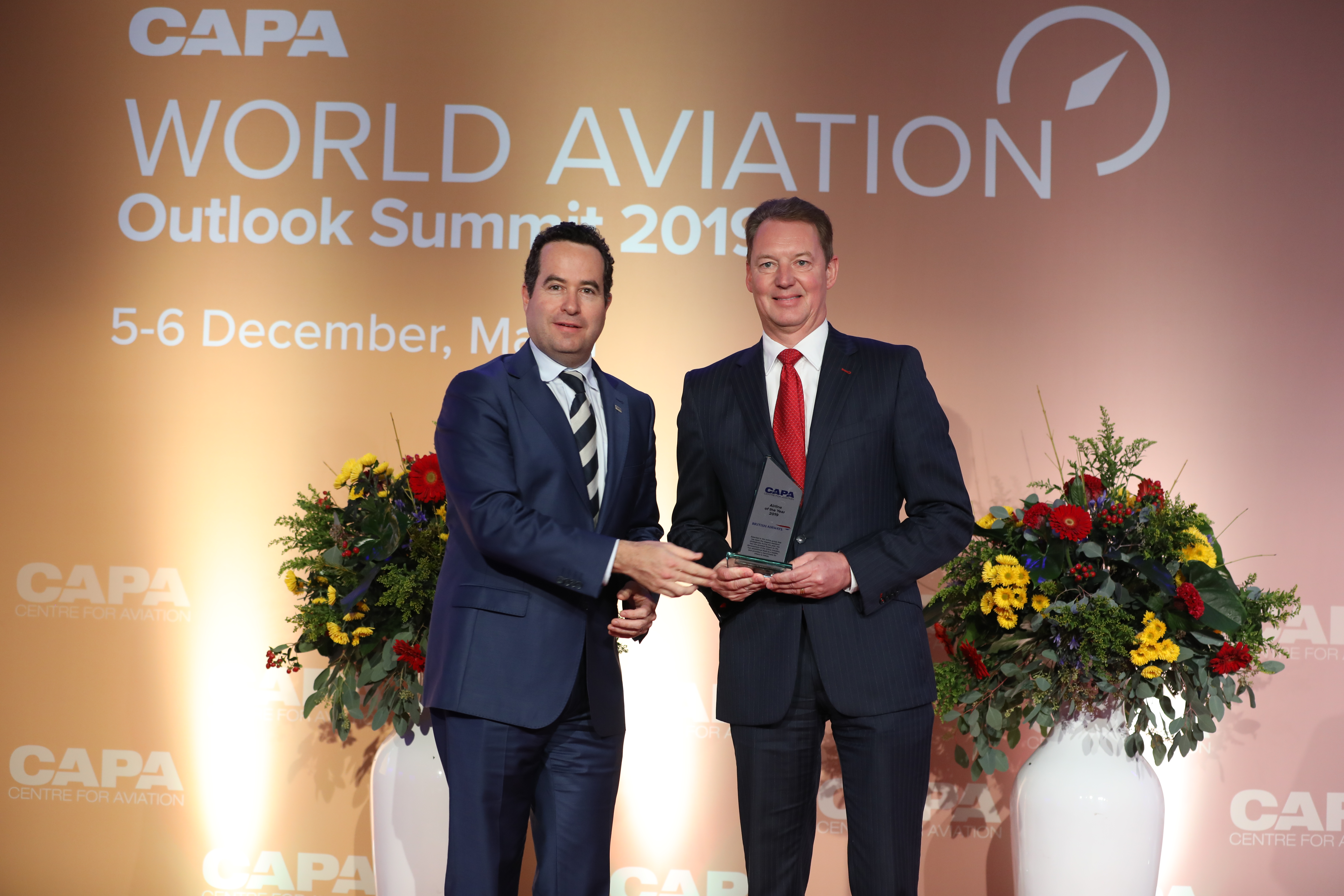 Mr Harbison said: "British Airways was famously the world's favourite airline in the 1990s and it has taken some tough decisions to maintain its market position against increasing competition. Under the leadership of. CEO Alex Cruz, BA has not been afraid to adopt new ticketing practices, service levels etc and is now among the frontrunners of distribution change and technology adoption - at the same time as achieving an industry leading ROIC. It is certainly "100 not out" for one of the world's most famous airline brands."
The Airline Executive of the Year award was presented to Ethiopian Airlines' CEO Tewolde GebreMariam, who was recognised as the executive who has had the greatest individual influence on the aviation industry, demonstrating outstanding strategic thinking and innovative direction for the growth of their business and the industry.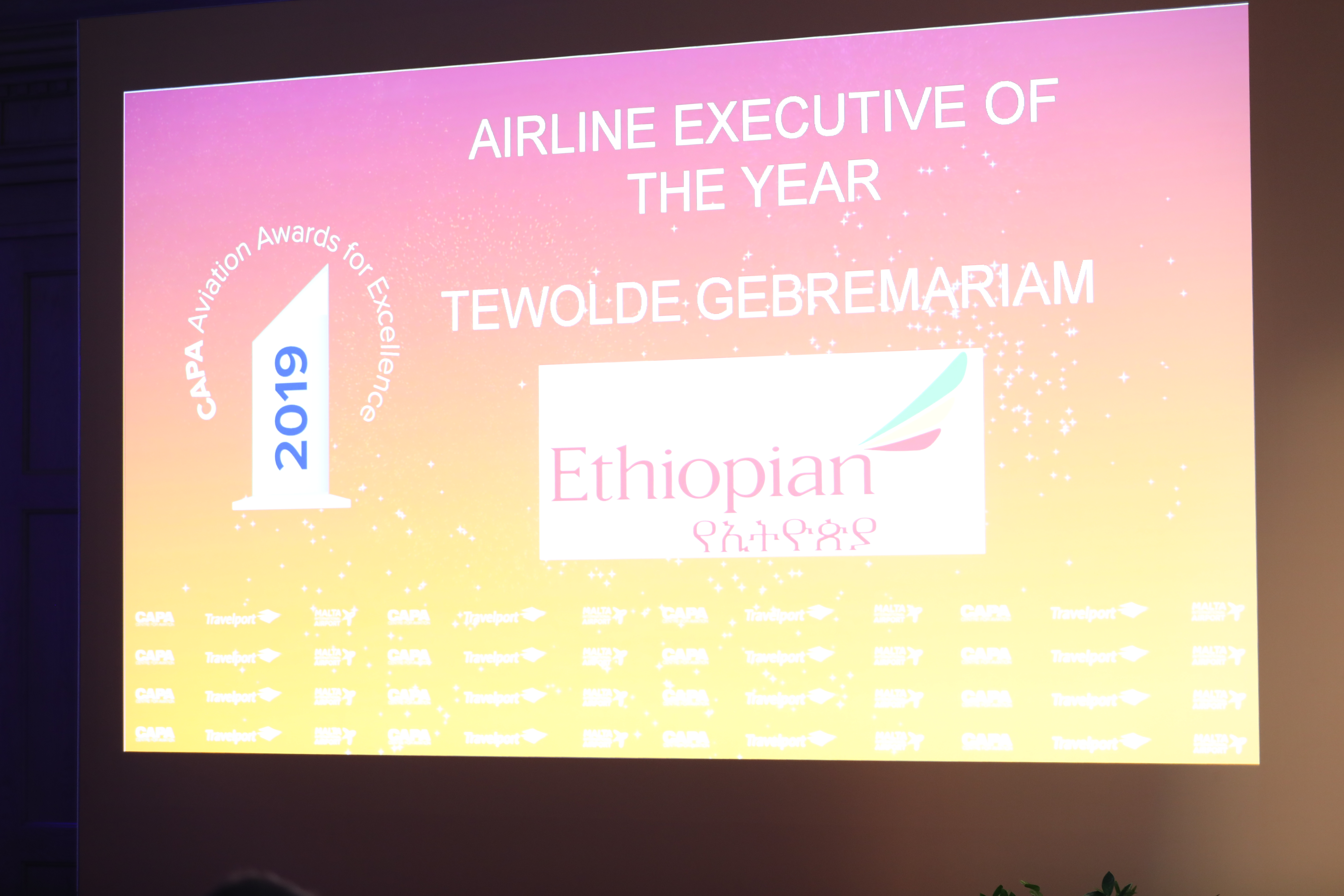 Mr Harbison said: "Tewolde GebreMariam has become a giant in African aviation over the past decades. He has guided a marginal airline into becoming a major global force, with a modern fleet and a world class operation. This past year he has been most strenuously challenged following the MAX accident, and emerges with an even stronger reputation. We are proud to present him with this award and look forward to him continuing to lead the airline to even greater heights."
The Low Cost Airline of the Year award was presented to Spirit Airlines, which was selected for pioneering the ultra-low-cost model in North America, and more recently, turning its operations around and improving its customer relations.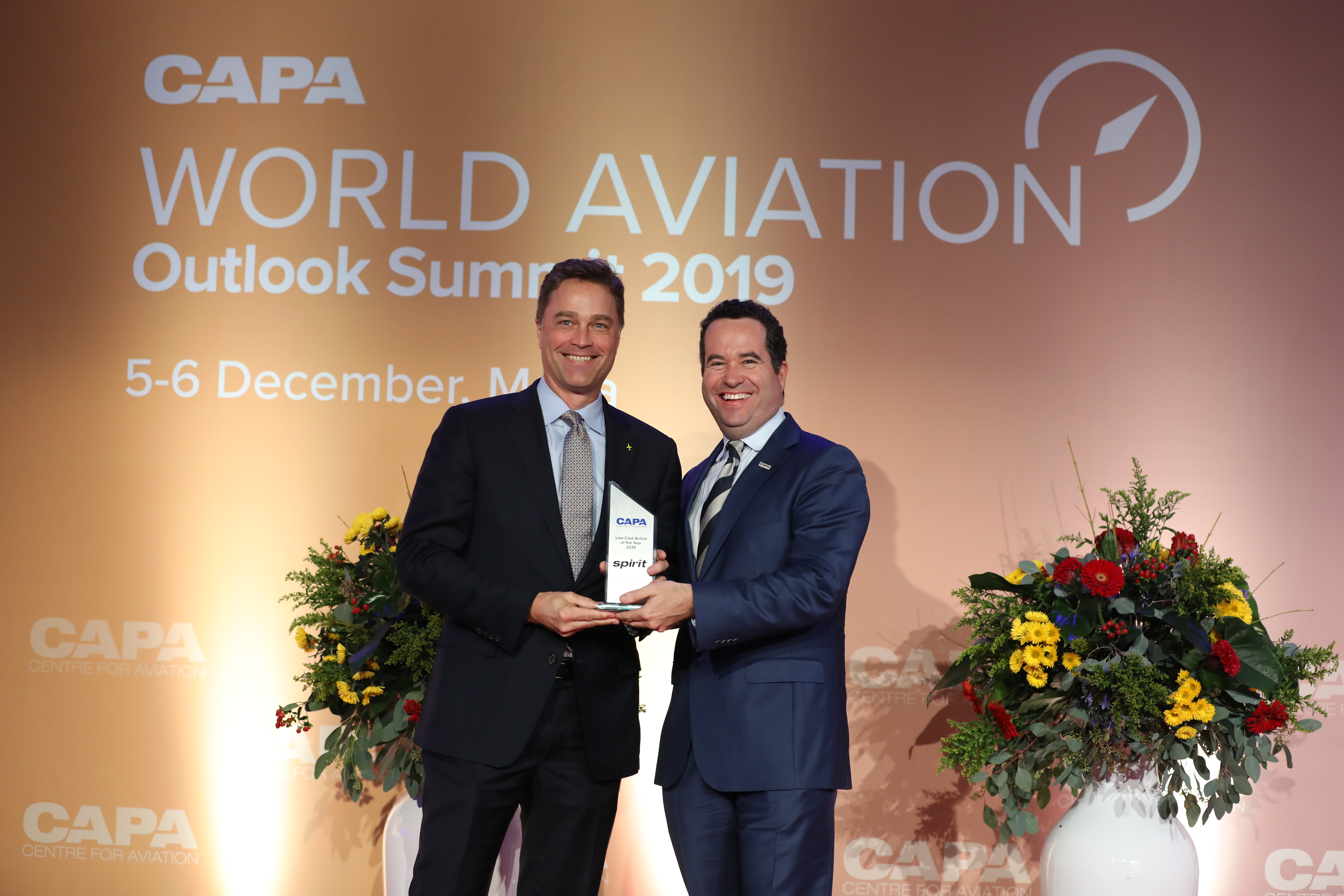 Mr Harbison said: "Spirit Airlines has projected the ULCC model into the North America mainstream, and its growth has directly resulted in the creation of fare classes in the marketplace, resulting in passengers having more choice, at the same time as airlines improving their revenue management."
The Regional Airline of the Year was presented to airBaltic, which was selected for its strong return to growth and profitability after emerging from a challenging restructuring period. Annual passenger numbers, essentially unchanged at 2.6 million between 2008 and 2015, look set to reach five million in 2019, a near doubling in four years. Revenues have enjoyed similar growth.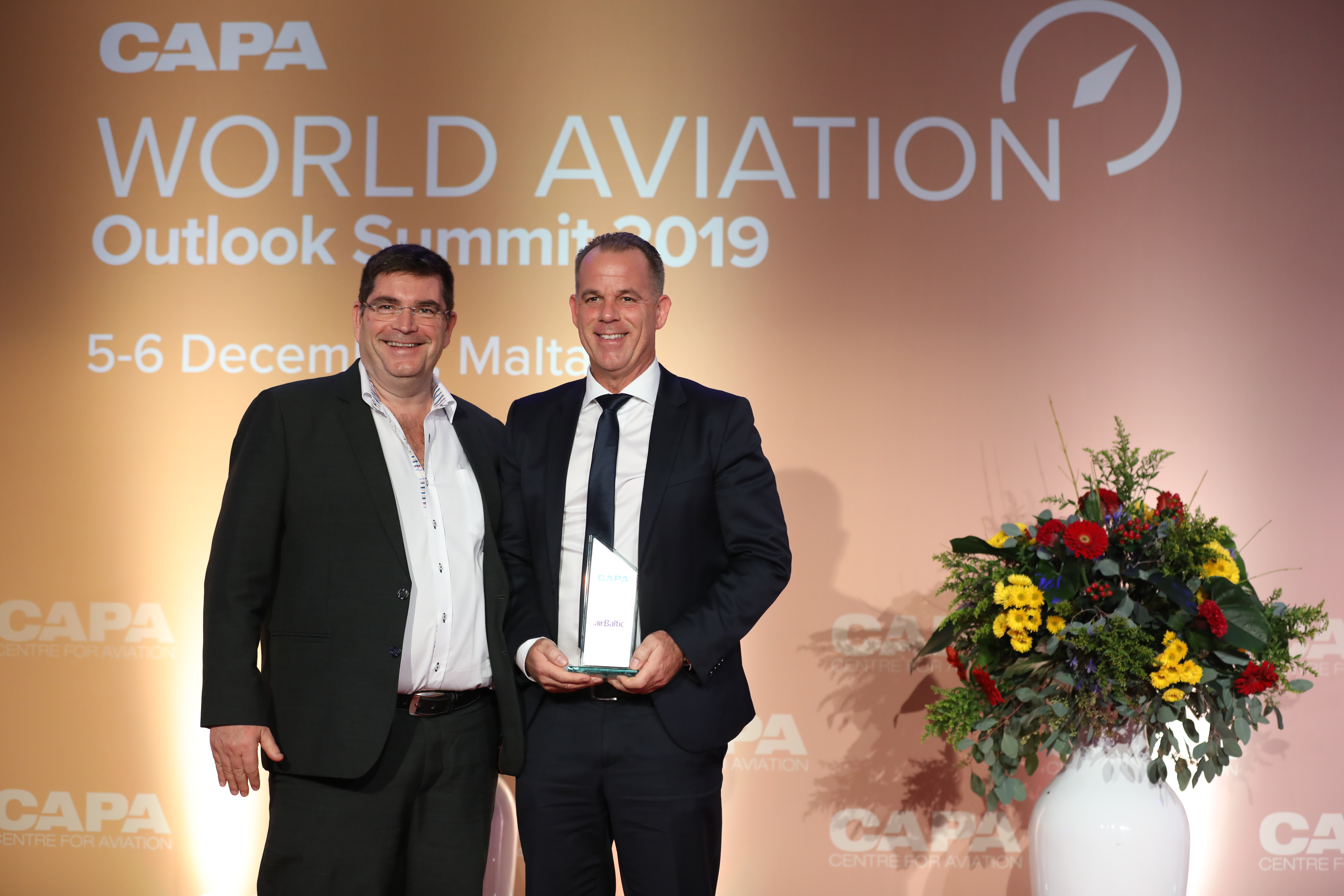 Mr Harbison said: "airBaltic combines an LCC cost base with a compelling hybrid business class product, while its route network meshes point to point demand with a hub and spoke model. Its growth and return to profit, built on a strong market share in its home market of Latvia and the wider Baltic region, should certainly attract investor interest."
The Airline Turnaround of the Year award was presented to LOT Polish Airlines, which was selected for its return to profit since 2016, following an extended period of loss-making, while also resuming strong traffic growth. In 2019, it expects to carry 10 million passengers for the first time, more than twice its traffic of just four years ago.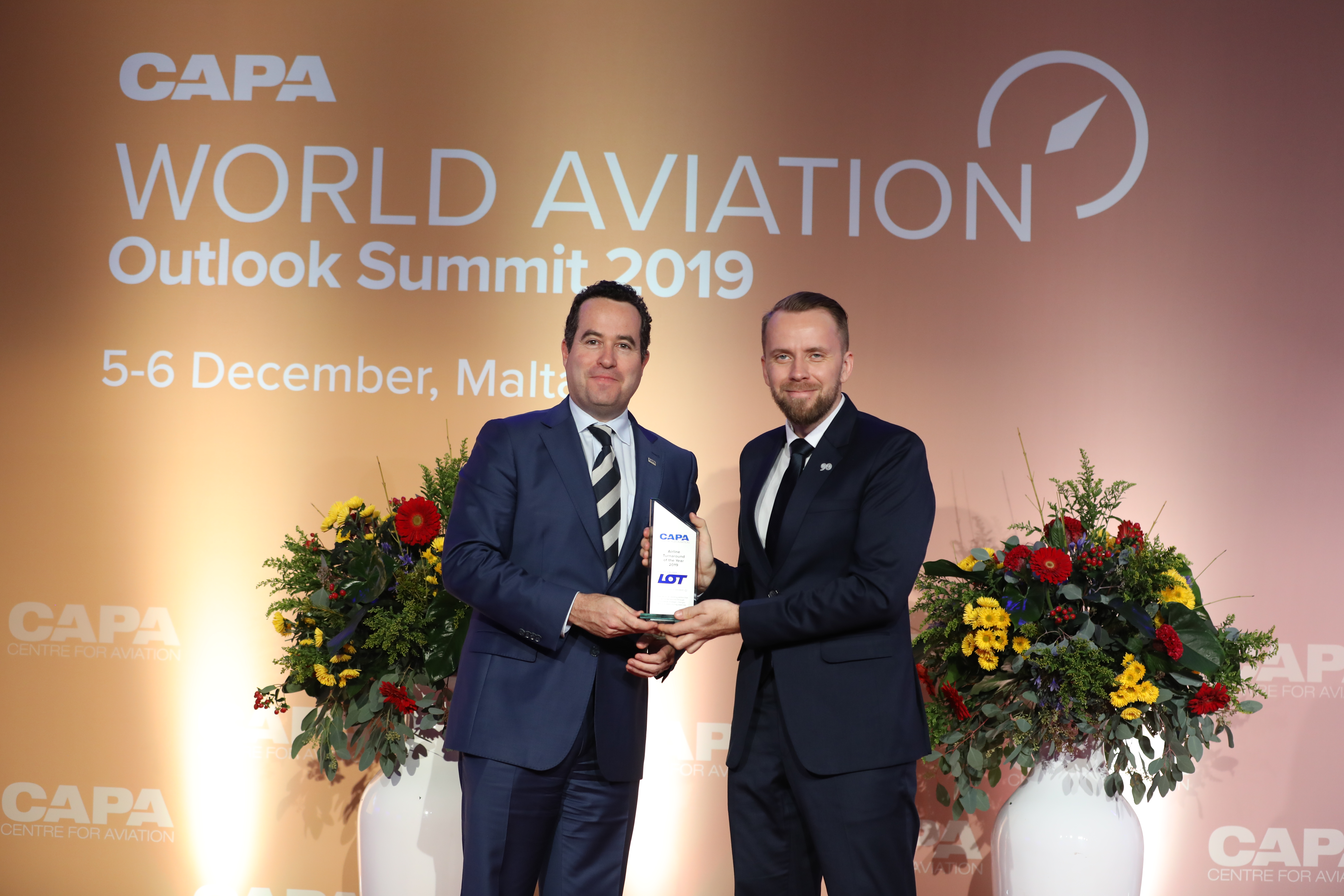 Mr Harbison said: "Large LCC airline competition is strong in Poland, but their focus on price sensitive short/medium haul point to point markets leaves a gap for full-service airlines following a hub strategy that includes long-haul destinations. No other legacy airline in Central Europe is able to fill this gap as effectively as LOT has been able to. This has not been as easy as it might sound, but LOT have pursued opportunities most effectively."
The Start-Up Airlines of the Year award was presented to Canadian carrier Swoop, which was selected for its execution of creating a brand within a brand and introducing the ULCC model in Canada on a large scale, transporting roughly one million passengers during its first year of operations. It is progressing towards its cost and ancillary revenue targets and continues to effectively operate distinctly from its parent company.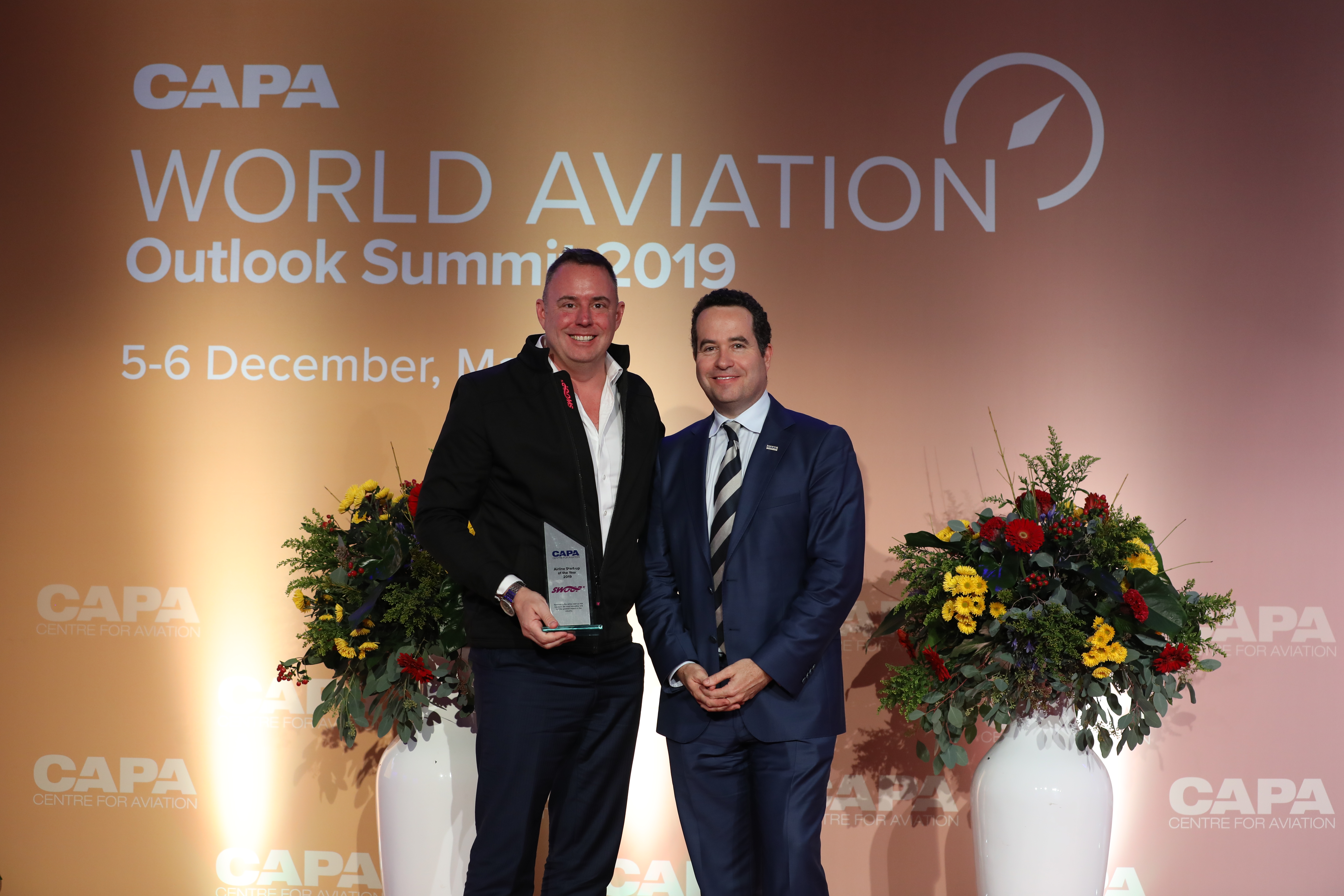 Mr Harbison said: "Swoop has risen to the challenge of maintaining a separate identity and strategy from its parent company. It is introducing a fresh new voice that has stimulated traffic in Canada's market and has adapted quickly to execute the ULCC model successfully in that market."
There were also three winners in the airport category have demonstrated the utmost strategic leadership across the globe and taken significant steps to progress the aviation industry in the last 12 months. The Large Airport of the Year was Istanbul Sabiha Gökçen Airport, the Medium Airport of the Year was Vienna International Airport and the Regional/Small Airport of the Year was Seville Airport.
Two additional Special Recognition awards were also presented. The first went to Johnny Thorsen who was recognised for Innovation in the Aviation and Travel Sector - and the second award went to Leslie Cassar for Outstanding Service to Australian and Maltese Aviation.