Australia had a larger resurgence of infections – primarily in the state of Victoria – causing state border closures that dampened the domestic recovery. Qantas is another airline that came into the Covid-19 crisis in strong financial condition and with a healthy balance sheet. It has enough of a backstop to sustain it if international demand remains in a multi-year slump.
Virgin Australia was in a far weaker financial position, and had to enter voluntary administration in Apr-2020 to find a purchaser. Virgin will emerge from this process with a streamlined operation and a more secure financial footing that should ensure its survival.
An interesting dynamic in the Australian market has been a couple of airlines bucking the trend of contraction by looking to add new aircraft types and grow their fleets. Regional Express Holdings (Rex) wants to introduce narrowbody jets to make a foray into east coast trunk routes; it is reportedly looking to pick up some leased 737s that are surplus to the Virgin post-administration recovery plans; and Alliance Aviation has secured funding to buy a fleet of 14 used Embraer E190 regional jets.
These two airlines will be able to take advantage of a buyer's market for aircraft, and weakened competition in their markets. Even in the depths of the industry's worst-ever crisis, there are still opportunities to be seized.
But, how long can Australian aviation survive with borders closed? Will strong domestic markets endure in the short term? What will the entire South Pacific aviation market look like in a year's time? Has there been enough government assistance to help sustain the industry?

At this week's first CAPA Live – a new monthly virtual "summit", offering insights, information, data and live interviews across a next-gen virtual event platform – panel discussions looked at the current situation across the Asia and Pacific markets.
Australian Airports Association CEO James Goodwin believes the Australian Government has taken the "right approach" towards the "health crisis", however noted air travel is the "lowest" since consistent records began. Mr Goodwin said airports have many fixed costs, and noted despite losses, "the airports have stayed opened" and remained "good corporate citizens".
This though has been at the detriment of their own health. He acknowledged that Australian airports are losing more than AUD300 million (USD215 million) monthly, a "quite devastating" impact, and that air travel is "likely" to be one of the last sectors to recover from the coronavirus crisis. In his eyes the coronavirus outlook is still "very grim" and "we still need some timeframes" regarding state border reopenings and safe travel zone bubbles.
Brisbane Airport executive general manager, aviation development & partnerships Jim Parashos stated "what we need to do" regarding increased aeronautical operations and biosecurity measures at airports is to collaborate with health officials "to get them to better understand the operating environment" of airports. He said Australia's domestic terminals "are very much meant to be transit points", and Brisbane Airport's own concourse which could previously handle "six or seven simultaneous arrivals, is now able to handle two".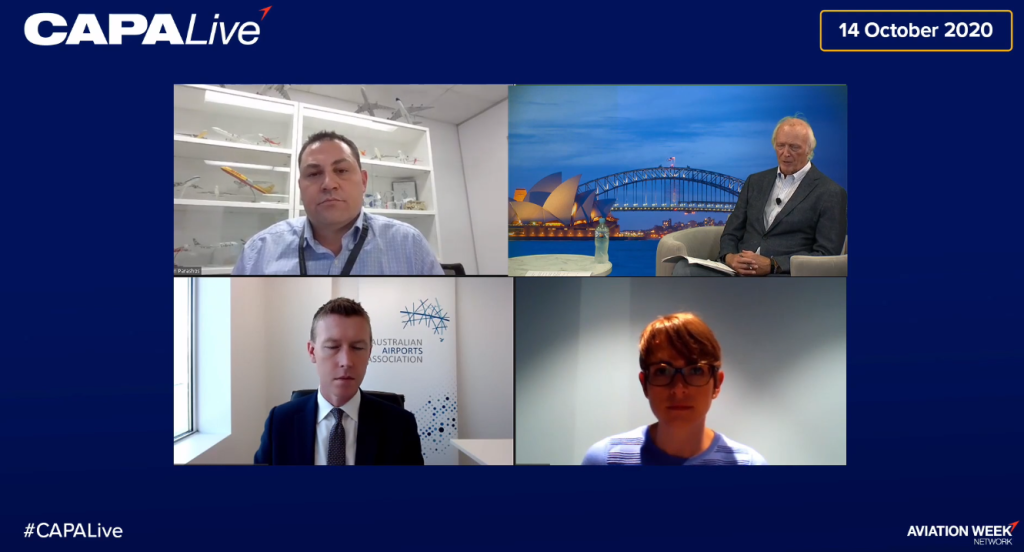 Mr Parashos accepted that the airport will "take whatever we can get" between domestic and international revenue generation in the coronavirus environment, acknowledging that until "we can sort out our domestic border issue", it is "very hard" to see anything beyond the trans Tasman bubble reopening.
Morgan Stanley analyst Rob Koh stated that once some confidence builds from the Trans-Tasman bubble, Australia "could have some Pacific Island friends join". He explained "I'd like to think Australia and Singapore could also start a travel bubble, and this would be at the same time and not mutually exclusive".
AAPA director general Subhas Menon stated "Singapore is taking a very enlightened position when it comes to international travel, most governments are taking a view of deferred gratification, saying: lets address domestic sectors before we start looking at cross border travel". He added: "Singapore has taken a risk based approach, they are embarking on policy to negotiate travel bubbles but unfortunately, they are alone in this endeavour".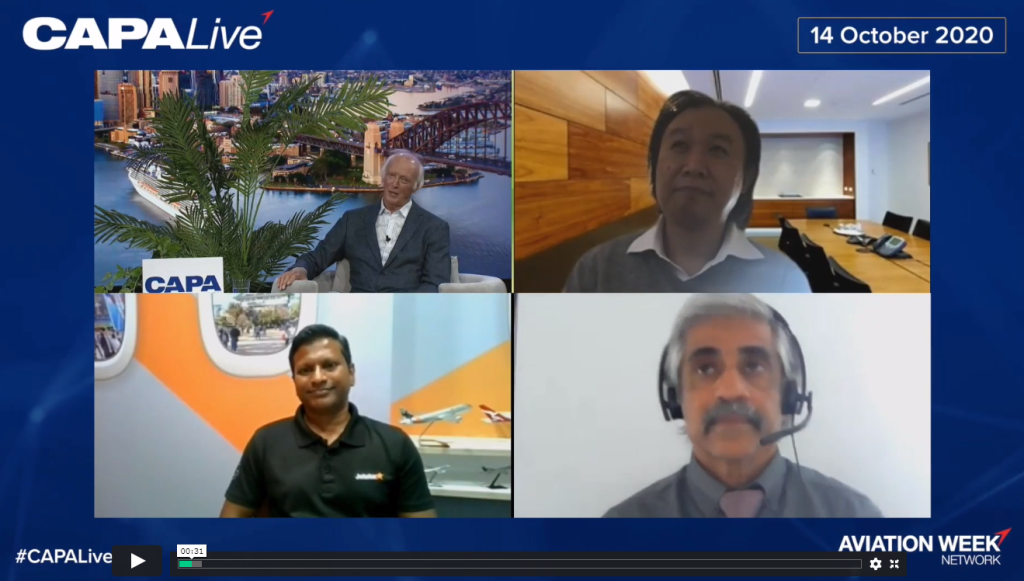 Jetstar Asia CEO Bara Pasupathi stated "Singapore's Government understands the importance of airlines and the effect they have on the economy, as Singapore is 100% reliant on international travel and transit". He said: "They have been brilliant in supporting us and have also had some very smart initiatives".
BIS Oxford Economics chief Australia economist Sarah Hunter, stated "most economies" have moved beyond the tightest phase of coronavirus, and noted as restrictions are removed and activity is allowed to return "concerns about the disease" have lived beyond the restrictions. Ms Hunter said consumer services "where we interact with people" are the sectors which have lagged behind.
As tourism is a "substantial proportion" of the labour force, there is "no surprise" job losses are "very concentrated in this particular area," Ms Hunter said, and "returning to normal" will require a vaccine or the ability to "work out" how to live with coronavirus, adding "getting this sector back to normal…is going to be really vital".
---

CAPA Live will become the central hub that keeps our global CTC network informed and connected, exploring topical content with industry leaders, housing a centralised information zone full of must-have resources, expert opinion pieces and analysis, as well as on-demand videos and community discussion forums. CAPA Live will be provide a professional source of virtual interaction where you will be able to chat/video call with your network, speakers, industry thought leaders, peers, buyers/suppliers, CAPA analysts and even your own team members who are part of the community.
Click here to learn more and register. Tickets from just USD49!