The call comes prior to this week's CAPA Outlook presentation that Mr Harbison will deliver as part of the monthly CAPA Live virtual event series. The February edition will play live, globally, on 10-Feb-2020. "There is something very important that most airlines either do not recognise – or don't wish to: The future airline industry will never be the same again," he said.
In a presentation entitled 'Midnight's approaching. Who's going to turn into a pumpkin?', Mr Harbison will deliver a global big picture overview of our industry and where it will be in 2021. Previewing his outlook presentation, Mr Harbison said: "Vitally, the 2021 industry will – at best – be half the size. Yet the industry is betting the house on a substantial recovery in 2Q and 3Q 2021. What's Plan B?"
Airlines have enjoyed some tailwinds, which helped them remain liquid over the past year, though their debt profiles have deteriorated greatly. These tailwinds included government "generic" economic aid/wage packages, direct equity investments and uniquely low interest rates.
Mr Harbison had previously warned in the early stages of the pandemic that a high number of airlines would fail unless they gained such support and remains concerned over the viability in the existing landscape where travel restrictions remain in force.
He said it was surprising how so few airlines went out of business in an "unimaginably dreadful year, where international capacity fell to around one tenth of its previous level and many domestic operations fared only slightly better" but warned that we could be fast approaching the tipping point.
Government "generic" economic support will continue until 2Q, or maybe longer in the US. But in the absence of demand, airline income is likely to remain static, while cash burn continues. The vaccine rollout should gradually improve consumer sentiment (in some countries, not all) – and the horrific mortality levels should start to subside.
"Cash flow is now critical, but we're fast approaching the tipping point. Cash burn cannot continue indefinitely, so airlines will need to become pro-active, rather than just 'burn the furniture' to keep warm", said Mr Harbison.
He warned that cash burn is expected to increase when short haul travellers return, as there will be too many seats available. This will mean airlines will seek to defend their market shares, depressing prices. With business travel remaining heavily subdued and hurting yields, and leisure travellers buying late, he said this will all make it harder for airlines to accumulate advance cash.
Capacity will not stabilise for months, and oil prices could surge as broader economic demand rebounds, is one potential prognosis. But more of a guarantee is that the loss of business travel and the added complexity of re-establishing medium and long haul international travel will continue to undermine the full service airline business model.
In his presentation, Mr Harbison identifies seven features of the "unrecognisble" industry structure that will appear in the post-Covid world: airline revenue streams, already rapidly evolving, will change greatly; health and sanitation issues are here to stay; the entire foundation of competition regulation has been undermined; as yield profiles slump, low costs will be even more vital; reducing total airline revenues by 50% must be transformational; international travel will be problematic; and environmental sustainability pressures will intensify.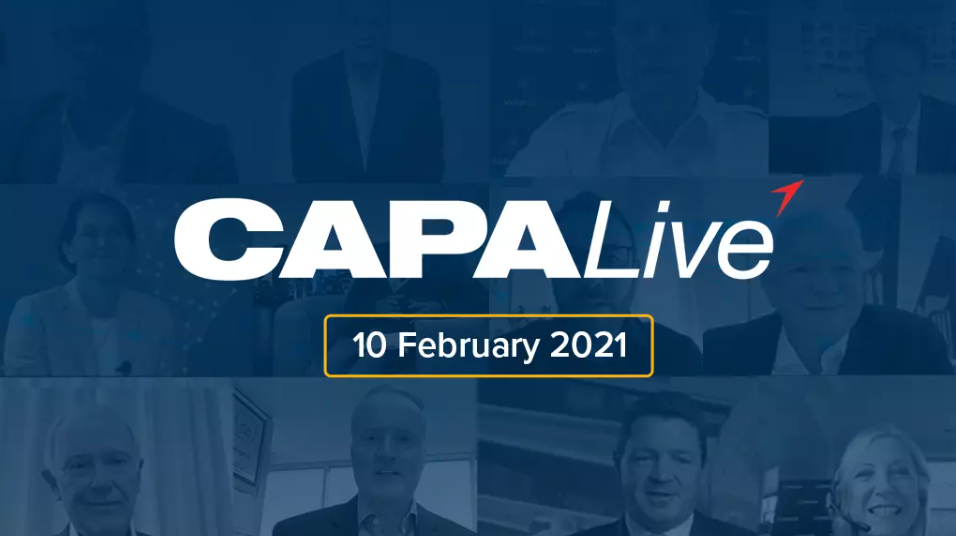 Mr Harbison's presentation will screen shortly after 13:00 GMT on 10-Feb-2021, and registrations are still available here: CAPA Live Feb-2021. The Feb-2020 edition of CAPA Live also features interviews with Emirates Airline president, Sir Tim Clark; easyJet's CEO, Johan Lundgren; Ethiopian Airlines' group CEO, Tewolde GebreMariam; Hawaiian Airlines' president and CEO, Peter Ingram; and Saudi Arabian LCC flyadeal's CEO Con Korfiatis among others.
This month's CTC – Corporate Travel Community supported corporate travel content includes:
Welcome and Outlook where Dr Benson Tang, executive director of CTC – Corporate Travel Community, shares the latest industry trends and analysis.
The Keynote Presentation where Simon McGrath, CEO Pacific at Accor, will explore the accommodation providers viewpoint and the role of the important sector within the travel space.
The CTC Masterclass where Martin Warner, principal at MW Travel Consultancy, Amarnath Lal Das, vice president - travel, meeting & events at Accenture, and Peter Curtis, ANZ director, regional services at International SOS look at the changing needs of corporates and their travellers, how TMCs are meeting new expectations, and at what cost.
Benson's Bow-Tie Briefing where Dr Benson Tang, executive director of CTC – Corporate Travel Community, speaks to Stephen Turner, group procurement manager at Wesfarmers, to get the travel buyer perspective.
The CTC Roundtable, hosted by Dr Benson Tang, executive director of CTC – Corporate Travel Community, and looking at how corporate programmes will manage the implementation of vaccination schemes.

CAPA Live screens on the second Wednesday of every month throughout 2021, bringing together thousands of aviation professionals to listen and interact with industry leaders.