As a reminder NDC stands for New Distribution Capability, a technology standard launched by the International Air Transport Association (IATA) that allows data, such as passenger booking information, to be transferred in a common way over the internet.
The NDC standard enables the travel industry to transform the way air products are retailed to corporations, leisure and business travellers. Initial tests proved successful and IATA promised the programme would hit critical mass this year even though there had been lot of uncertainty into its evolution, which has been a little slower than originally envisaged.
The fact their is not a one size fits all offer has certainly slowed progress, as has the COVID-19 pandemic which has fuelled an unprecedented set of challenges for airlines where survival has trumped all other plans. With a more optimistic outlook for 2021, it is difficult to know how best to respond and where to start when thinking through airline distribution, but many believe the events this year put even more strength behind a transition to NDC.
In a paper published earlier this year OpenJaw Technologies highlighted that while the current COVID-19 context is incredibly difficult for airlines, the crisis will ultimately allow airlines to accelerate their NDC strategy and take control of their own distribution destiny.
"The cost of distribution has long been the biggest cost for airlines," acknowledged author Paul Byrne, vice president of business development and strategic partnerships at OpenJaw Technologies, who attests that with such a reduced volume of bookings, now could be the right time "for airlines to seize control of the offer" and directly connect with their customers and cut out the GDS".
"Now is not the time to stand still or descend into panic and wait. As an industry, we need to plan in a more agile way to ensure we come of out this crisis in better shape. NDC can be part of this," according to Mr Byrne.
NDC allows airlines to become retailers across their own channels and also offer a greater level of personalisation, which could be key in supporting travellers in their return to the skies. It allows airlines to offer customers choices that are not always available in the global distribution systems and airlines can be more agile in offering personalised bundles based on characteristics such as route, purpose of travel, customer loyalty and past purchases.
At the latest edition of CAPA Live – a monthly virtual summit, offering insights, information, data and live interviews with airline CEOs and industry executives across a next-gen virtual event platform – leading experts examined the permeating impact on the travel ecosystem of NDC as implementation is expected to grow apace during 2021.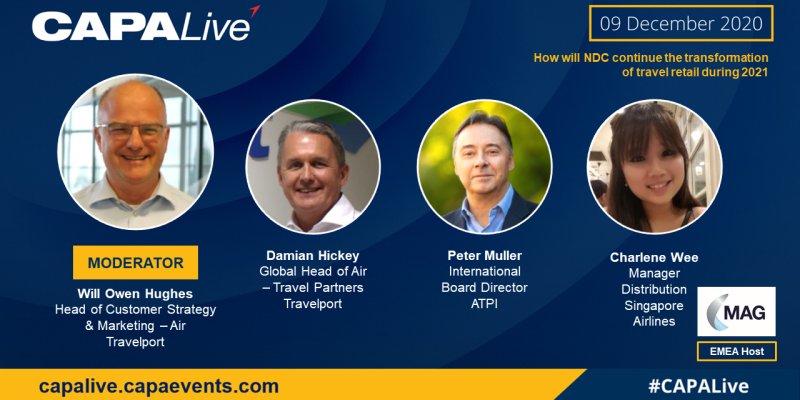 ATPI regional managing director Pacific & Africa Peter Muller stated the company has used 2020 "down time" as a result of coronavirus to develop its NDC systems and technology and "manage" what is expected to be a very different market in 2021. He explained what ATPI has delivered through NDC channels has been more of a "retail" offering, with a leisure focus and the company is excited to see what can be delivered on a "business" offering through its NDC partners in 2021.
Mr Muller said there is "a lot of enthusiasm" to embrace NDC, but stakeholders in the industry "want to know what it means for them and see how it is going to change their lives". He noted that it is clear to see how North American carriers, which have unbundled their travel products, are going to use NDC to bundle packages of services and products for corporate travel. However, at the other end of the scale and in other regions that have not undergone such a commoditisation of travel it is "difficult to see" how full service carriers in other market are going to bundle things via NDC.
Singapore Airlines manager distribution Charlene Wee stated the airline's NDC plans for 2020 went ahead despite the circumstances surrounding COVID-19. NDC was seen as more critical because of the need for "more robust and accurate content" and to handle the levels of disruption seen with the pandemic. She noted the airline moved to accelerate the pick-up of NDC technology, including announcing plans to introduce a surcharge on bookings made through "old" global distribution system technology to enhance pick up among agency partners.
During COVID-19 the Asian carrier moved to address "tech gaps" with its NDC technology such as APIs, explained Ms Wee. The "content levers" it was looking to push out have also changed, she acknowledged, linked to leisure content compared to corporate content with more value content being pushed into leisure markets, offering discounts to encourage travel. The airline was intending to put out corporate travel bundle and packages via its API to NDC channels in 2020, but this will "probably be in place in 2021" as recovery in corporate travel comes, said Ms Wee.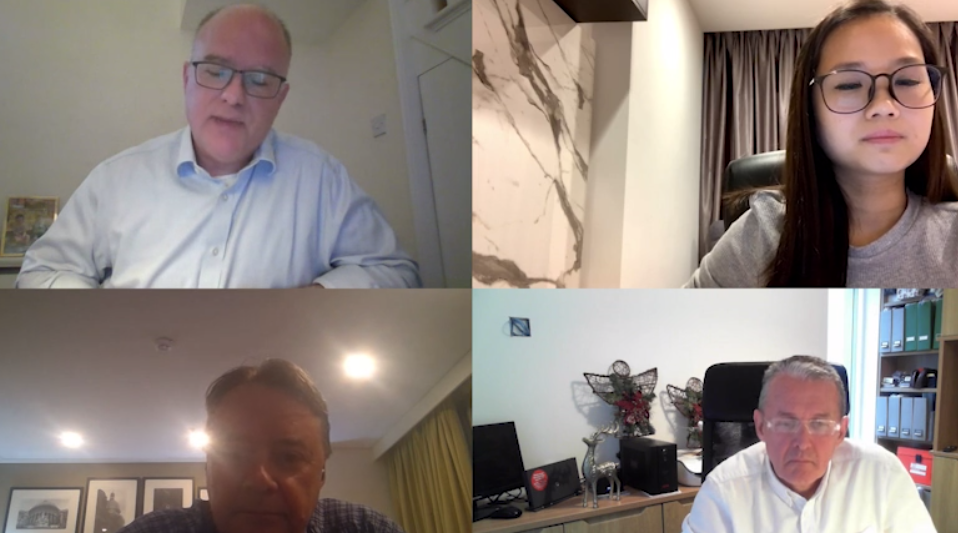 NDC has many possibilities beyond discounts or bundled fares, in particular it offers an avenue for agents to help manage travel disruption much more easily via greater automation and simplified rebooking and traveller communication.
Singapore Airlines' initial focus on NDC has been "getting the basic workflows out", said Ms Wee, such as how to make cancellations or changes to tickets via the new technology. The airline is now looking to use NDC to "automate these sort of things in the backend via APIs" to deal with eventualities such as massive disruptions caused by COVID-19, she said. Ms Wee added that this is how Singapore Airlines "sees its servicing capabilities evolving, replacing lots of the manual handling agency partners are undertaking".
Ms Wee explained that the airline's end goal is to "make a more intelligent offering for customers" to personalise their content and it is looking to use NDC as the vehicle for this greater personalisation, but highlighted that "everybody has a misconception personalisation is going to increase fares".
The airline has this week confirmed it will make its content available via NDC through the Amadeus Travel Platform, reaching the world's largest travel agency network. When the Asian carrier first joined Amadeus NDC [X], the carrier focused on digital transformation, enhancing retailing capabilities, and creating a more personalized experience for its travellers.
It has now deepened this commitment to enable travel agents to shop, book, and pay for all Singapore Airlines offers made available through NDC as part of the airline's KrisConnect programme. This includes ancillary services such as seat selection, excess baggage, special fares, and personalised merchandising offers for loyalty members and corporate travellers.
Singapore Airlines is a good example of the NDC capabilities, but Travelport Group VP airline partnerships Damien Hickey said a "challenge still remains that NDC is still quite immature as a standard and technology" and it still requires significant investment regardless of whether a technology partner, or an airline or travel agency partner.
This is obviously an issue of time, and as it matures and is more deployed this will becomes less of an issue. Mr Hickey said there has been a new capability coming to market in the last six months, whereas the focus previously had been turning off legacy content and shifting that to NDC.
There is "no doubt a number of airlines are looking at the timing of their NDC strategy" though due to the interruption caused by the coronavirus pandemic, according to Mr Hickley, although they don't seem to be "modifying their overall NDC strategy". He added that airlines are now "looking at what sort of markets they want to offer NDC products and bundles to first" given the changes to travel markets caused by the pandemic.
At Travelport itself the pandemic did not slow down NDC development, but Mr Hickey revealed its focus with NDC did change to "go deeper rather than wide" as the company wanted to "protect strategic investments, of which NDC was identified as one". This meant the company looked towards adding capabilities in key areas, rather than adding more customers or rolling out into new markets.
While NDC may not be getting as much attention as it did prior to the COVID-19 pandemic, its story is still developing and it is something that we will clearly be hearing about more and more as we enter 2021 and the new operating environment for the air transport industry.
You can view highlights from the Dec-2020 edition of CAPA Live below:
The CAPA Live series will continue in 2021 with the first edition on 13-Jan-2021 looking at the 'Mega-Trends' that will shape the post-COVID world. As we look ahead to a year where the world is still grappling with a global pandemic, we must understand the changing consumer psychology and its impact on aviation.