Mr Dear highlighted the variation among airlines in adopting NDC, commenting: "You've got almost increased fragmentation of channels coming through of content". He added: "I think the complexity of actually what we as an industry are now dealing with has increased substantially... over the last 12 to 18 months".
Mr Dear was speaking during a this month's CTC – Corporate Travel Community Masterclass session at the Apr-2021 edition of CAPA Live – a monthly virtual summit, offering insights, information, data and live interviews with airline CEOs and industry executives across a next-gen virtual event platform.

He was a panellist alongside Florence Robert, regional senior travel and operations manager – APAC, Ericsson; Dionne Yuen, senior global sales manager, Egencia; and industry consultant Kurt Knackstedt; which worked to understand corporate travel technology and how it could simplify the travel programme.
Egencia's Dionne Yuen stated the coronavirus pandemic represents a "perfect opportunity for the travel managers to think about the connection between the business travel and the employee risk". Ms Yuen commented: "We strongly believe that having trusted sources of information for border status, security, travel restrictions... will be a very important tool for all our travellers". She added: "Technology does help the travel managers to optimise the travel policy".
Ericsson's Florence Robert highlighted how the networking and telecommunications company "took the opportunity of reviewing the whole travel policy" in countries where travel dropped to little or zero during the pandemic. The company sought ways to improve efficiency and "did a lot of education with our travellers during that down time". She noted that travel in Northeast Asia has recovered "way, way quicker" than in other regions and is "back to 95%" of pre-pandemic levels.
The CTC Masterclass was just part of the CTC supported content during the Apr-2021 session of CAPA Live. In Benson's Bow-Tie Briefing, Dr Benson Tang, executive director of CTC – Corporate Travel Community, spoke to Sawako Hidaka, executive director, Asia Society Japan Center, to get her perspective on the current state of the market.

Meanwhile, Mike McCormick, co-founder of Travel Again, an independent, not-for-profit project focused on restoring traveller confidence, driving travel recovery and rebuilding the global travel industry, provided an industry outlook, where he considered the current traveller confidence problem, and anticipated phases to the travel recovery.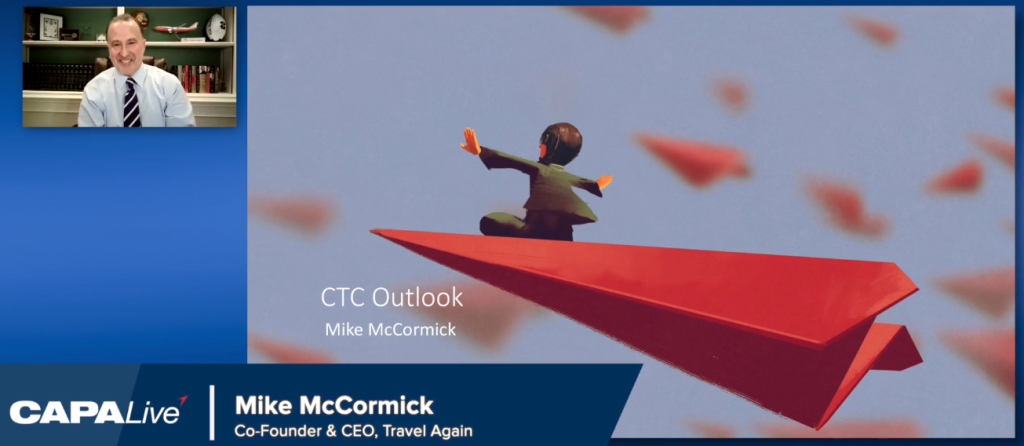 Elsewhere, across this month's CAPA Live content, Travelport global head of customer strategy and marketing Kyle Moore said the distribution, technology and payment solutions provider for the travel and tourism industry is "pretty optimistic about how recovery will pick up", supported by COVID-19 vaccination programmes and digital passport initiatives. Mr Moore commented: "People want to travel" and "I think business travel will see recovery", but as is being accepted, at a slower pace than leisure travel.
In the short-term that travel mix means LCCs will "certainly gain share as we pull out of the pandemic," acknowledged JetBlue Airways board member Ben Baldanza, with concern that a dependence on corporate travel could impact the legacy operators. "Most of the well structured LCCs in the world don't depend on corporate business travel, which is at risk for a number of years going forward," he warned.
We will see a reduction in corporate demand, partly due to technology substitution and partly due to changing travel habits, but Cranky Flier president and chief airline dork Brett Snyder said estimates of a permanent 15% to 20% drop in business travel following the coronavirus pandemic "just sounds like an educated guess", adding: "We really don't know what will happen". Mr Snyder predicted there will "definitely" be pent up demand for events such as conferences and conventions, but added: "We don't really know what the dynamic is going to look like".
CAPA Live is the most sought-after monthly global aviation event. Taking place on the second Wednesday of each month, thousands of industry colleagues from across the globe tune in for their monthly dose of aviation and travel news, analysis, and in-depth interviews with industry leaders. You can access the latest agenda and register to be part of its growing community to access the latest edition and archive content at: CAPA Live