Speaking during the Jul-2021 edition of CAPA Live, CAPA – Centre for Aviation chairman emeritus Peter Harbison acknowledged "corporate buyers are going to be under major investor pressure to reduce their carbon footprint from business travel" in the coming years, which will likely particularly impact long haul international services because business travel "does help to underwrite long haul services in a big way".
Mr Harbison expects "there's going to be much stronger popular and political direct pressure [on airlines] to reduce emissions" in the near future, noting "there are going to be carbon taxes, in one form or another. Whether they're global, whether they're regional, whether they're national, there will be carbon taxes".
He acknowledged that airlines are "actively trying to produce [sustainable aviation fuels] SAFs" to address this, but noted SAFs "at this stage, [represent] a very tiny proportion of fuels used and really don't look to have a major impact on reducing emissions until probably 2030 and beyond".
In his regular monthly presentation during the event, Mr Harbison highlighted the building blocks of what he sees as a new airline system, where short-haul, point-to-point travel dominates and adaptability is paramount. "It's about going back to basics. It is time for a rethink," he said.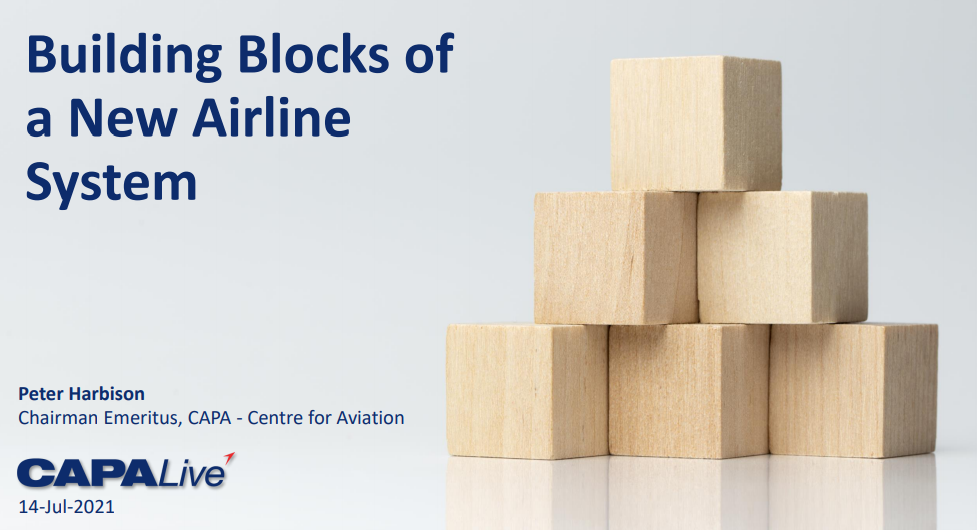 There are obviously reasons for seeking to maintain the status quo, including inertia, protect aviation and travel jobs, ensure connectivity and for nationalism, acknowledged Mr Harbison. "No attempt has been made to remedy the situation. Instead governments are basically propping up the system that has been demonstrably non-viable," he explained, noting a mixture of "known-knowns" of sustainability, border restrictions, government intervention, airline finances and similar uncertainty in each category that will impact market recovery.
The future remains indeterminate, but Mr Harbison anticipates the North Atlantic market will "reopen faster than other large international sectors" but that reduced beyond feed (6th freedom) will ultimately "hurt operating economics for network airlines". He expects increased narrowbody operations will "enhance the potential for point-to-point lower cost operations – by new entrants and by established airlines with new narrowbody fleets.
Despite calling for change, in Mr Harbison's eyes governments will continue to play a major role in the airline industry. Governments want key air services restored. "There's no doubt about that. It's important for connectivity," said Mr Harbison..
So what's likely to happen? "Well because of the new government roles, they're going to be more protective of their own airlines' market position. That implies continued financial support, it implies restricting competition from other airlines probably, that is foreign airlines, especially competing hub carriers, and also other airlines maybe from that country, which don't have that same level of government support," he added.
With the future looking more favourable for short-haul operations, government support for the key long haul trunk routes may be necessary. "This is a big move," said Mr Harbison, "but if yields are too low to support economic operations, and border reopenings continue to be sporadic, then governments will, I'm sure in bilateral cases, start to make some sorts of direct intrusion into the market forces. What do we know about airline finances."
It has been said before, but remains as relevant right now – the only certainty remains the uncertainty of the recovery. There are new variants, there are new waves, and significant variation in vaccination levels.
"Underneath all these lie a lot of tragedies, but it also from an airline point of view, means unpredictable market access will continue for a long time," acknowledged Mr Harbison. "Unpredictability is the only additional thing that airlines don't need, which will make life much more difficult for scheduling, for planning, for every cost you can imagine."