It is too early to know what the answers are, whether any reductions in business travel are permanent, when individual segments of business travel will return and what business travel purposes will be the first – and last – to return. There is of course the consideration whether corporate moves to focus on sustainability/cut emissions poses a bigger challenge to the recovery of business travel than budget pressures and duty of care and insurance issues?
For now, most agree that the business travel recovery will take time, led by SME business travel, then large corporate and domestic will certainly precede international. Credit Suisse MD and head of European transport equity Neil Glynn, believes one potential trend will changes to external and internal meetings.
Speaking at CAPA Live From Seattle in Jun-2021, he stated from an "external travel perspective", the majority of corporate travel "will fully recover" due to the "competitive nature of most industries", as well as the "way business is done and the way that revenue is generated and growth is achieved" but noted there are suggestions internal travel will have a "very significant haircut".
CAPA – Centre for Aviation founder and chairman emeritus highlighted the issue in his chairman's update session and what the slow business travel recovery will mean for airlines and warned that therE could be estimated losses of around USD330 billion in revenues over three years (2020-2022) for the world's airlines. "This USD330 billion black hole will be a killer blow for many airlines in the next 18 months," suggested Mr Harbison.
The loss of the crucial business travel market will have profound implications for the world's full service airline industry, especially long haul international. The higher yields that business travellers provide underpin airline network and fleet decisions. The changing profile of the traveller mix also raises questions around capital structures of airlines and makes the return to profitability even more challenging for many carriers.
"We can talk about 2024 and the recovery coming back then, or even 2023. But it's these next 18 months that are going to be critical," said Mr Harbison. "We do need to be positive because things are going to improve," he said, but acknowledged it is "very, very important that there is an understanding of this deep, dark hole that many of the airlines are likely to plunge into."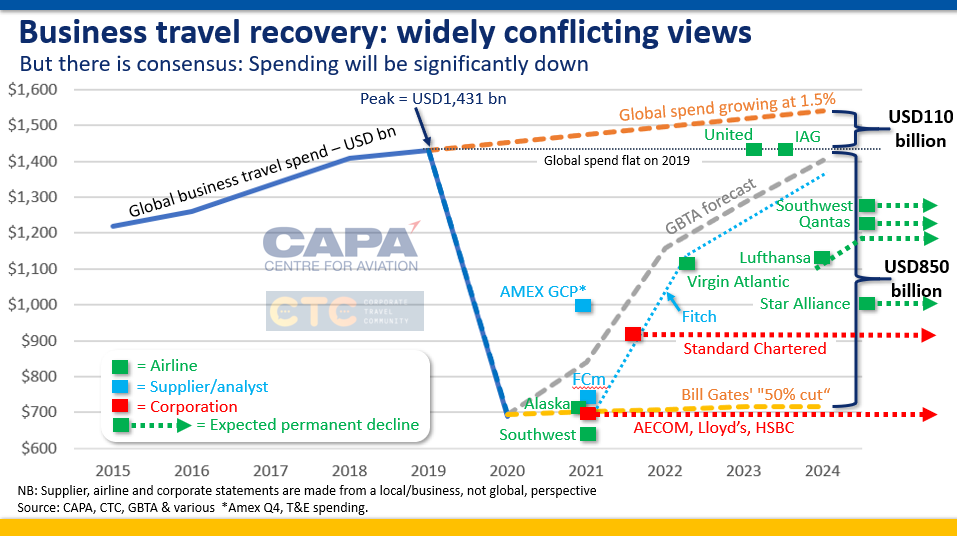 In his panel discussion Credit Suisse's Neil Glynn stated "I think a lot of people need to accept that it will take some time before we get true clarity" for coronavirus recovery. He said for "parts of the corporate travel market, it won't become quite clear what 2022 looks like, for quite some time".
Within the initial phase of coronavirus recovery, "I struggle to think for a lot of businesses that the corporate travel budget goes from almost zero to 100 in one… swoop," Mr Glynn noted. It will be "quite difficult to predict that of course, but for a lot of organisations that are conscious" of their cost line, returning to approximately 50% between "those two poles, sounds like a theoretically reasonable starting point", with 2022 for many organisations to be "quite transitional," he explained.
He was joined in the session by representatives from Bernstein and Travel Again, an independent, not-for-profit project focused on restoring traveller confidence.
Bernstein MD Richard Clarke stated "there's been a lot of doomsday predictions," but questioned has it impaired business travel. "No. Business travel…keeps on growing," he said, but acknowledged "we may see some changes", including the "blurring of the lines" between travel for business and travel for leisure, as well as between living and travelling.
Travel Again co founder and CEO Mike McCormick, highlighted that latest traveller confidence numbers "have finally climbed", with 40% being "ready to travel". The company has been measuring these numbers since 2020. But, Mr McCormick added business travel "still lags" in forward bookings for the next three months.
In terms of environmental governance, Bernstein's Richard Clarke said "if you're running a business, you can't just cut business travel for environmental reasons, you've got to justify it", adding there may be "a little bit more" auditing, as well as "a little bit more decision making". But taking an environmental stance will impact demand and Mr Clarke believes airlines and hotels that can "prove that they are the most environmental' choice may see "they gain little bit of share".
You hear more of the thoughts from Neil Glynn, Richard Clarke and Mike McCormick in the below video of their Jun-2021 CAPA Live session.