As the pandemic timeframe continues to extend, the impact on the corporate customer is becoming more evident. In the special CTC – Corporate Travel Community Masterclass session at the popular monthly virtual event, Ms Lia and Dr Simon Worrell, global medical director, Collinson Group, explored these changes and how TMC's are meeting new expectations in conversation with Martin Warner, principal, MW Travel Consultancy.
As each month passes we are getting a clearer picture of the vaccine rollout globally, but some destination countries are suggesting they won't re-open for visitors until 70% of their own population have been vaccinated. This may delay potential recovery in travel well into 4Q 2021 and beyond for many countries.
The CAPA Live session explored how the concept of vaccine passports will work, how corporates will get their younger travellers vaccinated if governments reserve vaccine supplies in the public health system and prioritise older and more vulnerable groups and if the travel industry can get moving again in 2021 under the continuing difficult conditions.
Dr Worrell acknowledged "we will get to a state where enough of those at risk have been vaccinated to reduce the need for testing and quarantine", adding it is "likely is that the immune response we get from vaccinations will actually cope very well with mutations and will provide us with adequate immunity".
A positive perspective, but Dr Worrell warned "it's really essential to get a [universal] vaccine passport." He added that he believed all vaccines accredited and validated by the World Health Organization would be accepted, and that "the list is getting longer and longer".
You can view the full CTC Masterclass session from May-2021's CAPA Live below:
The CTC Masterclass was just part of the CTC supported content during the May-2021 session of CAPA Live. In Benson's Bow-Tie Briefing, Dr Benson Tang, executive director of CTC – Corporate Travel Community, spoke to Carol Fergus, director, travel, events and ground transportation, Fidelity International, to get her thoughts on the industry and perspective on managing corporate programmes in the current environment.
You can watch the Bow-Tie Briefing session below:
Meanwhile, Harris Manlutac, head of consulting – APAC, American Express Global Business Travel, shared the findings from recent research completed in partnership with CTC – Corporate Travel Community and which will be featured in a separate article later this week.
"2020 gave many organisations a time to pause and evaluate their business activities. The purpose of this survey was to gain an understanding on how different issues were influencing business travel. So we went straight to the people at the centre of travel movements in Asia Pacific - travel managers. It was important to us to understand how they saw travel evolving, if and how their role would change, and what they were doing about it," he explained.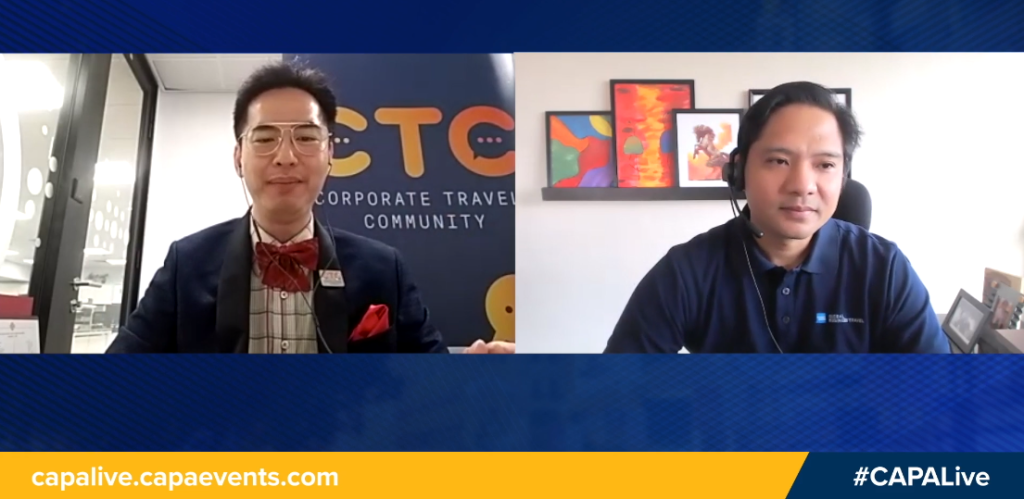 Elsewhere, across this month's CAPA Live content, IATA director general and CEO Willie Walsh said he doesn't see the structure or behaviour of the aviation industry changing as a result of the coronavirus pandemic. Mr Walsh also stated: "When it comes to business travel, I think it's important for us to remember that not all business travellers travel in premium cabins… and I think there's often confusion with people associating business travel with premium".
Tourism Australia executive general manager aviation and Eastern markets Andrew Hogg noted that the return of air services will begin with a "slow start". He stated when capacity returns in the initial stages, it "won't be" Qantas placing back in "San Francisco, LA, Dallas, Los Angeles and the New York flight on day one". Mr Hogg said "it will be a slow start on many of those routes", adding "and then the confidence will hopefully build up" from both leisure and corporate travel markets.
MUFG Bank director - advisory for global aviation finance Albert Muntane Casanova warned that long haul business travel demand recovery will be by far the slowest segment. He stated "you could argue that VFR, visiting friends and relatives", will be the fastest travel segment to recover from the impact of COVID-19, noting: these are "people who haven't seen their families for a long time".
Mr Casanova said following the recovery of VFR travel "then you will see leisure demand coming back", although this will depend on "when travel restrictions are lifted" and "most of it will be short haul". He concluded that "long haul business travel" will be "by far the slowest" demand recovery travel segment.
But it was CAPA – Centre for Aviation chairman emeritus Peter Harbison that has the toughest words for the corporate travel sector. A lot of people are trying to talk it up, but the reality is that business travel "is not going to come back in any big way in the near future," he said.
You can read more of Mr Harbison's thoughts and insights in this article: 'CAPA Live: Facing up to the elephant in the corner – 'business travel is not going to come back in any big way in the near future'
CAPA Live is the most sought-after monthly global aviation event. Taking place on the second Wednesday of each month, thousands of industry colleagues from across the globe tune in for their monthly dose of aviation and travel news, analysis, and in-depth interviews with industry leaders. You can access the latest agenda and register to be part of its growing community to access the latest edition and archive content at: CAPA Live