Forecasts in the company's 2019 Meetings & Events Trends Report: Keeping Things Current show a 1.3% drop in hotel rates and a 2% decrease in airfare year-on-year in 2019.
But demand for meetings in Latin America seems to be on the rise as the region's largest economy, Brazil, appears to be on the path to an economic recovery. Its GDP is forecast to grow 2.5% in 2019.
Brazil's economic uncertainty during the last few years resulted in many organisations arranged meetings on short notice, roughly 20 days in advance. But as economic confidence continues to grow, those trends are changing, and clients are looking at meetings on a quarter-by-quarter basis.
Carlson Wagonlit explained most meetings in Brazil are in domestic destinations since companies have to pay a tax is they want to hold events outside the country. "This has led to the cancellation of some international meetings, and helps explain why three Brazilian cities are featured in the top five meeting destinations in Latin America," the company concluded.
The country's recession has resulted in some large global hotel brands dropping properties and local companies stepping in to take their place, and some older five star hotels have been tempted to drop down to four star level so they can compete for meetings business in the heavily regulated pharma sector, according to the report.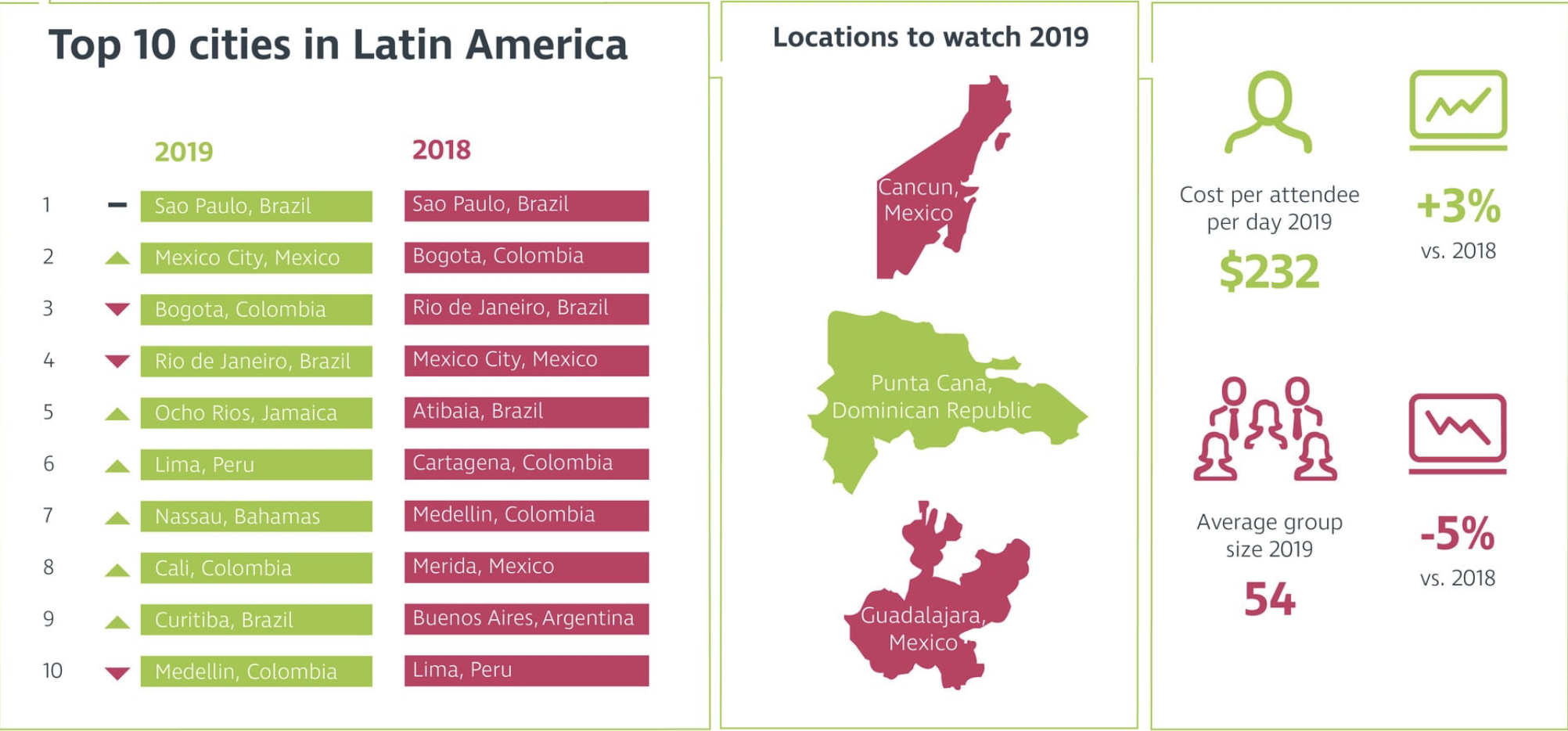 There was a significant increase in demand for meetings in Argentina in 2018 compared to 2017, the report concluded. However, growth is expected to flatten in 2019 due to the collapse of Argentina's currency and the country securing a new USD50 billion loan from the International Monetary Fund (IMF).
Elsewhere, Colombia should remain a stable meetings market in 2019, Carlson Wagonlit stated, aided by more inward investment from international companies.
In Mexico, after the election of Lopez Obrador, there was a fall-off in meeting demand for Mexico, and uncertainty over trade negotiations with the US.
Meanwhile, Peru and Chile also see stable demand for meetings, however the report cautioned both countries are dependent on the mining sector.