The new route will complement Cathay Pacific's existing daily link between Hong Kong and Johannesburg which is flown using a Boeing 777-300ER. This flight will continue to not only support the point-to-point demand between the markets but will continue to provide onward connections to Cape Town via the domestic network of British Airways franchisee Comair and its Kulula operation.
The new service will meet customer demand for travel to the scenic Western Cape throughout the southern hemisphere's peak summer months, as well as provide an additional option for South African-based travellers looking to fly to Asia and beyond via Hong Kong. Its launch continues Cathay Pacific's warming to the benefit of seasonal flying which saw it launch flights to both Barcelona and Christchurch on this basis last year.
"We are very pleased to be able to expand our services in Africa, a booming aviation market," says Rupert Hogg, chief executive officer, Cathay Pacific. "Growing our reach to destinations that are not otherwise served from Hong Kong creates considerable new opportunities for business, trade and tourism, in addition to strengthening our home hub."
There are no current non-stop flights between Hong Kong and Cape Town, but last year around 30 indirect passengers per day each way (PPDEW) were recorded as travelling between the cities, according to OAG traffic data. The vast majority (58%) were connecting via Johannesburg, albeit Cathay Pacific recorded just a 13% share of the overall traffic behind South African Airways (34%), Emirates Airline (20%) and Singapore Airlines (also 13%). The estimated daily demand between Cape Town and the wider Asia region increases to around 380 PPDEW and up to 505 PPDEW when you also include the Pacific. Cathay Pacific had an estimated 2% share of these totals.
Cathay Pacific has been conservative with its growth strategy and over recent years has had a focus on the European market where it has added non-stop flights to Manchester (2014), Dusseldorf (2015), London Gatwick (2016), Madrid (2016) and Barcelona (2017).
Last year also saw the introduction of flights to Christchurch and Tel Aviv and the growth will continue in 2018, with Europe again weighing heavy among its new markets. Alongside the new Cape Town link, new route due to launch this year comprise Jinan and Brussels (March), Copenhagen (May), Dublin (June) and Washington DC (September).
CHART – The Cathay Pacific passenger fleet is centred around the A330 and A350 for thinner routes and the 777 for more mature markets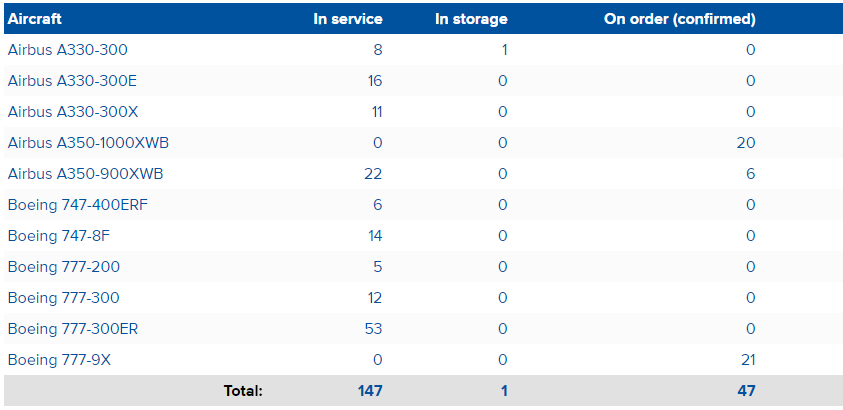 Source: CAPA – Centre for Aviation Fleet Database and OAG
The network growth is being driven by the arrival of the A350-900 in the Cathay Pacific fleet. The airline received its first example in Jun-2016 and now operates 22 of the type, according to the CAPA – Centre for Aviation Fleet Database, with six further aircraft on order.
These will soon be joined by the first of its larger A350-1000s with deliveries of the 20 aircraft it has on order due to begin this summer and the type to debut initially on the regional routes Hong Kong - Manilla and Hong Kong -Taipei from 01-Aug-2018, between Hong Kong and Bangkok from 01-Oct-2018 and between Hong Kong and Tel Aviv from 03-Oct-2018. It is expected to debut in scheduled service on the Hong Kong – Washington Dulles route before the end of the year.
Although passenger levels (measured in combination with its regional operation Cathay Dragon) fell by -1.9% in Jan-2018 versus the same month last year, the airline saw "robust" demand for premium class travel, while student return traffic on long haul routes, especially those to the United Kingdom and Southwest Pacific, "was strong early in the month". However, Indian routes were the "star performers" with passenger volumes rising higher than capacity increases, according to the airline.
With capacity, measured in available seat kilometres (ASKs), up +2.6% year over year in Jan-2018, the decline in demand meant passenger load factors dropped 2.3 percentage points to 84.2% during the period, albeit the performance would have been distorted as the Chinese New Year started later this year when compared to 2017.