Passenger yields lag growth, which with cargo depression led to loss
Cathay's 1H2012 (six months to 30-Jun-2012) net loss of HKD935 million (USD121 million) with a -1.9% margin compared to a 1H2011 profit of HKD2808 million (USD362 million) with a 6.0% margin, was reflective of what has become the terrible trio of factors globally conspiring against airline boardrooms: high fuel prices, weakened yields and a shrinking cargo market. Cathay's net profit was hit by weaker performance at subsidiaries. Passenger growth was up, except in Europe owing to the recession. Demand increased ahead of supply. While passenger yields on paper increased, this was due to higher fuel surcharges, which Mr Slosar says cover approximately half of of the incremental increase in fuel price. Yields excluding fuel decreased by an unspecified amount that Mr Slosar said was only in the single digits.
Premium demand weakened throughout the first half as the global economic situation became more acute. Premium demand to Singapore was especially weak while overall strong performance was most notable in the Philippines and Vietnam, although this will likely soften with AirAsia Philippines' entry into Hong Kong as well as possible international movements in the short/medium-term from Vietnam's LCCs. Except for Europe, demand was high, but not at sufficient yield levels, with an imbalance felt particularly in India. Cathay later in 2012 will increase services to Chennai while Dragonair will launch a four times weekly route to Kolkata.
While Europe was soft, Cathay says London was strong due to student flows and had better premium demand of its European network, although it expects premium softening during the Olympics, in line with other carriers. Premium revenues in New York were weak given the condition of financial markets while economy class was generally strong in North America, except in Chicago where demand was weak over winter (since improved) and in Toronto where competition increased and yields fell.
Cathay Pacific and Dragonair capacity, load factor and yield: 1H2012

Cargo was a negative story, and has been flat to down for nearly 16 months. Volume, load factor and yields all dipped, either on their own or as a domino effect: Cathay Pacific is the largest freight operator to India but saw dips in uplift and yield as other carriers shifted capacity into Europe from the weak European market. North America was also low. North Asia saw lower revenue and tonnage owing to "aggressive competition" while Southeast Asia was stronger for revenue and tonnage owing to products being shipped into mainland China. Additional frequencies and upgauging in aircraft supported what was the only positive growth story in cargo. Australia is typically an inbound market, but Cathay set a global uplift record on 10-Jan-2012 with perishables out of Melbourne on a Boeing 747-8 freighter.
Cargo revenue in 1H2012 declined 7.6% year-over-year while yields were down by 0.4% to HKD2.41 (USD0.31). Demand fell faster than supply (4.3%), leading to load factors declining 4.1 ppts to 64.3%.
Cathay's cargo joint-venture with Air China lost HKD300 million (USD39 million) in 1H2012. Cathay recorded weaker results from most subsidiaries and investments, including Air China, while its catering unit recorded an increase in profit. This significantly dragged down Cathay's HKD221 million (USD28 million) operating loss, a margin of less than -1%. In 1H2011 these divisions more than offset taxes and charges, with Cathay recording an operating profit of HKD2,798 million (USD361 million) and net profit of HKD2,808 million (USD362 million).
Cathay does not disclose profit by operating unit (passenger/freight or Cathay/Dragonair) or region but discloses revenues by region. Mainland China, Southeast Asia and North America saw considerable revenue gains while Europe shrunk.
Cathay Pacific and Dragonair revenue by region: 1H2012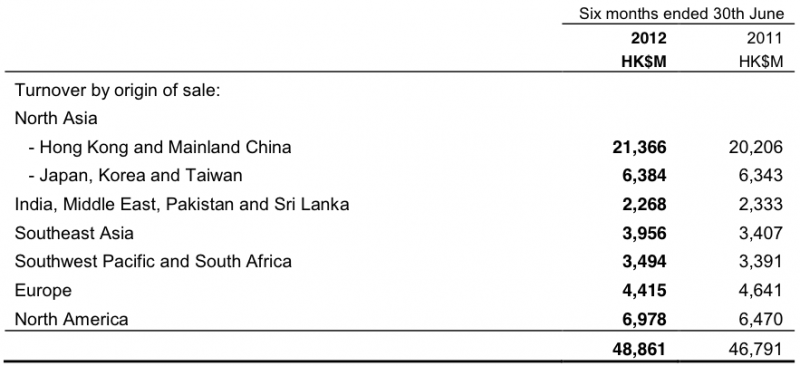 Capacity shifts and aircraft retirement bring full year breakeven into sight
Although Cathay did not provide a full-year outlook, improving conditions and prudent measures should place breakeven in sight. This is consistent with mainland China's "Big 3" – Air China, China Eastern and China Southern – which forecast at least 50% profit decline in 1H2012 but stronger performance in 2H2012.
Fuel prices are down and expected to remain so after increasing in Feb-2012 and averaging USD135/barrel until the end of May-2012. Cathay's average fuel price in 1H2012 was higher than in 2008, which saw a short spike of record USD147/barrel prices. 1H2012 saw a 6.5% increase in fuel costs, with Cathay spending an additional HKD1.27 billion (USD164 million) – representing two-thirds of Cathay's 1H2012 loss. Cathay's total fuel bill in 1H2012 was HKD20,407 million (USD2631 million), inclusive of a HKD391 million (USD50 million) hedging gain.
Cathay's result was preceded by a May-2012 announcement of undisclosed "disappointing" results. At the time Cathay announced capacity shifts centred on an accelerated retirement of its 747-400 fleet, which then numbered 21. Three passenger 747-400s will be withdrawn in 2012, five in 2013 and one in early 2014. Three 747-400 Boeing converted freighters were announced as being temporarily withdrawn in 2012, but one frame has since been scrapped.
Cathay Pacific 747-400 retirement plan: Jun-2012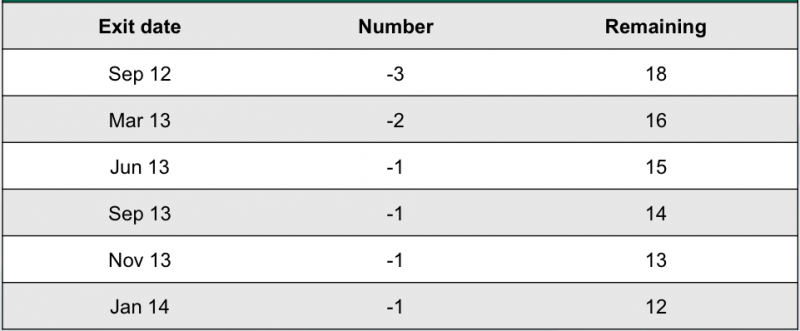 The passenger 747-400s primarily operated to Europe. Cathay is temporarily reducing North America services (Los Angeles from 21 to 17 weekly flights, New York from 28 to 25 and Toronto from 10 to seven) in order to take the Boeing 777-300ERs used on those routes and deploy them to Europe, facilitating the 747-400 retirement. North America capacity will be restored with delivery of additional 777-300ERs in 2H2012.
These network measures will be reflected in 2H2012 and fully felt in 2013. Additional capacity measures included Cathay shrinking mainline capacity growth from 7% to 2% while increasing growth at its lower-cost Dragonair regional subsidiary from 7.3% to 9.2%, reflecting opportunities in Asia. Singapore Airlines similarly plans minimal growth at its flagship unit in FY2013 but higher growth at regional unit SilkAir.
See related article: Outlook for Asia's full-service sector dims as Singapore Airlines reports rare quarterly loss
While the 777-300ERs replacing the 747-400s are more fuel efficient, the more pressing saving for Cathay is in maintenance costs. An overhaul for a RB211 engine, the type powering Cathay's 747-400s, costs Cathay approximately USD8 million. Retirement of the 747s will significantly reduce maintenance expenses, which saw some of the largest growth in 1H2012.
Cathay Pacific Group and airline (Cathay and Dragonair) operating expenses: 1H2012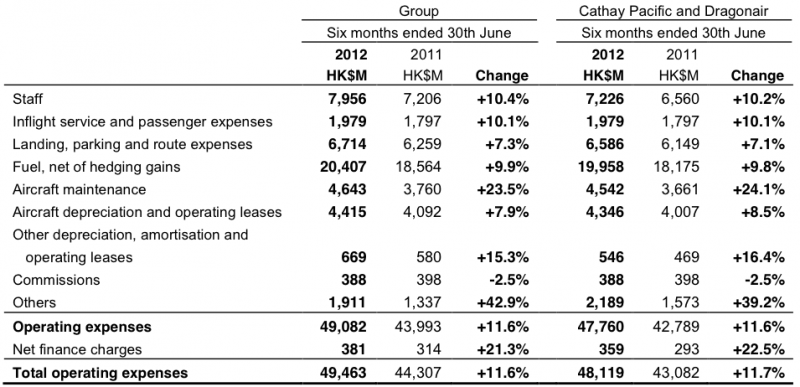 While Cathay's Airbus A340-300 fleet is also fuel inefficient, the aircraft are for now staying in the fleet as planned.
The iPhone effect: new model could lift cargo
Asian carriers have mixed views on the short-term outlook of cargo, with some buoyed by the prospects of large lift resulting from new products from the tech industry, including a new iPhone model, Windows 8 handset and other devices. While mainland carriers and North Asian carriers are so far subdued on this possibility, Mr Slosar was upbeat, saying, "We would be encouraged if these products launched" as it would lead to greater demand on Cathay's freight services.
Cathay experienced an uptick from mainland China cargo in Mar-2012 with new consumer electronic devices, albeit on a lower profile phase. But tonnage and revenue remained lower than a year earlier in Mar-2011 in the early days of the current downturn.
In 1H2012 Cathay had five 747-8Fs operating on trans-Pacific routes. A sixth frame was added in Jul-2012 and two more will join this year with the final two frames arriving in early 2013.
Emerging from doldrums – but into a more competitive world
Cathay's loss is reflective of a series of market dynamics and not a fundamental structural business flaw. The relatively minor structural problems – older aircraft – are being addressed. But signs are aplenty that nearly every facet of Cathay's business is coming under greater competition.
Cathay has acknowledged the spectrum of Korean LCCs, greater options between Japan and South Africa as well as the emerging and growing threat of mainland Chinese carriers developing powerful sixth freedom hubs that will this decade collectively target nearly every region of Cathay's network. Closer to home is the formation of Jetstar Hong Kong, a greater role for Hong Kong Airlines and a transformation of its quasi-LCC Hong Kong Express.
See related article: Europe-Australia market changed forever as six freedom carriers gain scale and drop prices
The requirement for Cathay is to be smarter and leaner so as to maintain an edge. On the passenger side, Cathay's business class seat was voted the best in the Skytrax Awards, which the Big 3 mainland carriers take extremely seriously and aspire to a four-star rating. On the freight side, China's traditional manufacturing hubs along the coast are shifting inland. Cathay responded in 2011 with the commencement of freighter services to Chengdu and Chongqing and in Mar-2012 commenced services to Zhengzhou.
Monthly cargo volumes out of Chengdu, Chongqing and Zhengzhou have increased in 2012 while Hong Kong and Shanghai show signs of slowing, although account for far more uplift.
Chengdu Airport monthly cargo volume (tonnes): 2010 to 2012
Chongqing Airport monthly cargo volume (tonnes): 2010 to 2012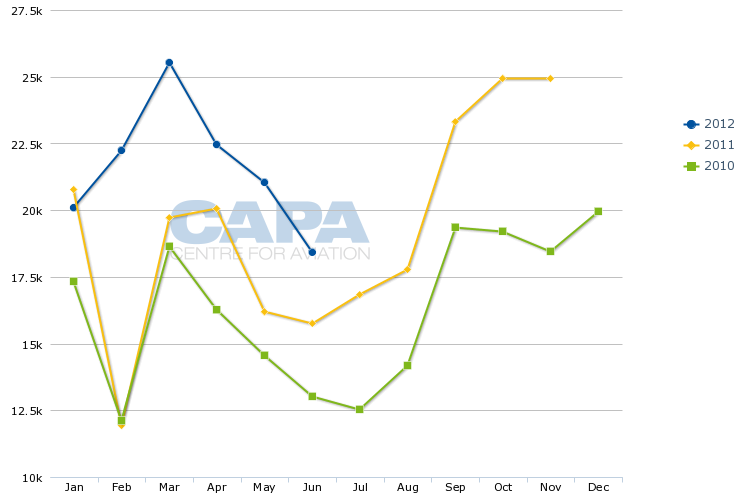 Zhengzhou Airport monthly cargo volume (tonnes): 2010 to 2012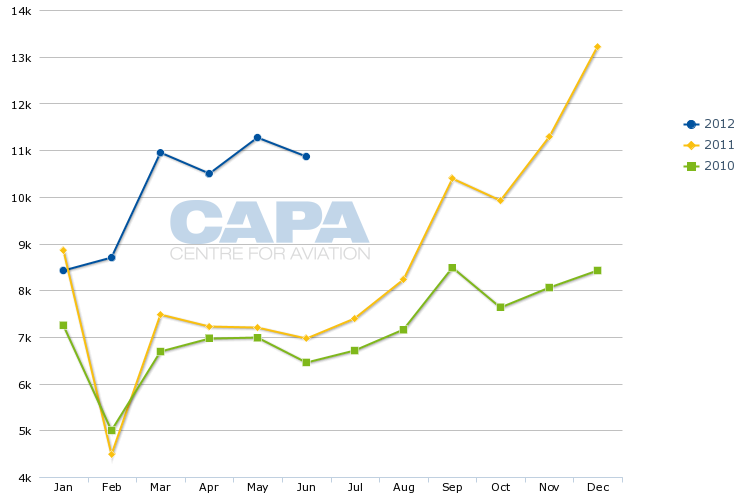 Hong Kong Airport monthly cargo volume (tonnes): 2010 to 2012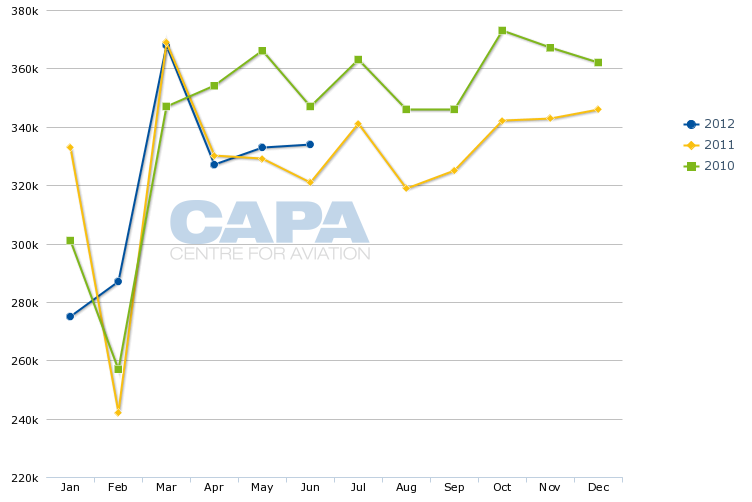 Shanghai Pudong monthly cargo volume (tonnes): 2010 to 2012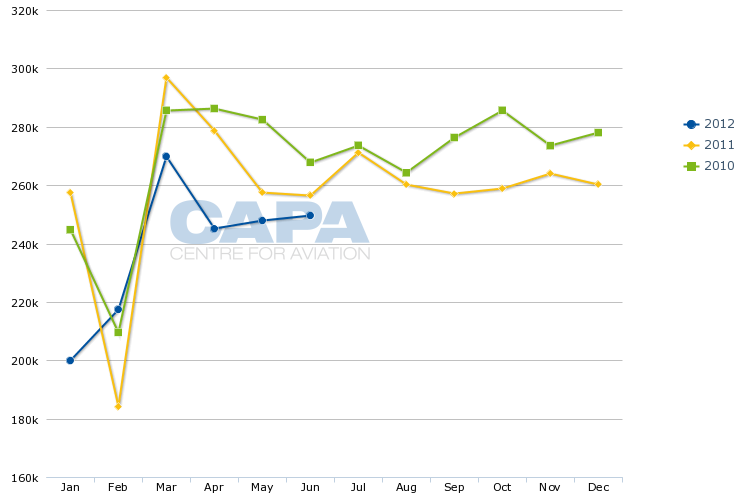 Cathay's Hong Kong hub is less geographically convenient for those locales compared to the historical Guangzhou and Shenzhen. Cathay's new cargo terminal at Chek Lap Kok, due to open in 2013, will cut cargo transfer time from eight hours to three hours, partially restoring a time advantage that with Cathay's freight network scale can keep it relevant. The cargo terminal has been long planned but Cathay COO Ivan Chu sees greater relevance with the relatively recent shift of manufacturing zones. "This makes the cargo terminal even more important," he said.
Cathay will maintain a gap between itself and peers, but this is narrowing. Cathay's challenge is to avoid the situation Singapore Airlines currently finds itself in after having ignored too many competitive developments. There is still growth to come for Cathay and its core markets as well as new ones but realising the growth will be more challenging than ever. Cathay used the previous decade to grow and set itself apart as a leading premium carrier. In this decade, it will have to defend that position.
Background information
Cathay Pacific operating statistics: 1H2012 vs 1H2011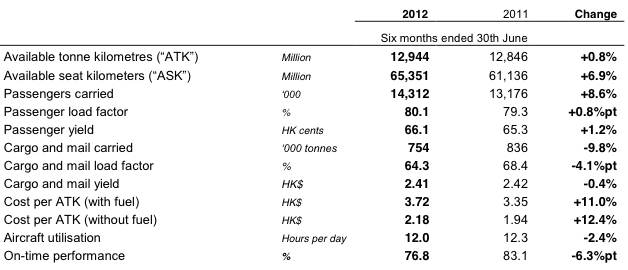 Cathay Pacific fleet profile: 30-Jun-2012