The recovery remains at an early stage as travel bans, restrictions and new health protocols still pose challenges. The continued evolution of the coronavirus and its transformation into new variants, most seen as more contagious and potentially more deadly than previous forms means it will remain a significant challenge as governments, businesses and families balance the economic needs of preserving livelihoods with protecting people from infection.
This will remain affine balance, but as Euromonitor International observes in its recently published 'Top Countries for Sustainable Tourism: Embracing a Green Transformation for Travel Recovery' whitepaper, there is a growing awareness among consumers, businesses and governments for "the need to prioritise not only profit but people and the planet".
The global market research specialist does admit that domestic tourism will help with recovery in the short to mid-term while international borders remains closed or migration heavily restricted by financial penalties or quarantines. But looking further ahead "radical change will be essential in building resiliency and agility to futureproof the sector," it says.
Using the United Nations (UN) Sustainable Development Goals (SDGs) as a blueprint, travel and tourism businesses are joining forces "to declare a climate emergency," according to the publication, which says that sustainable transformations "will play a significant factor in the future to ensure businesses and communities can thrive in a post-COVID age".
The global travel and tourism industry was undoubtedly at a tipping point ahead of COVID's arrival, with overtourism becoming a problem in many mass and key travel markets. The global pandemic highlighted "clear flaws in traditional volume-driven tourism models which are no longer fit for purpose in the new pandemic era," says Euromonitor International.
A challenge when an outside factor influences a trend is that it can be difficult to identify what changes will be short term and those more permanent. For any business it is vital to understand consumer attitudes, behaviours, values and beliefs. Euromonitor International's 'Voice of the Industry: COVID-19' survey from Oct-2020 attempted to highlight some of the expected permanent changes in consumer behaviour by geographic region.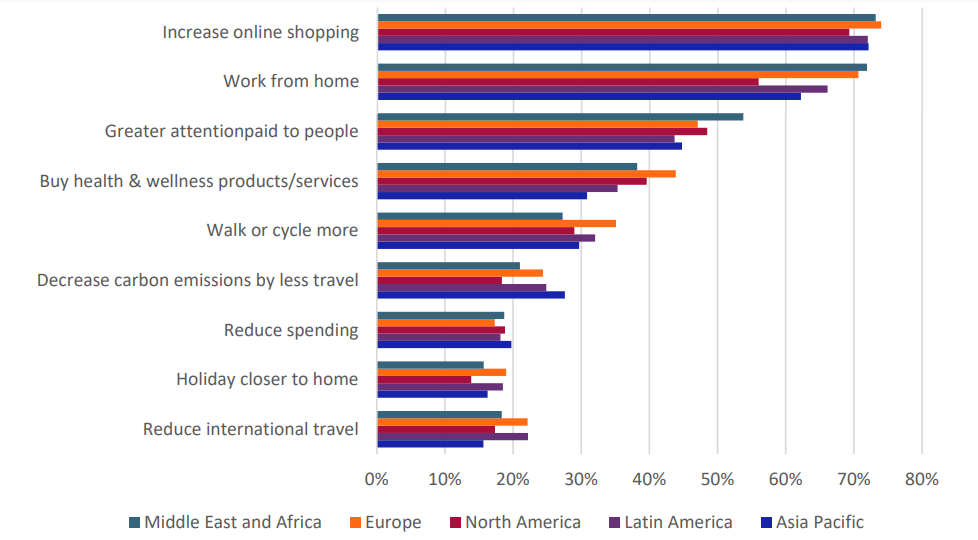 This showed a growing awareness of environmental impacts. More recently, Euromonitor International's Jan-2021 Consumer Lifestyles Survey found that two-thirds (66.4%) of consumers globally want to have a positive impact on the environment through their daily actions in 2021.
To understand this better Euromonitor International have developed a new Sustainable Travel Index to help travel businesses transition to a more sustainable and purpose-driven model, to support the increasing data and research that indicates the future and success of travel businesses will be centred around sustainable and digital transformation.
The Sustainable Travel Index analysed countries across seven key pillars which make up sustainable tourism, looking through the lens of environmental, social and economic sustainability, country risk as well as sustainable tourism demand, transport and lodging. Its methodology shows that 57 data indicators — each weighted according to the level of direct or indirect relevance — were used to derive the final index ranking to determine the comparative performance of countries.
The top 20 leading countries in the Sustainable Travel Index were all to be found in Europe. Sweden, the birthplace of the flygskam (flight shaming) movement and home to climate strike activist Greta Thunberg, was ranked first, followed by Finland and Austria, Estonia and Norway. Just outside the top 20 were the first examples from outside the region: New Zealand, Bolivia, Canada and Australia.
Scandinavia is described by the report as "exemplary in its engagement and awareness of sustainability," and where almost two-thirds (65%) of travel businesses have already have implemented a sustainability strategy, according to Euromonitor's Voice of the Industry Sustainability Survey from Jul-2020.
In terms of environmental sustainability, which encompasses climate, natural assets, pollution, energy and water, Mozambique held the top ranking, ahead of and replacing Croatia in the top spot when compared to a previous index. Tanzania, Cambodia and Cameroon filled the remainder of the top five positions, while Austria, Slovenia, Lithuania, North Macedonia and Romania were ranked the most improved countries for environmental sustainability.
Austria also topped the ranking for social sustainability, performing well in education, equality, peace and freedom. Iceland, Czech Republic, Poland and Switzerland made up to the top five in this category, while Uruguay, ranked eighth, experiencing the highest rise in rank within the top 10 between 2015–2020.
Additionally, Hong Kong was ranked top for economic sustainability, benefiting from its "strong services and hospitality, proximity to the dynamic Chinese economy and its status as a global financial hub". Meanwhile, Saudi Arabia was identified as the leader in the risk pillar which considers safety, healthcare and endangered cultural sites and species.
They say 'a picture paints a thousand words'. In this regular section CTC – Corporate Travel Community offers a graphical insight into a key industry observation or trend. Continuing the environmental theme we look at OAG schedule data over the past 12 months (Mar-2020 to Feb-2021) to highlight the country markets among the top 100 by flight levels that have seen the largest percentage reduction in flight departures versus the previous 12 month period.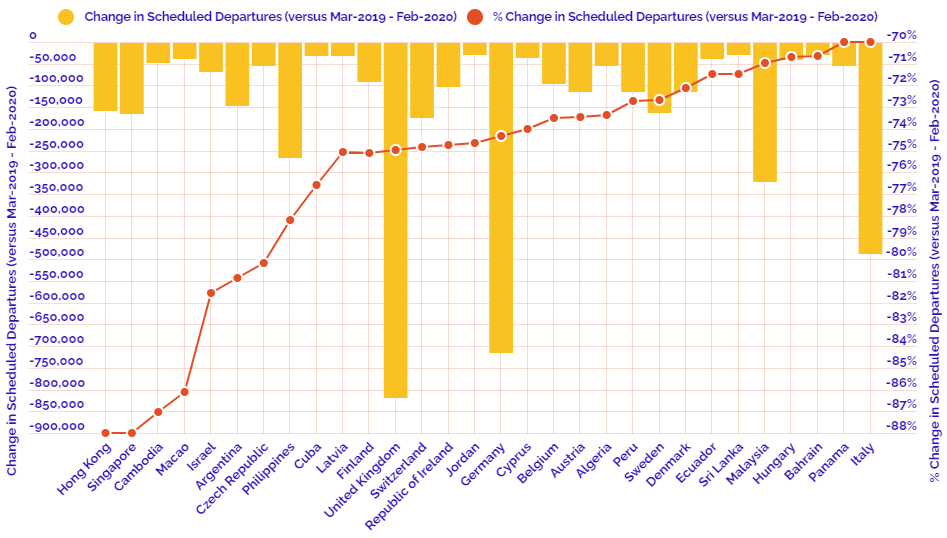 This regular section also now incorporates and expands on the charts produced in the 2020 air capacity series 'Coronavirus Statistics Snapshot'. These are based on an analysis of OAG schedule data and include a weekly look at how the pandemic is impacting global flight levels in the world's largest markets; a week-on-week and year-on-year comparison of flight departures by geographical region and a look at how weekly capacity is trending: the latter comparing levels to 2020 and also to the 2019 baseline performance.
HEADLINE FIGURES FOR WEEK COMMENCING 22-Mar-2021:
Departure frequencies up +0.99% versus last week; down -17.00% versus 2020 and down -41.83% versus 2019.
Seat capacity up +1.43% versus last week; down -13.81% versus 2020 and down -43.41% versus 2019.
CHART: Week-on-week change in flight departures by region
CHART: Year-on-year weekly departure performance for world's top 30 markets versus 2019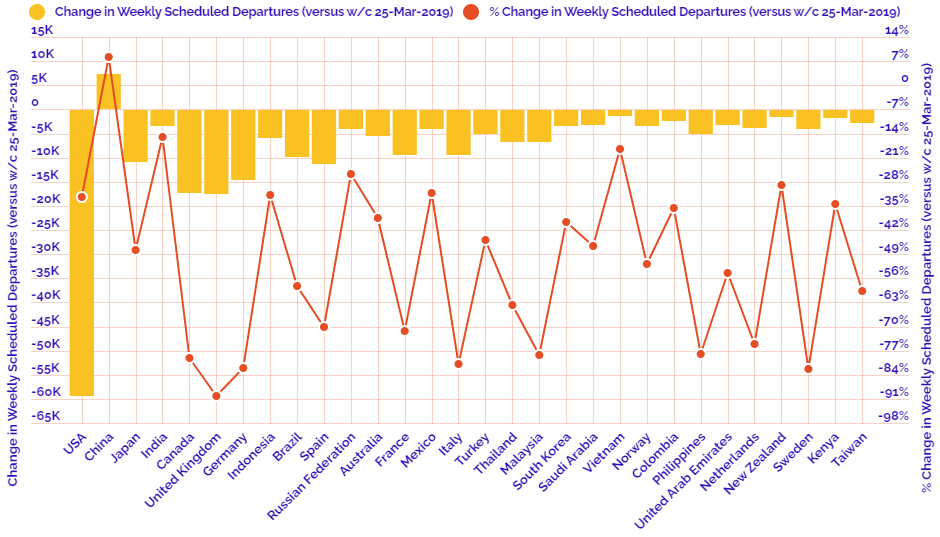 CHART: Year-on-year weekly departure performance for world's top 30 markets versus 2020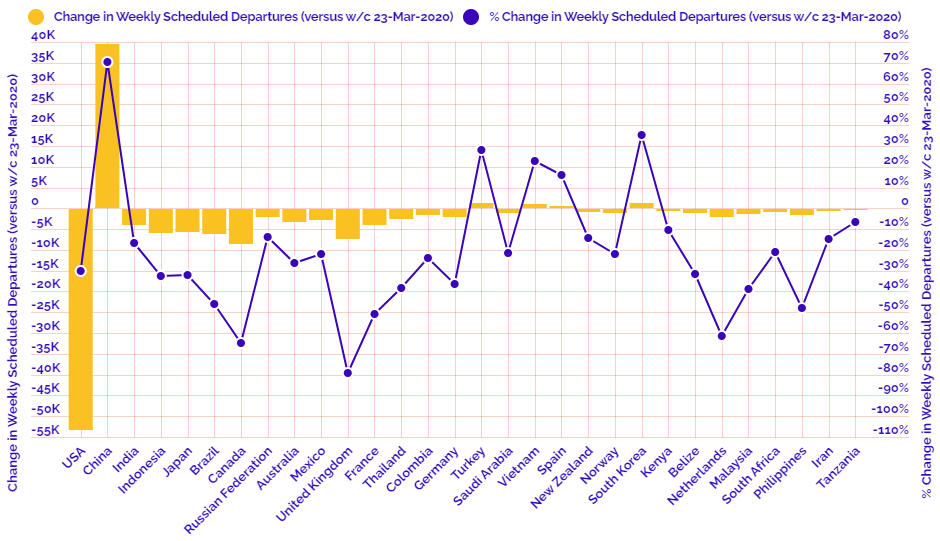 CHART: Departure capacity trends with year-on-year performance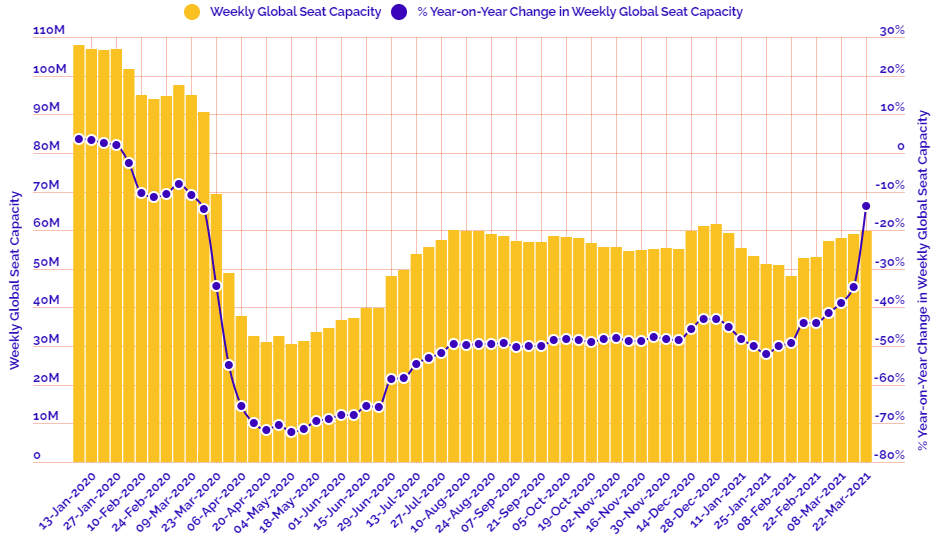 CHART: Departure capacity trends versus 2019