"Airline brands have had a turbulent ride since the outbreak of the pandemic, with brand values plummeting across the board," says Savio D'Souza, valuation director, Brand Finance.
The new edition of the Brand Finance report shows that the world's top 50 most valuable airline brands are worth USD72.9 billion in 2021, down from USD108.6 billion in 2020, but despite the big drop the leaders of the rankings remain the same.
America's three majors, Delta Air Lines, American Airlines, and United Airlines retain the top three positions. "With all three brands exposed to the same business conditions throughout the pandemic in the US, their respective brand values have taken a similar hit, losing between 38% and 40%," says Brand Finance. Domestic travel in the US has already begun to steadily recover and over the summer months is expected to strengthen further, therefore brand values in the coming year should improve.
Delta remains the sector's most valuable brand, worth USD5.8 billion. Brand Finance says it has "ensured that employees and customers have remained the top priority throughout the pandemic and has been recognised as a leading brand for customer service, communications, and flexibility – the latter of which is vital in the uncertain COVID environment".
The geographical variation is virus spread, government policy and vaccination relief mean there are some changes in the rankings, including three new arrivals in the top 50: Saudia, with a brand value of USD506 million) in 39th place; Jetstar Airways, with a brand value of USD360 million in 49th; and Colombia's Avianca, with a brand value of USD356 million) in 50th.
Brand Finance says Saudia "has weathered the COVID-induced storm by redirecting its resources to its strong domestic market". This domestic growth and Saudi Arabia's vision for the kingdom to be a tourism and logistics hub with over 100 million tourists by 2030 will make the airline "one to watch," says the company, as it builds its international brand strength and value.
In addition to measuring overall brand value, Brand Finance also determines the relative strength of brands through a balanced scorecard of metrics evaluating marketing investment, stakeholder equity, and business performance. Across the ranking, flag carriers on average receive both higher global and domestic Brand Strength Index (BSI) scores. In Brand Finance's latest Global Brand Equity Monitor, flag carriers outperform non-flag carriers on two key metrics of recommendation by 16 points and reputation by 12 points.
Flag carriers, in general, "have benefitted from greater state support than their non-flag carrier counterparts," it explains as the reason for this gap. This has taken place in direct financial support, as well as through indirect support through furlough schemes, jobs, or tax deferrals. "They have also kept flying during the pandemic on vital routes while lower-cost peers have been forced to shut routes. This has helped bolster trust and reputation of flag carrier brand," notes Brand Finance..
The airline sector has been one of the most severely affected by the COVID-19 pandemic, with international travel at a near complete standstill since the beginning of 2020. With airlines forced to ground a significant amount of their fleets and cut flights down to worryingly low numbers, brands are "grappling with depleting cash reserves and a dependence on government or state support," it says.
According to Brand Finance's analysis, low-cost airlines are predicted to make a quicker recovery than their full-service counterparts. Both, however, will be relying upon the continued speedy and successful rollout of vaccinations globally, as well as the effective control of new variants emerging. Business travel "is expected to stagnate," while leisure travel is "likely to be the main driver behind recovery" across the industry, notes the report.
Just like the US majors remain the world's most valuable airline brands, Russian flag carrier Aeroflot remains the world's strongest airline brand, with a BSI score of 89.5 out of 100 (up from 84 last year) and a corresponding AAA brand strength rating. This is despite a more than a third (-38%) decline in estimated brand value to USD1 billion.
As one of the oldest airlines in the world, Russia's national flag carrier has "clearly demonstrated that despite reduced air travel it continues to have a strong presence in consumers' mind," says Brand Finance. The airline has recently undertaken a shift in strategy towards becoming a more premium class travel option.
They say 'a picture paints a thousand words'. In this regular section CTC – Corporate Travel Community offers an illustrative insight into a key industry observation or trend, this week highlighting a graphic from the aforementioned Brand Finance report that illustrates the world's top five strongest airline brands, according to their research.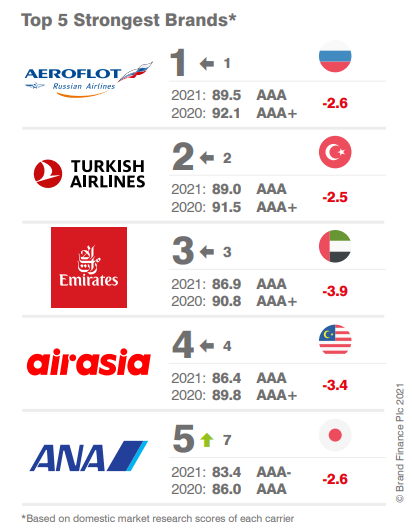 This regular section also now incorporates and expands on the charts produced in the 2020 air capacity series 'Coronavirus Statistics Snapshot'. These are based on an analysis of OAG schedule data and include a weekly look at how the pandemic is impacting global flight levels in the world's largest markets; a week-on-week and year-on-year comparison of flight departures by geographical region and a look at how weekly capacity is trending: the latter comparing levels to 2020 and also to the 2019 baseline performance.
HEADLINE FIGURES FOR WEEK COMMENCING 19-Jul-2021:
Departure frequencies up+3.09% versus last week; up+43.11% versus 2020 and down -29.94% versus 2019.
Seat capacity up +3.61% versus last week; up +48.36% versus 2020 and down -30.54% versus 2019.
CHART: Week-on-week change in flight departures by region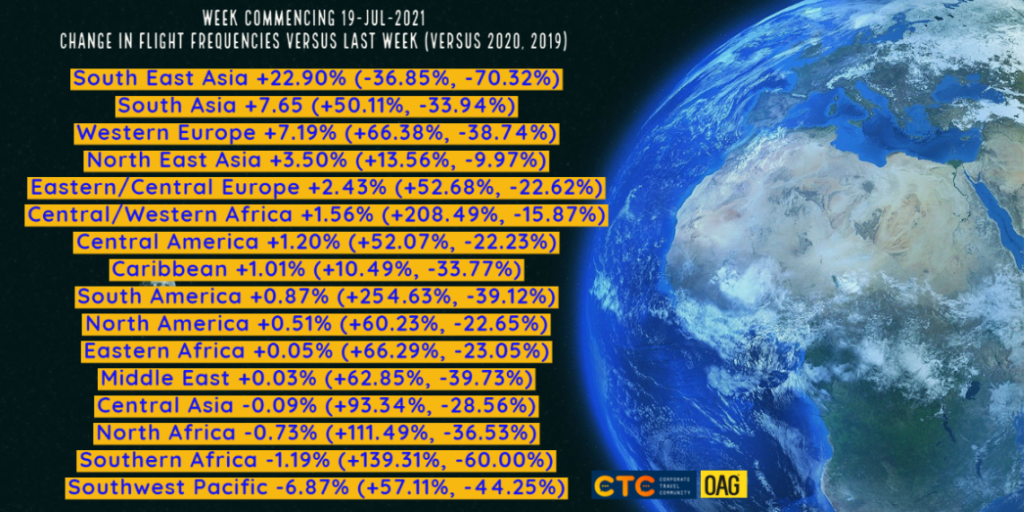 CHART: Year-on-year weekly departures performance for world's top 30 markets versus 2019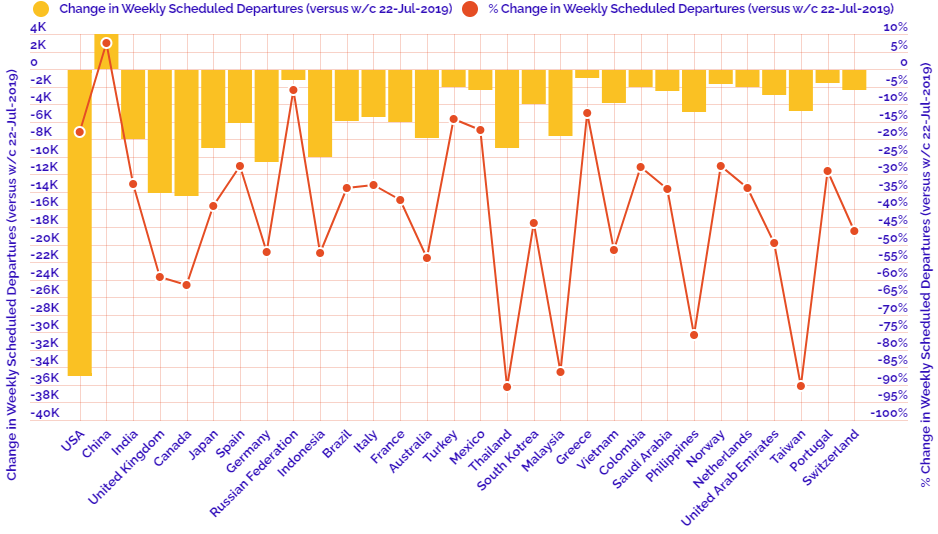 CHART: Year-on-year weekly departures performance for world's top 30 markets versus 2020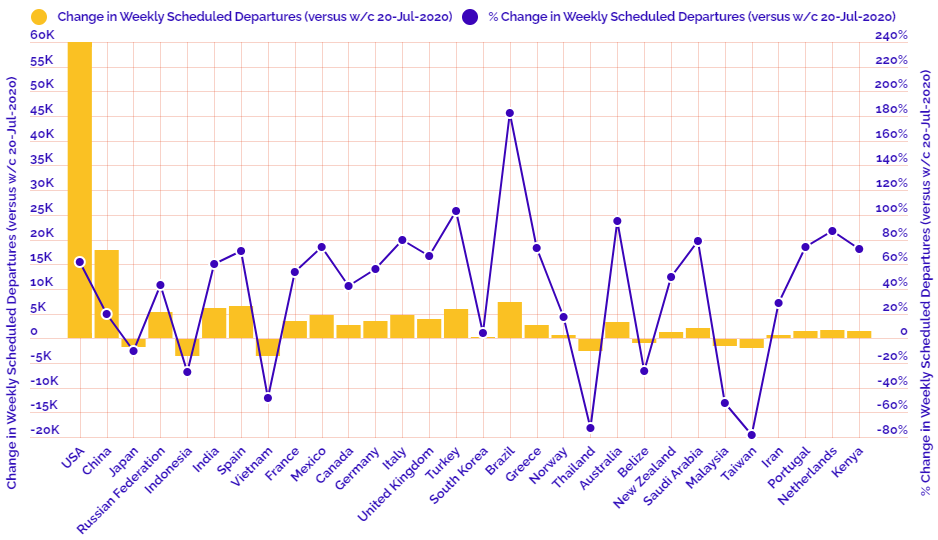 CHART: Departure capacity trends with year-on-year performance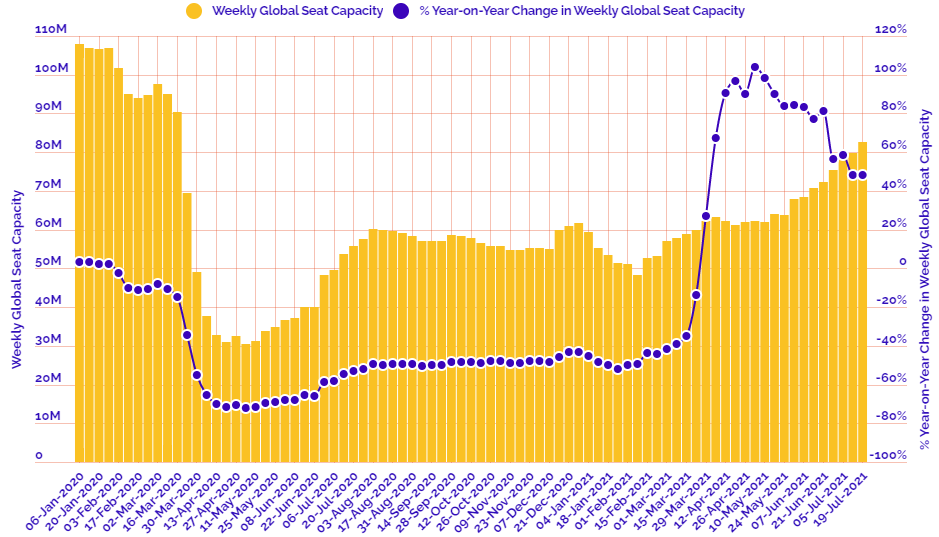 CHART: Departure capacity trends versus 2019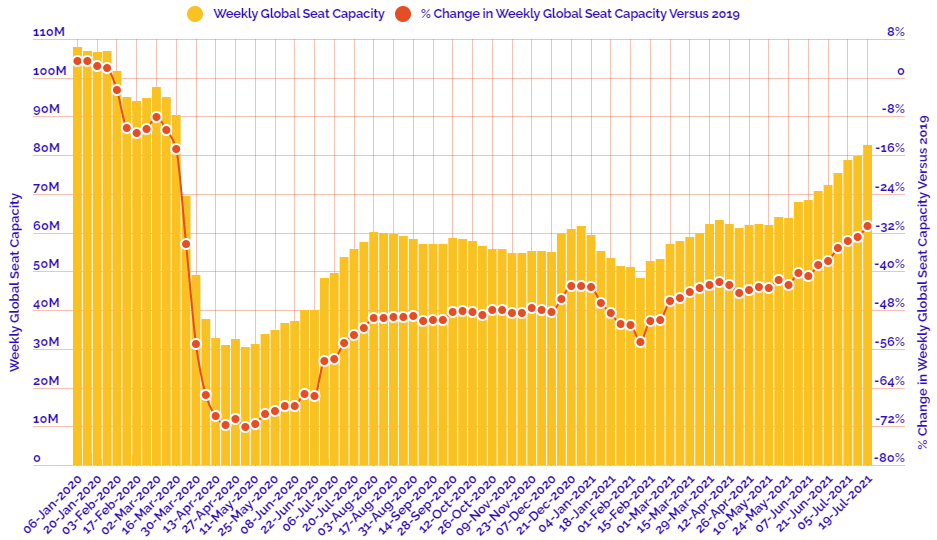 CHART: The world's biggest aviation markets by departure seats