Cryptocurrencies, while not widely adopted, have been a payment option in the travel and tourism industry for a little time. There are even suggestions that the mighty Amazon is poised to seize upon the recent surge in interest in cryptocurrencies, after bringing in a team of British financial regulation experts adding to the speculation it is on the brink of launching its own digital token. Online auction platform Ebay has said it is open to the possibility of accepting cryptocurrency as a form of payment in the future and is looking at ways to get non-fungible tokens (NFTs) on its platform.
In the airline sector, Latvian national carrier airBaltic has been among those to accept cryptocurrencies. It is thought to have been the first major carrier to have recognised Bitcoin when it started accepted payments back in 2014 and now through a partnership with BitPay, has extended the range of cryptocurrencies it is able to accept, notably adding Ethereum, Bitcoin Cash, Dogecoin and four USD-pegged stablecoins – Gemini dollar, USD Coin, Paxos Standard Token and Binance USD.
In the past month the Baltic carrier went further and started to issue NFTs (non-fungible tokens are a type of cryptocurrency asset which uses blockchain technology) showcasing one of its Airbus A220-300 fleet along with unique pieces of art promoting Latvian towns and cities.
Cryptocurrencies aren't going anywhere in the coming years, but their usage will probably decline when central bank digital currencies (CBDCs) are eventually rolled out, according to Deutsche Bank International Private Bank's global chief investment officer, Christian Nolting. "The longer cryptocurrencies survive, the more robust and credible they become due to network effects (Metcalfe's law). Once we see some stability in terms of price fluctuations, the use of cryptocurrencies for the exchange of goods and services goods could increase," he says in a recent report.
Whilst most major central banks are examining the possibility of launching their own digital currencies, China and Sweden are two of the few who have started trials. Deutsche Bank argues the longer central banks take to deploy their own digital currencies, the more scope existing cryptocurrencies will have to establish themselves.
The past year has been a record time for 'crypto' and has seen the price of Bitcoin and Ethereum reach all-time highs and pushed the total market value of cryptocurrencies above USD2 trillion. More than 100 million people globally are now estimated to hold some cryptocurrency and are seeking more ways to spend it on everyday purchases.
New research from the Binance-backed OTA, Travala.com, into the impact of COVID-19 on the travel plans of Americans and their travel expectations in the second half of 2021 highlights that as travel optimism returns, almost one in four (22%) respondents to an Apr-2021 survey said they would use crypto to book at least some part of their travel in 2021. Of those who plan to use crypto, they mainly expect to use Bitcoin (70%), USDT (45%), Ethereum (37%) and AVA (35%).
Travala.com accepts over 40 cryptocurrencies and says it has itself witnessed the rising interest in crypto for travel; in Mar-2021, approaching two-thirds (65%) of its USD1.7 million in bookings were reportedly paid using cryptocurrency. Juan Otero, Travala.com's CEO says cryptocurrency "has quickly emerged as a desired payment vehicle amidst a strong crypto market and a surge in places to spend it in the real world".
They may not yet be mainstream, but there is a clear appetite to use crypto. Visa has said it will allow the usage of USDC Stablecoin to make transactions, while the Gemini cryptocurrency exchange is launching a rewards-based credit card with Mastercard that will allow users to earn cash back in the form of cryptocurrencies. The investment banking giant JP Morgan is also preparing to launch a managed bitcoin fund for its clients.
Global payments giant Mastercard has reported that up to four in ten of us plan to use cryptocurrency in the next year, while a significant 93% will consider using at least one emerging payment method, such as cryptocurrency. Its 'The Mastercard New Payments Index' survey of over 15,000 consumers in 18 countries highlights that the use of crypto is gaining ground and that the likes of digital currencies, biometrics, contactless and QR codes "are trending as emerging payments technologies as people's comfort with them and understanding of them increases and the use of cash decreases".
Still, many still don't quite understand the concept of digital currencies and red flags are still being raised about a possible crackdown over concerns on their use for illegal activities, including money laundering, extorting and financing terrorist operations. Two cryptocurrency exchanges, Vebitcoin and Thodex, have collapsed in Turkey amid a crackdown, and India is also reported to be considering banning them and penalising anyone holding or trading them.
Consumer interest in cryptocurrency is certainly high, but it is clear significant work is still required to ensure consumer choice, protection, and their regulatory compliance. The variety of payment solutions available today is immense and whether we prefer cash, card, virtual wallets or crypto there is an option for everybody.
They say 'a picture paints a thousand words'. In this regular section CTC – Corporate Travel Community offers a graphical insight into a key industry observation or trend, this week looking at the rise in cryptocurrency in some specific countries. The Statista chart shows the share of respondents in selected countries that said they used or owned crypto currencies in 2020.
This regular section also now incorporates and expands on the charts produced in the 2020 air capacity series 'Coronavirus Statistics Snapshot'. These are based on an analysis of OAG schedule data and include a weekly look at how the pandemic is impacting global flight levels in the world's largest markets; a week-on-week and year-on-year comparison of flight departures by geographical region and a look at how weekly capacity is trending: the latter comparing levels to 2020 and also to the 2019 baseline performance.
HEADLINE FIGURES FOR WEEK COMMENCING 03-May-2021:
Departure frequencies up +0.94% versus last week; up+88.56% versus 2020 and down -41.80% versus 2019.
Seat capacity up +0.71% versus last week; up +103.80% versus 2020 and down -43.18% versus 2019.
CHART: Week-on-week change in flight departures by region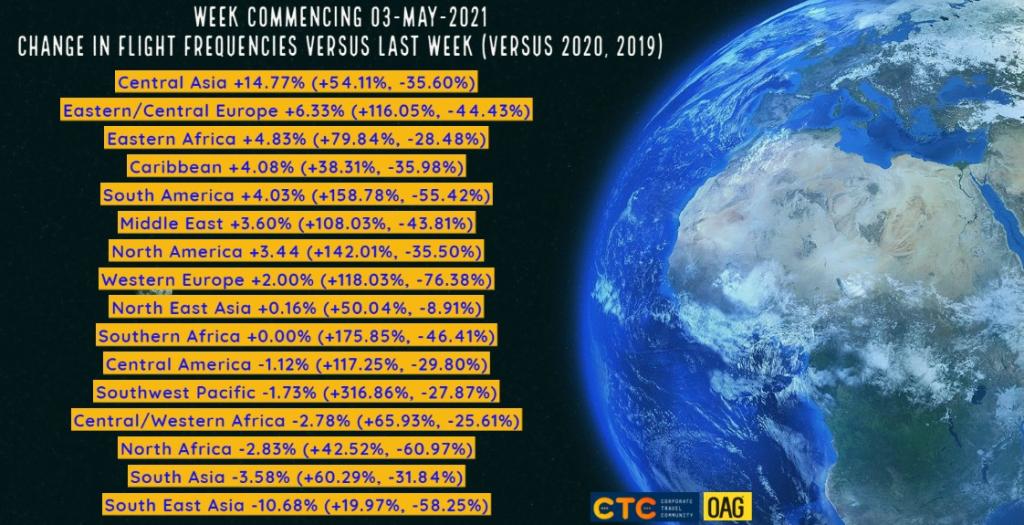 CHART: Year-on-year weekly departure performance for world's top 30 markets versus 2019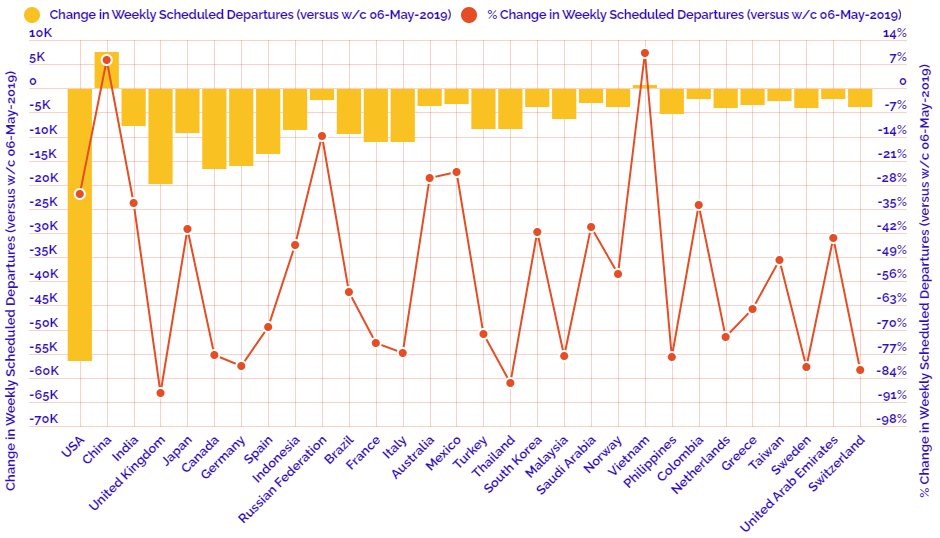 CHART: Year-on-year weekly departure performance for world's top 30 markets versus 2020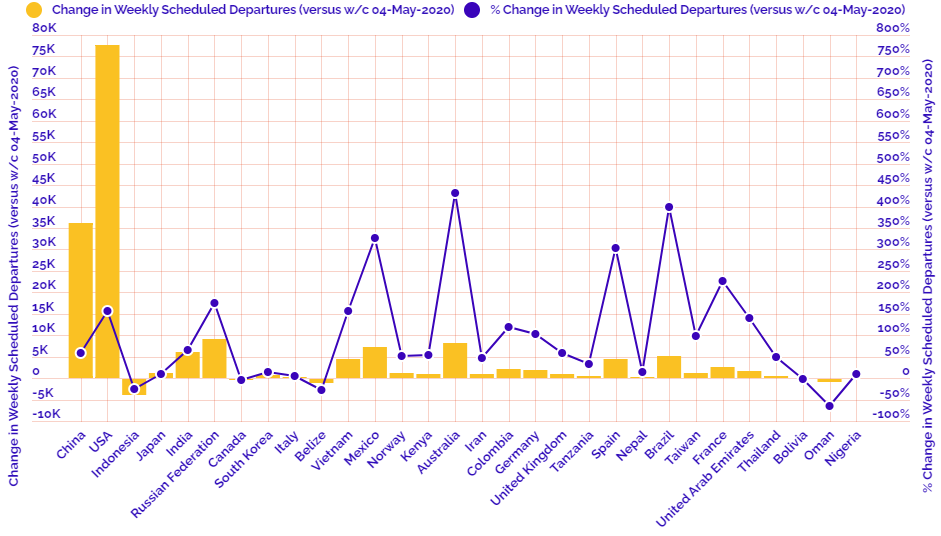 CHART: Departure capacity trends with year-on-year performance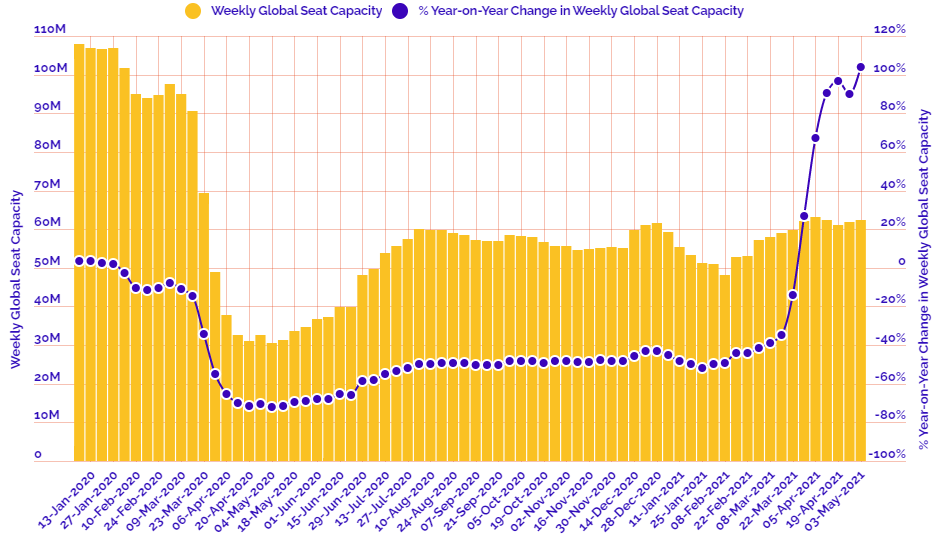 CHART: Departure capacity trends versus 2019