European airport trade body, ACI Europe, has released its air traffic report for Jul-2021, as well as preliminary data for the month of Aug-2021. This shows a big improvement in passenger traffic but "cannot be called a recovery," it explained. The report shows that passenger traffic in the European airport network decreased by -49.3% in Jul-2021 compared to the same period pre-pandemic (2019) – a significant improvement compared to previous months (-74% in 2Q2021). Total passenger volumes more than doubled during the month compared to Jul-2020 – at 133.4 million up from 57.4 million.
While airports in the EU+ area – comprising EU/EEA, Switzerland and the UK – kept underperforming the European average in Jul-2021 at -56.1%, the improvement over 2Q2021 (-81%) was also significant. This would seem to reflect the positive role of the adoption of the EU Digital Covid 19 Certificate, alongside the obvious easing of travel restrictions in many countries.
There were significant variations between national markets across the EU+ area – due to a mix of factors including diverse epidemiological situations, uneven efforts made by Governments to ease travel restrictions, the size of domestic markets and some countries benefitting from tourism/VFR traffic more than others. Accordingly, the best performance came from Romania (-32.6%), Greece (-33.3%), Luxembourg (-44.5%) and France (-46.2%), while Finland (-81.9%), Ireland (-81.7%), the UK (-81.2%) posted the sharpest declines. Germany (-60.8%) also underperformed the EU+ area average.
Meanwhile, airports in the rest of Europe – comprising Albania, Armenia, Belarus, Bosnia and Herzegovina, Georgia, Israel, Kosovo, Moldova, Montenegro, North Macedonia, Russian Federation, Serbia, Turkey, Ukraine, Uzbekistan – saw passenger traffic decreasing by just -20.3% in Jul-2021 – reflecting a complete recovery of domestic passenger traffic (+10.3%) as well as less severe restrictions for cross-border travel.
Amongst national markets, Kosovo (+21.4%) and Albania (+9.6%) exceeded pre-pandemic (2019) volumes. Uzbekistan (-8.3%). Bosnia Hercegovina (-13.2%), Armenia (-15.7%) and Russia (-16.4%) significantly outperformed the bloc's average, while Turkey (-25.5%) and Ukraine (-25.1%) did not.
In the first half of the year, the five busiest airports came from Russia and Turkey. Jul-2021 saw Paris-CDG (-58.9%) and Amsterdam-Schiphol (-54.9%) rejoining the top 5 league in 4th and 5th position respectively. Istanbul (-34.7%) remained in the top spot, followed by Antalya (-27.9%) and Moscow Sheremetyevo (-30.4%).
More generally EU+ hubs and larger airports significantly underperformed in Jul-2021 due to the permanence of tight restrictions on international travel beyond Europe, notes ACI Europe. This dragged the performance of the Group 1 airports with more than 25 million passengers per annum pre pandemic (2019) down to -55.6%.
In particular, Frankfurt (-58.9%) only ranked 7th busiest European airport, Madrid 9th (-57%), London-Heathrow 16th (-80.5%), Munich 18th (-69.2%), Stockholm-Arlanda 39th (-64.8%), Dublin 48th (-81%) and London-Gatwick 64th (-89.6%). Only a few large airports relying on leisure and domestic traffic posted significantly better results with Palma de Mallorca ranked 10th (-42.2%), Paris-Orly 13th (-35.4%) and Athens 15th (-37.8%).
Conversely, mid-size and smaller airports tended to fare better in Jul-2021, notes ACI Europe, a result of their higher reliance on domestic and intra-European leisure traffic. Accordingly, Group 3 and Group 4 airports handling 5 to 10 million passengers per annum and less than 5 million passengers per annum pre pandemic (2019) saw passenger traffic decreasing by -38% and -34.2% respectively.
Apart from Sochi (+68.2%) standing out with impressive growth over pre-pandemic (2019) levels and ranking amongst the top 20 European airports, the best results mostly came from insular airports serving popular tourist destinations. These included Ajaccio (+10%), Calvi (+3.9%), Bastia (-6.6%), Santorini (-13.2%) Palermo (-14.2%), Olbia (-14.9%), Mikonos (-17%), Tenerife (-20%), Menorca (-23.4%), Cagliari (-23.7%) and Heraklion (-25.2%).
Secondary airports predominantly catering to low cost carriers also posted lower traffic declines: Paris-Beauvais (-25.2%), Brussels-South Charleroi (-31%), Rome-Ciampino (-33.6%) and Milan-Bergamo (-36.2%) among them.
Preliminary data for Aug-2021 reveals that passenger traffic in the European airport network kept improving but at a slower pace compared to Jul-2021 – with the month closing at -43%. Noticeably, the improvement in Aug-2021 all came from the EU+ market at -49% – although this was mainly driven by UK and Irish airports following the partial lifting of travel restrictions in these countries, as well as further gains in the Eastern part of the bloc. Most other EU+ markets remained at their Jul-2021 levels. Meanwhile passenger traffic in the rest of Europe stood at -21%, showing no further increase compared to the previous month.
Olivier Jankovec, director general of ACI Europe says the easing of travel restrictions for intra-European travel and the EU Digital Covid Certificates have given airports "some oxygen" over the months of Jul-2021 and Aug-2021, but adds: "make no mistake, this cannot be called a recovery".
"We are still 66% below pre-pandemic volumes so far this year – and the improvement has predominantly benefitted smaller airports relying on domestic and leisure traffic," he says and acknowledges that as we exit the peak Summer holiday period, passenger traffic is no longer improving in many markets.
"In fact, it is plateauing and even decreasing again, with business travellers not there to take over from holiday makers," he says. "Air connectivity remains very much degraded across Europe – this is acutely felt in the business travel sector in particular."
They say 'a picture paints a thousand words'. In this regular section CTC – Corporate Travel Community offers an illustrative insight into a key industry observation or trend, this week highlighting some analysis of travel search behaviours from CAPA - Centre for Aviation's CEO briefing that using Kayak data takes a day-by-day look at flight search interest across various European markets and compares this to the same day two years prior.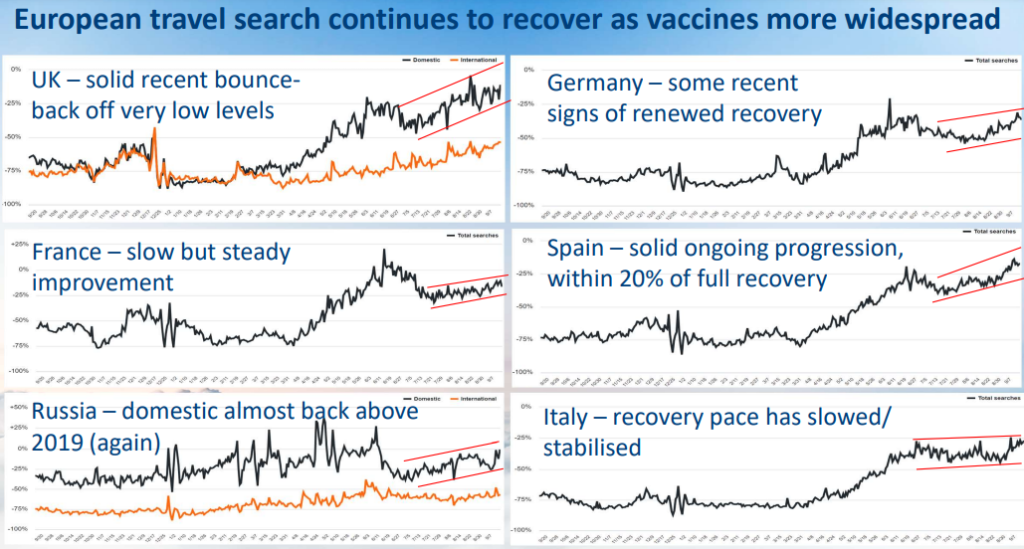 This regular section also now incorporates and expands on the charts produced in the 2020 air capacity series 'Coronavirus Statistics Snapshot'. These are based on an analysis of OAG schedule data and include a weekly look at how the pandemic is impacting global flight levels in the world's largest markets; a week-on-week and year-on-year comparison of flight departures by geographical region and a look at how weekly capacity is trending: the latter comparing levels to 2020 and also to the 2019 baseline performance.
HEADLINE FIGURES FOR WEEK COMMENCING 20-Sep-2021:
Departure frequencies down -0.24% versus last week; up+34.16% versus 2020 and down -30.14% versus 2019.
Seat capacity down -0.28% versus last week; up +38.16% versus 2020 and down -31.04% versus 2019.
CHART: Week-on-week change in flight departures by region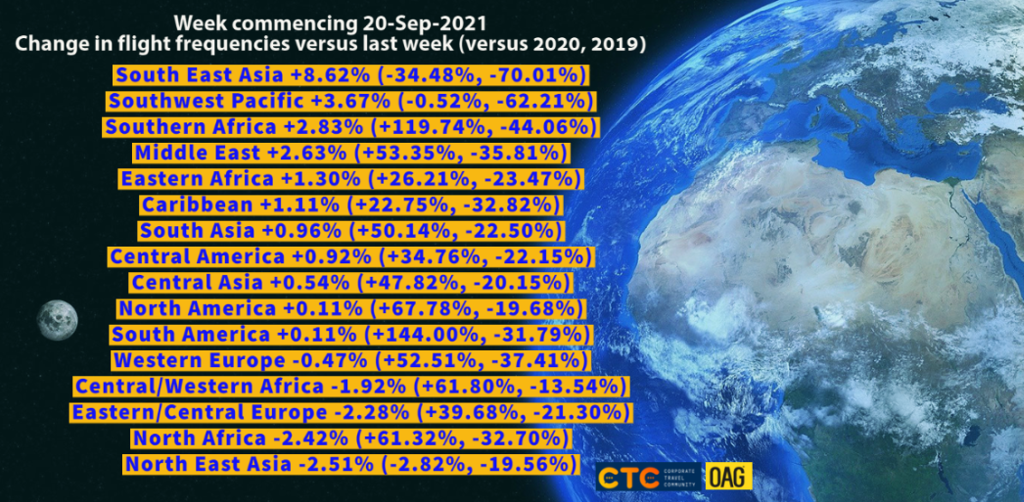 CHART: Year-on-year weekly departures performance for world's top 30 markets versus 2019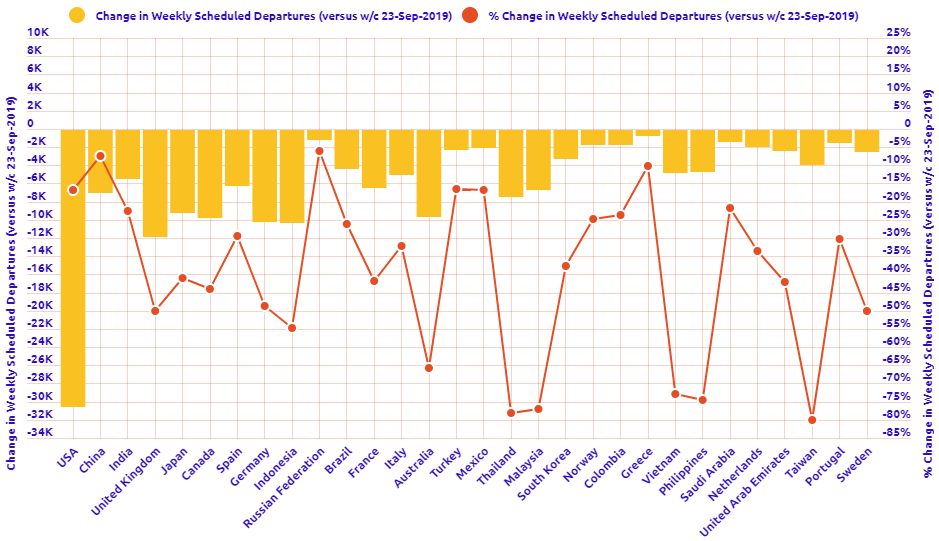 CHART: Year-on-year weekly departures performance for world's top 30 markets versus 2020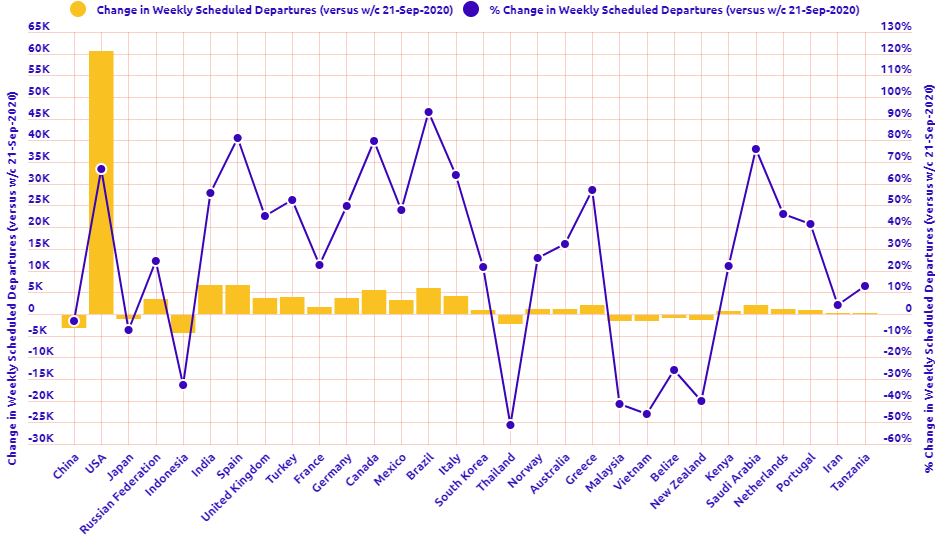 CHART: Departure capacity trends with year-on-year performance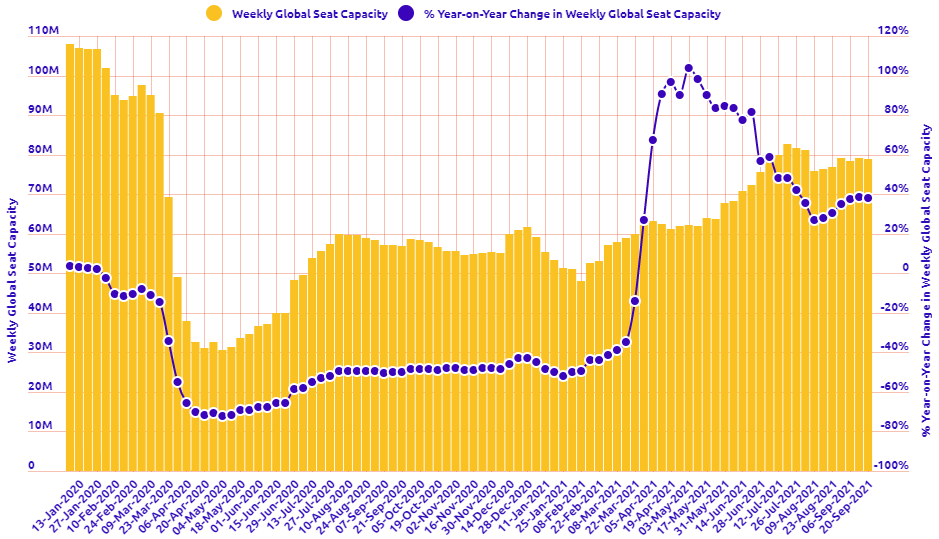 CHART: Departure capacity trends versus 2019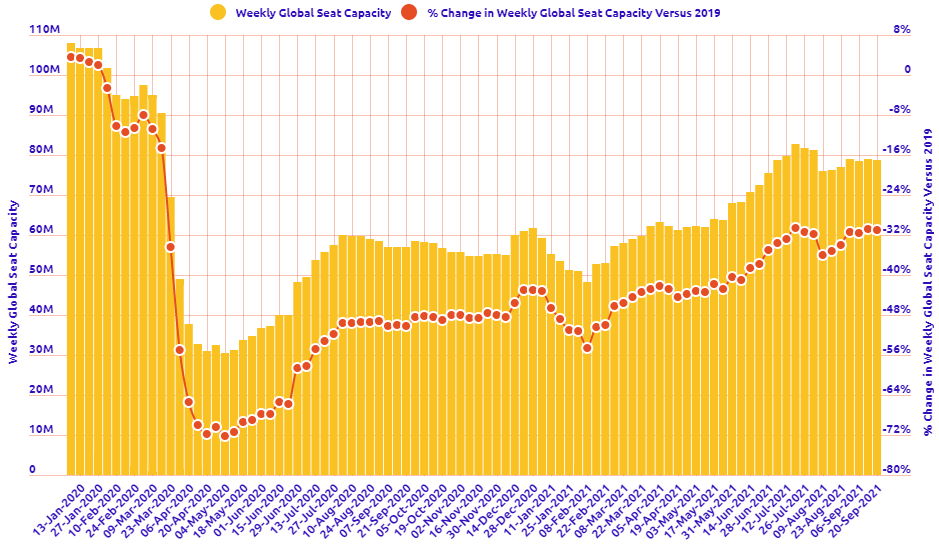 CHART: The world's biggest aviation markets by departure seats