Johan Lundgren, CEO of one of Europe's largest airlines, easyJet has said there could be an "absolute boom" in terms of travel due to underlying pent up demand if the COVID-19 vaccine rollout is successfully implemented and travel restrictions are lifted. He said he remains "positive" for a "strong summer" in 2021 if vaccination programmes are successful and effective against the different variants of the COVID-19 virus.
Speaking at the Feb-2021 edition of CAPA Live – a monthly virtual summit, offering insights, information, data and live interviews with airline CEOs and industry executives across a next-gen virtual event platform – he said the airline identifies "there is underlying demand out there," but noted that this is not a question of demand "it's all about the restrictions in place".
These restrictions mean that the carrier does not expect to exceed 10% of 2019 capacity levels in 1Q 2021.But for the summer the prognosis is very different. There is "no doubt" that leisure travel will be the fastest segment to rebound when travel restrictions are lifted, followed by VFR traffic and business travel, according to Mr Lundgren. "We don't need any more studies to recognise that people want to go on holiday," he added.
Any travel spike remains reliant on getting a stronger hold over virus transmission and breaking the shackles of the lockdowns that currently limit mobility. "The issue is that travel sentiment dependent on the daily news flow, and the biggest thing now we have are restrictions to control the pandemic... these restrictions look very different depending on the jurisdiction which makes it very confusing for the customers and tremendously challenging for the operators to operate in", Mr Lundgren explained.
New research from digital marketing solutions provider Sojern shows that travel intent to Europe continues to fluctuate. While there remains much uncertainty over the ability to travel it means that COVID-19 has flattened the curve when it comes to seasonal demand spikes and troughs. Airlines, hotels and hospitality businesses will be longing for the day they can complain about seasonal travel issues. They will all hope this is a short-term phenomenon that ends with one of the biggest spikes in demand ever seen.
The Sojern research for the Jun-2021 to Aug-2021 months clearly shows a flat demand. Unlike previous years where there were peaks in travel during certain weeks of the summer in line with school summer holidays, and peak seasons for various destinations, the picture for this year is very different. Based on regional flight search data it says "there is no clear standout week or date where European travellers are intending on departing for their holidays".
This, as highlighted by the easyJet CEO, is being influenced by the high volatility of travel at the minute with lockdowns still in place, so travellers are unsure of when destinations will be open, or when travel will be allowed. A fairly long booking window for summer breaks is transitioning to a late booking market and that is a challenge for the entire travel eco-system.
What hasn't changed in terms of travel interest in Europe is that France, Italy, and the UK are the largest source markets searching for European summer bookings, reports Sojern. Spain remains the most popular destination market, while Greece is particularly benefiting from a rise in traveller confidence versus previous patterns, its data indicates.
They say 'a picture paints a thousand words'. In this regular section CTC – Corporate Travel Community offers a graphical insight into a key industry observation or trend. In this latest edition we use OAG schedule data to look at the changing face of European air travel. We look at the largest European country markets by international capacity in 1Q 2019 and consider their same activity in 1Q 2021.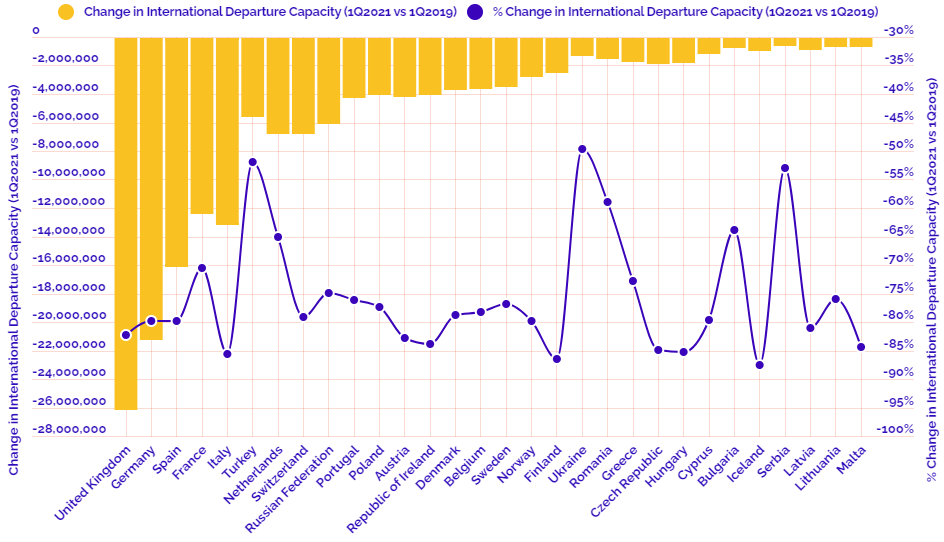 This regular section also now incorporates and expands on the charts produced in the 2020 air capacity series 'Coronavirus Statistics Snapshot'. These include a weekly look at how the pandemic is impacting global flight levels in the world's largest markets; a week-on-week and year-on-year comparison of flight departures by geographical region and a look at how weekly capacity is trending: the latter comparing levels to 2020 and also to the 2019 baseline performance.
HEADLINE FIGURES FOR WEEK COMMENCING 15-Feb-2021:
Departure frequencies up +7.76% versus last week; down -42.35% versus 2020 and down -48.06% versus 2019.
Seat capacity up +9.38% versus last week; down -43.92% versus 2020 and down -50.33% versus 2019.
CHART: Week-on-week change in flight departures by region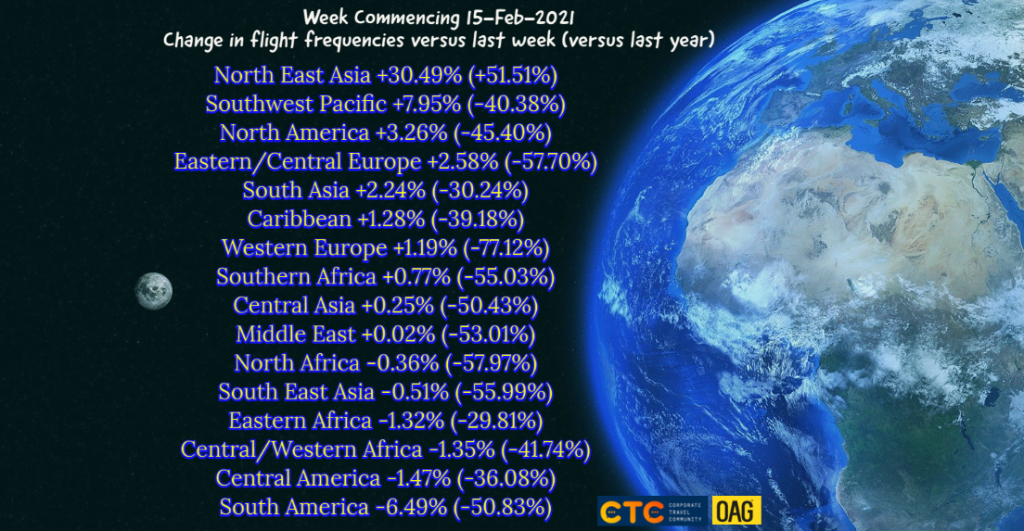 CHART: Year-on-year weekly departure performance for world's top 30 markets versus 2019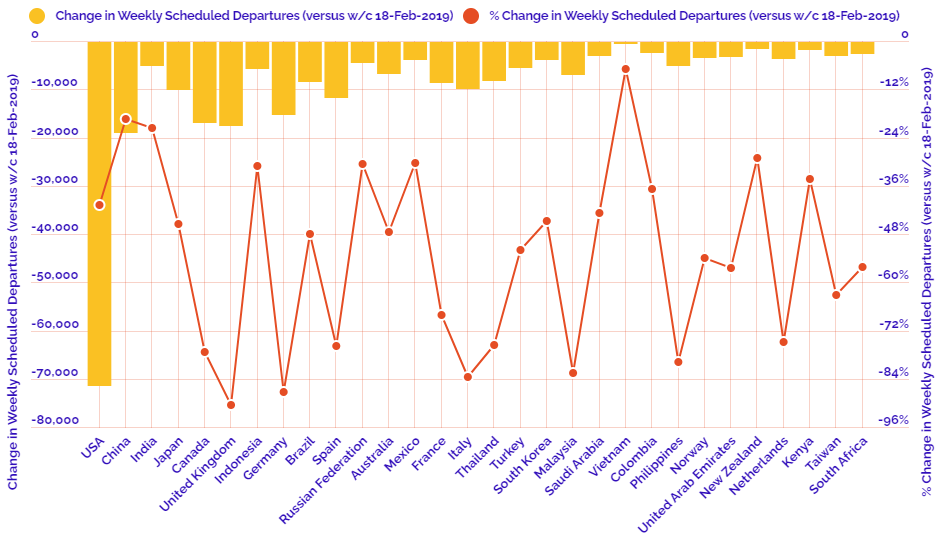 CHART: Year-on-year weekly departure performance for world's top 30 markets versus 2020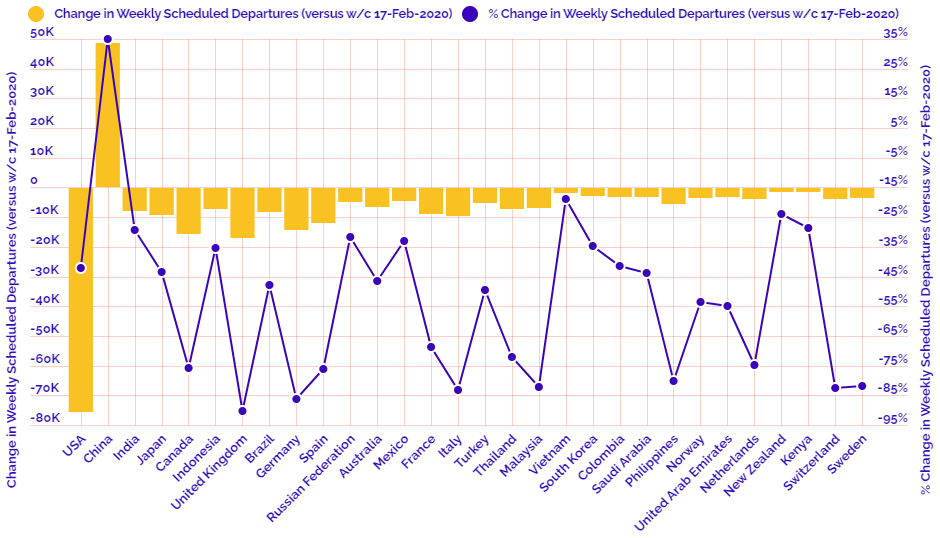 CHART: Departure capacity trends with year-on-year performance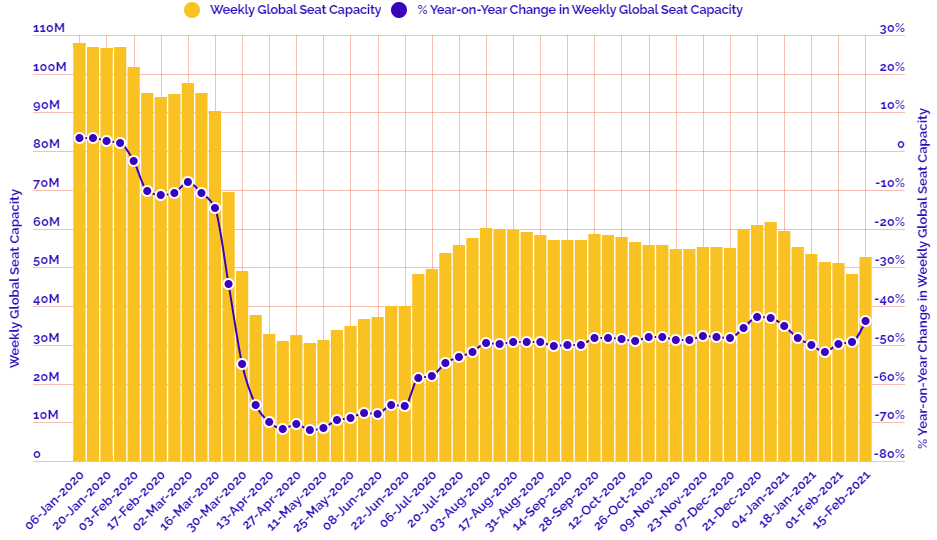 CHART: Departure capacity trends versus 2019