That is a positive observation of a new report from US company Motus, a workforce expense reimbursement software provider which has a focus on mobile workforces and who has been – and continues – championing the WorkAnywhere concept.
The 2021 Business Travel Trends Report highlights some of the latest trends and holistic landscape surrounding business travel in the US, and uses US Bureau of Transportation and US Travel Association data to support business leaders in their planning of corporate travel approach and travel budget allocation.
Positively, the report highlights research that identifies that specific industries are returning to business travel at an increased pace. Software, business services and manufacturing are a few sectors showing particularly high travel activity levels, while in terms of roles, sales departments show the highest demand for a return to in-person meetings.
The report found though that while most employees are now willing to travel for work, business travel spend in Aug-2021 was still 11% below 2019 levels. One reason identified for this is travel managers reevaluating policies with one in five companies now having corporate vaccine policies in place for domestic business travel.
All types of travel are growing, although international travel still wanes in response to everchanging travel restrictions and budget limitations. Sustained low infection rates, increased vaccinations, the reopening of offices and easing of quarantine requirements will ultimately all boost travel volumes.
But travel managers are also weighing the return on investment and bottom-line impact of travel budgets. Given flight and budget restrictions, and the desires of 25% of individuals who prefer to use personal vehicles instead of public transportation, it's no surprise that only 2% of business travellers have booked their next flight, notes Motus.
As a result, US driving activity surpassed pre-pandemic levels as of March 2021. Motus found that driving activity in the business sector has not only recovered, but activity in 2021 has exceeded the pre-pandemic average by about 30%. Meanwhile, in the pharmaceutical, medical device and biotech sectors it has also recovered to pre-pandemic levels in 2021 and slightly exceeds that baseline by about 4%.
The rise in driving and concern over future restrictions on both domestic and international flights raises the question: when does it makes sense for team members to drive or fly? The Motus research considers that the threshold where air travel proves to be more cost-effective to businesses than air travel should change and that companies should consider expanding previous distance guidelines to take into account employee preferences and the changing environment.
Factoring in various costs, Motus found that in order to make a business trip practical, maximum drive time should be capped at about 10 hours or around 600 miles. After this point, it says, added expenses such as increased travel time, accommodation and meals for extended travel start to exceed the cost of flights. "However, this must now be weighed alongside vaccine requirements and other air travel uncertainties when determining what's best for businesses and their teams," it says.
These insights provide some interesting observations, but for around three in four (72% of respondents in the Motus survey), flexibility is the key element of business travel. "In the post-pandemic world, business leaders and travel managers must be increasingly flexible while taking a more stringent approach to budget and health concerns," acknowledges Ken Robinson, market research manager at Motus.
"Now more than ever, pre-trip approval tools can help employers efficiently control costs while navigating travel policies, employee comfort levels and more in the year ahead," he adds. Importantly too, employers need to be mindful of employee comfort levels as they plan for 2022 and update travel policies.
They say 'a picture paints a thousand words'. In this regular section CTC – Corporate Travel Community offers an illustrative insight into a key industry observation or trend, this week highlighting further research from the Motus report and the positive news that we can perhaps expect a further spike in US business travel bookings at the end of the year.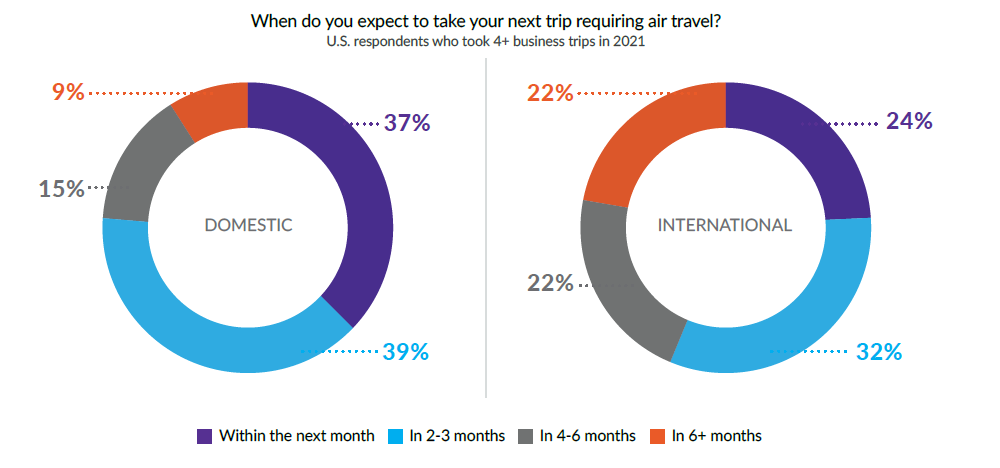 This regular section also now incorporates and expands on the charts produced in the 2020 air capacity series 'Coronavirus Statistics Snapshot'. These are based on an analysis of OAG schedule data and include a weekly look at how the pandemic is impacting global flight levels in the world's largest markets; a week-on-week and year-on-year comparison of flight departures by geographical region and a look at how weekly capacity is trending: the latter comparing levels to 2020 and also to the 2019 baseline performance.
HEADLINE FIGURES FOR WEEK COMMENCING 01-Nov-2021:
Departure frequencies down -0.75% versus last week; up+35.09% versus 2020 and down -26.83% versus 2019.
Seat capacity down -0.82% versus last week; up +39.82% versus 2020 and down -27.28% versus 2019.
CHART: Weekly change in global seat capacity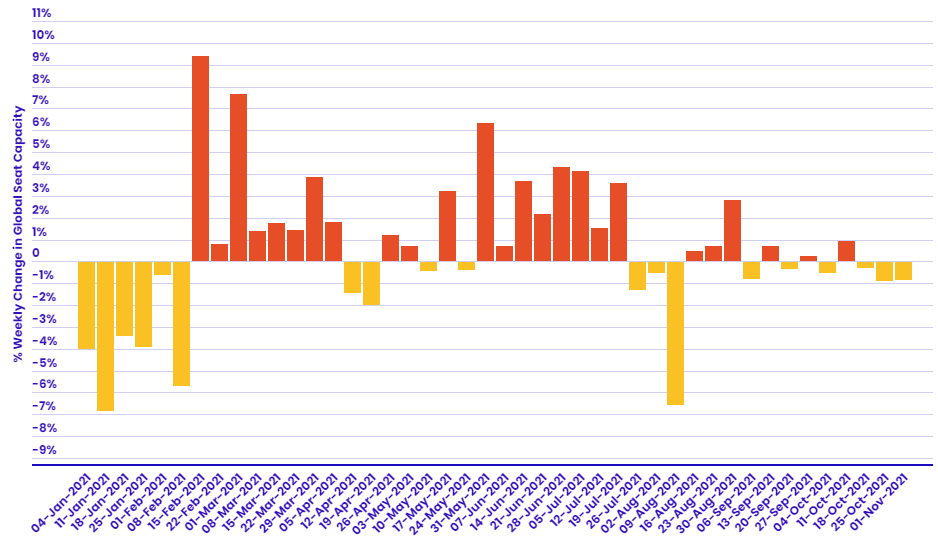 CHART: Week-on-week change in flight departures by region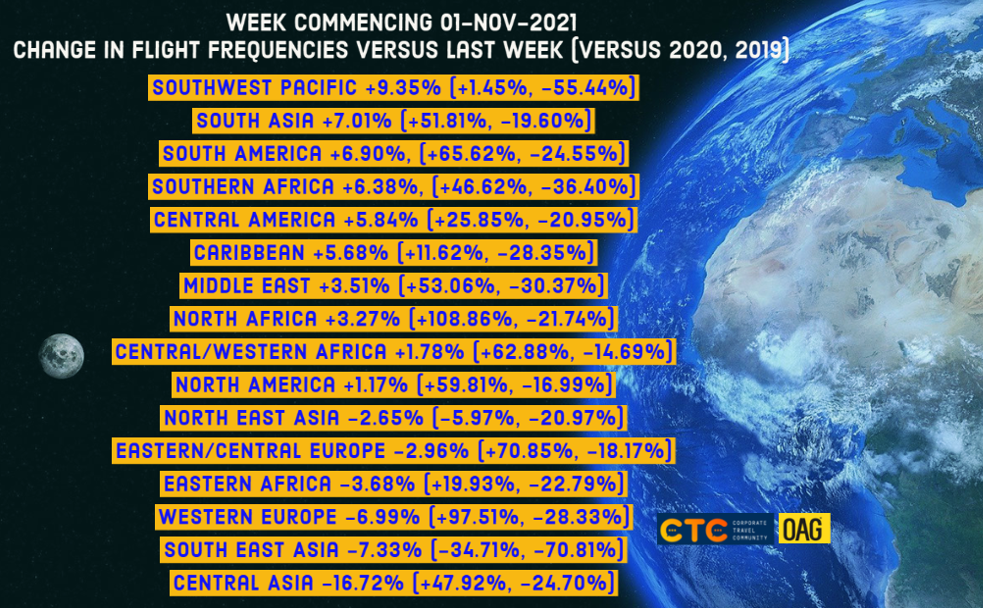 CHART: Year-on-year weekly departures performance for world's top 30 markets versus 2019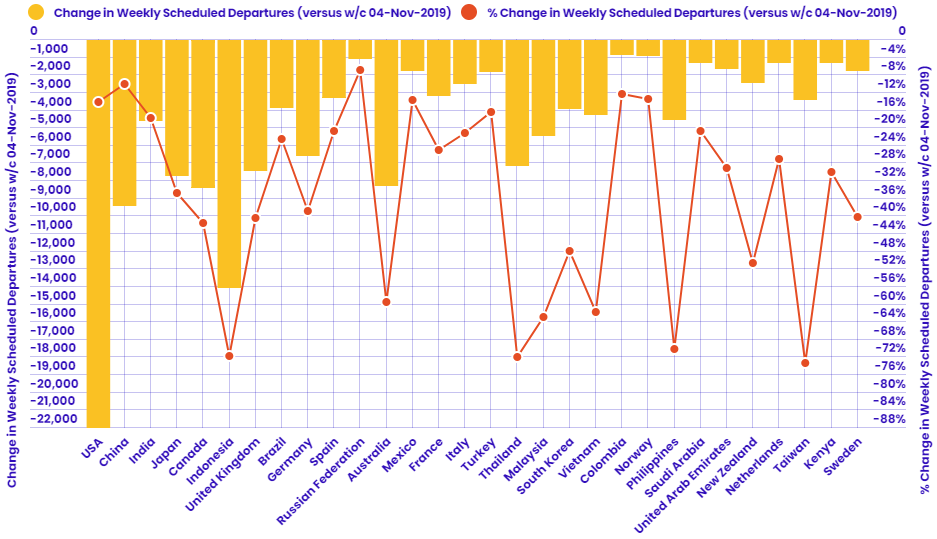 CHART: Year-on-year weekly departures performance for world's top 30 markets versus 2020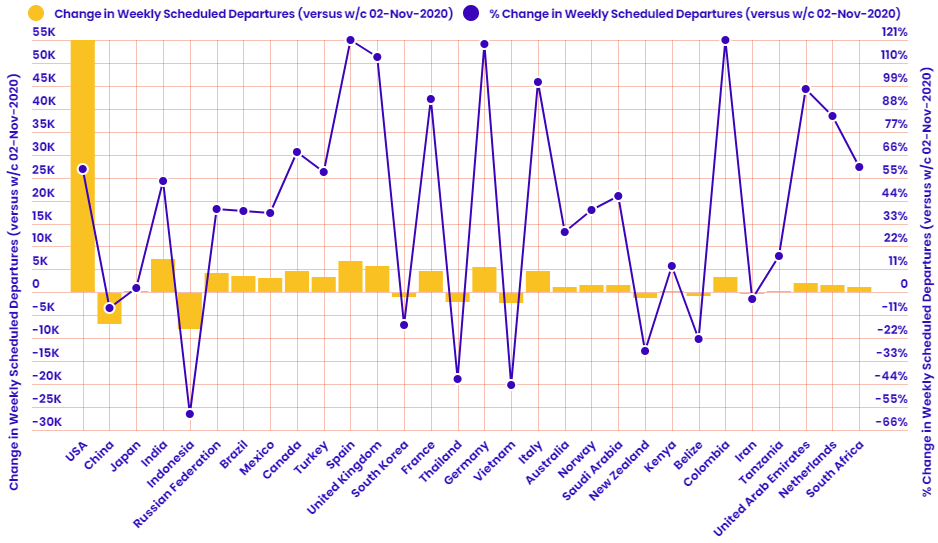 CHART: Departure capacity trends with year-on-year performance
CHART: Departure capacity trends versus 2019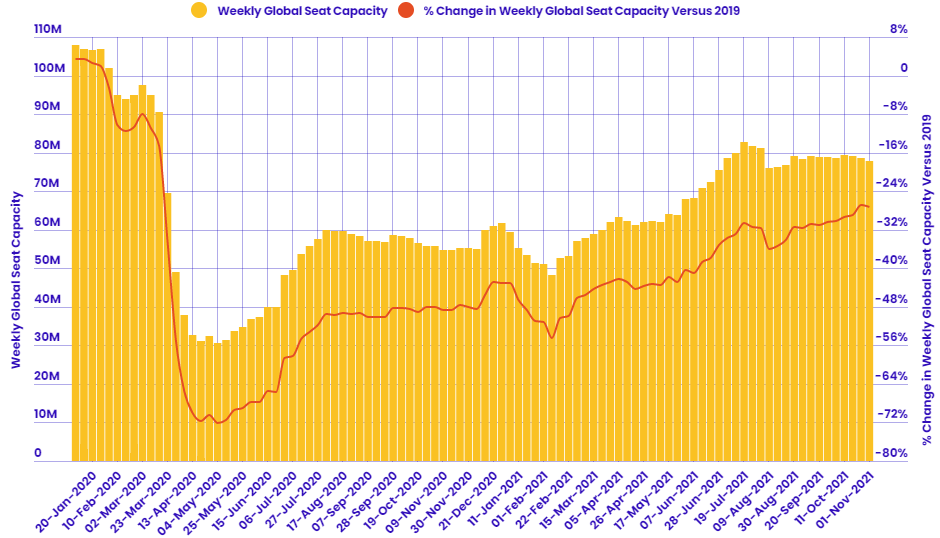 CHART: The world's biggest aviation markets by departure seats