The EIR findings show that the sector's impact on Germany's GDP fell from EUR344 billion (9.8%) in 2019 before the pandemic struck, to EUR183 billion (5.5%), just 12 months later, in 2020 – a year of damaging travel restrictions which brought much of international travel to a grinding halt and resulted in the loss of 441,000 sector-based jobs across the country.
The number of those employed in the German travel and tourism sector fell from 5.87 million in 2019, to 5.43 million in 2020 – a drop of -7.5%. These job losses were felt across the entire ecosystem in the country, with SMEs, which make up eight out of 10 of all global businesses in the sector, particularly affected.
The situation is bad, but WTTC believes the picture could have been significantly worse, if not for government's job-saving Kurzarbeit, a scheme which offered a short-term lifeline to businesses and workers, however hiding the real extent of the losses and the devastating social impact they could bring.
The figures once again highlight the scale of the current crisis and how the global health pandemic has caused unprecedented struggles. This is further illustrated in the WTTC's report. The EIR shows that German domestic visitor spending declined by -47.3%, while international spending fared even worse, due to more stringent travel restrictions, causing a fall of -57.9%.
Gloria Guevara, president & CEO WTTC says the magnitude of job losses across Germany has had "a devastating socio-economic impact," leaving huge numbers of people fearing for their future. On a positive though and despite "a slow and frustrating start," Ms Guevara acknowledges there are now "grounds for optimism" if Germany's vaccine rollout continues at pace.
"With more people vaccinated, a clear roadmap for increased mobility and, the likelihood of relaxed restrictions for travel from countries outside of the EU with comprehensive testing on departure in place just before the busy summer season, we predict the 441,000 jobs lost in Germany could return by the end of this year," she says.
It's a bold prediction that is backed by WTTC's own research shows that shows if mobility and international travel resumes by June this year, the sector's contribution to the nation's GDP, could reach the same levels of 2019 by 2022. That remains a big 'if'.
They say 'a picture paints a thousand words'. In this regular section CTC – Corporate Travel Community offers a graphical insight into a key industry observation or trend. Continuing the example of Germany we look at OAG schedule data to highlight changes in weekly domestic and international air capacity since the beginning of 2020 and how they compare to our last 'normal' year of 2019.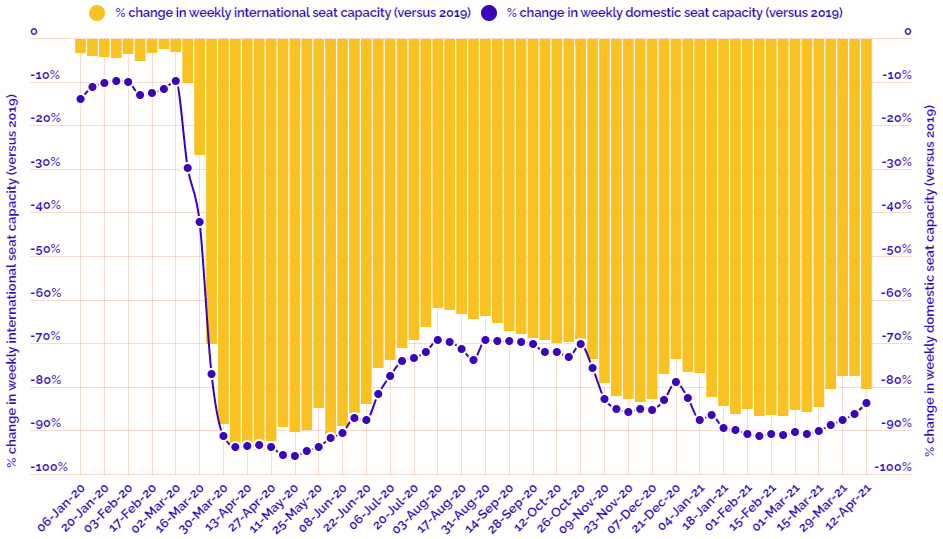 This regular section also now incorporates and expands on the charts produced in the 2020 air capacity series 'Coronavirus Statistics Snapshot'. These are based on an analysis of OAG schedule data and include a weekly look at how the pandemic is impacting global flight levels in the world's largest markets; a week-on-week and year-on-year comparison of flight departures by geographical region and a look at how weekly capacity is trending: the latter comparing levels to 2020 and also to the 2019 baseline performance.
HEADLINE FIGURES FOR WEEK COMMENCING 12-Apr-2021:
Departure frequencies down -0.91% versus last week; up+70.35% versus 2020 and down -41.19% versus 2019.
Seat capacity down -1.42% versus last week; up +90.44% versus 2020 and down -42.79% versus 2019.
CHART: Week-on-week change in flight departures by region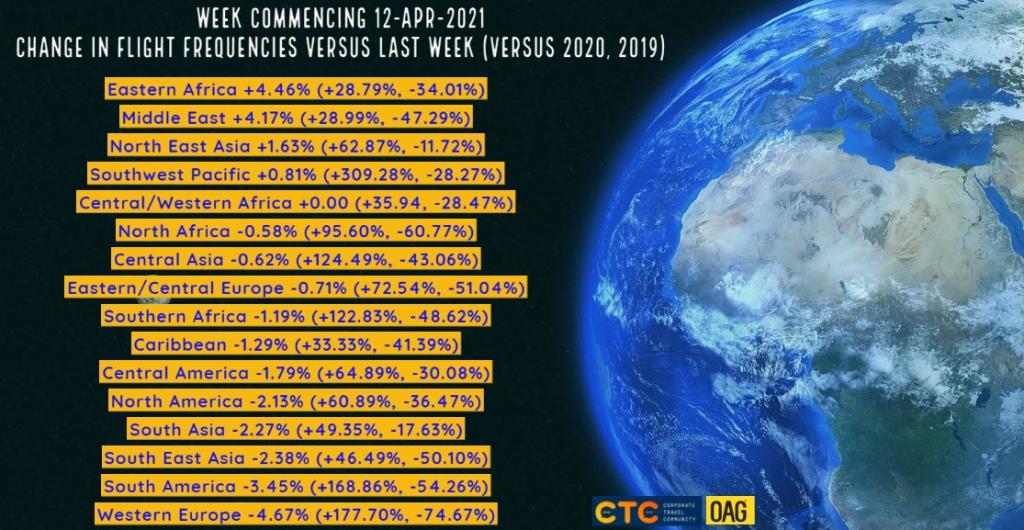 CHART: Year-on-year weekly departure performance for world's top 30 markets versus 2019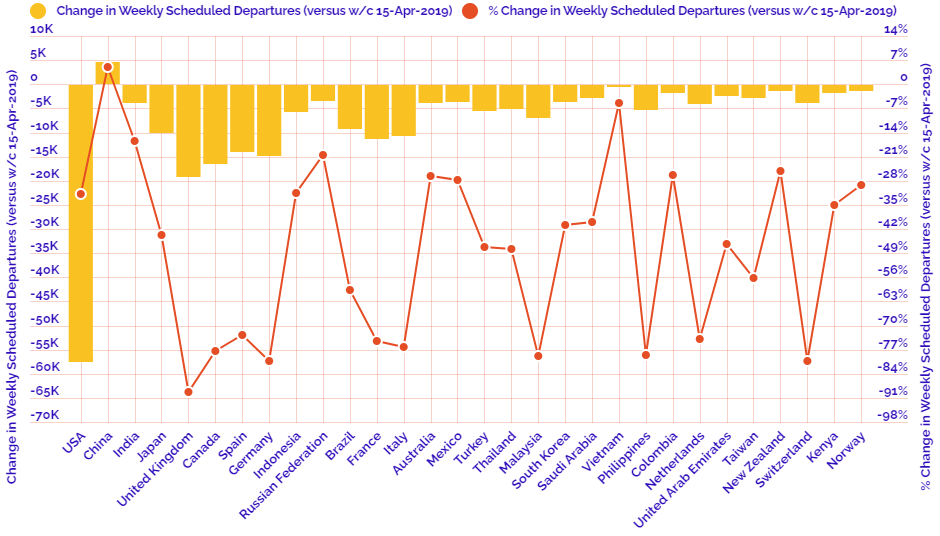 CHART: Year-on-year weekly departure performance for world's top 30 markets versus 2020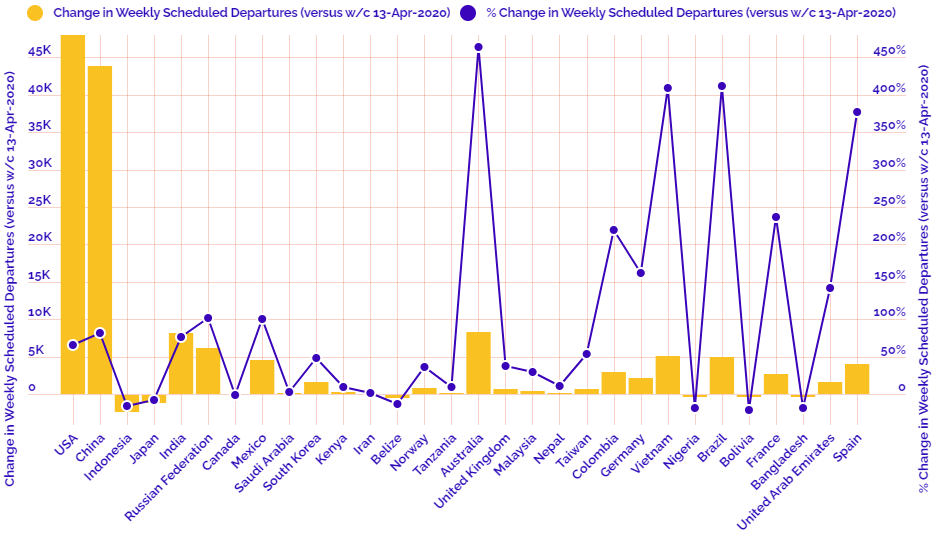 CHART: Departure capacity trends with year-on-year performance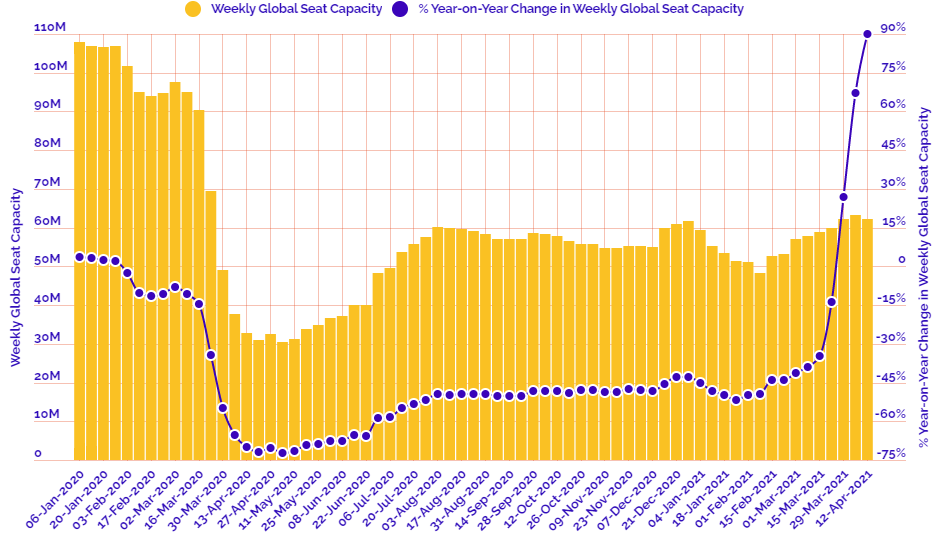 CHART: Departure capacity trends versus 2019