As of mid-2021, the 'Startup Investment Trends in Travel and Mobility Tech' shows a register of more than 2,800 startups (up +5% versus 2020) across six major company clusters active in the travel and mobility Tech arena. "Clearly, many founders have identified new opportunities to reinvent the post-pandemic travel and mobility Tech world," it notes.
The report identifies investment trends in the travel and mobility tech startup ecosystem to try to illustrate how the crisis has impacted startup financing and what this might mean for the future of the industry.
Critical for startup founders to bring their ideas to market is VC financing. In 2020, just over USD23 billion was invested in startups across travel and mobility tech, according to the report, the lowest level since 2015 and the expansion stage of the sector and down almost half from the pick levels seen in 2018 (USD42 billion). This level demonstrates that despite the challenging conditions in 2020 "the appetite to invest in travel remains," notes the report.
Furthermore, the drop in total funding of -14% compared to 2019 "appears bearable," it acknowledges considering the dramatic impact of the pandemic on the overall industry. On the bright side, 2021 is currently expected to bring back full-year funding amounts to USD44 billion, the report projects, indicating that the startup ecosystem has fully recovered and is ready to "overcome the flattening investment trends of the previous few years and return to its long-term growth trajectory".
Ground transportation startups have long dominated the travel and mobility tech ecosystem from a financing perspective. Over the past decade, the ride – and taxi-hailers – have captured more than half of the USD200 billion allocated to startups in the sector, according to the report, driven by many of the biggest VC deals in startup history. Next to ground transport, which also includes car sharing and micromobility, private hospitality players (e.g. Airbnb), online booking platforms, and aviation startups collected most of the funding.
When looking at how the non-ground-transport segments in travel and mobility tech performed throughout the pandemic, it stands out that only one category was able to grow its relative funding share during the crisis: aviation. The report shows that aviation-related startups raised more than half of all investment dollars during the peak of Covid-19 in 2020 and 65% in 2021 so far.
This appears somewhat surprising given the dramatic impact of the pandemic on air travel, but the report, identifies that this has been driven by a "surge" in aviation startups primarily driven forward by so-called "New Air Travel" players. These comprise air-taxi, space-tourism, and Uber-like on-demand aviation services, such as private jets.
Contrary to pre-pandemic trends, ride-hailing – the most-funded startup category in travel and mobility tech between 2014 and 2019 – has suffered the heaviest throughout the past 18 months. The report indicates that investors "have shied away from continuously backing their long-time urban mobility favourites" as the pandemic has made the idea of sharing a car with strangers a lot less appealing for travellers than before. "Such changes could have a lasting impact on transportation preferences, even when the virus fully recedes," it warns.
It is clear that the COVID-19 pandemic has increased financial pressures on travel and mobility companies, and this report shows that smaller, early-stage startups who usually have little savings to prepare for economic downturns have been particularly hard hit. However, the analysis shows that despite this very challenging economic environment, the overall travel and mobility tech startup ecosystem continues to grow, innovate, and raise significant funding amounts.
They say 'a picture paints a thousand words'. In this regular section CTC – Corporate Travel Community offers an illustrative insight into a key industry observation or trend, this week highlighting a graph from The Economist that highlights the patchwork of complicated cross-border travel rules and that many governments are welcoming only recipients of certain COVID-19 vaccines.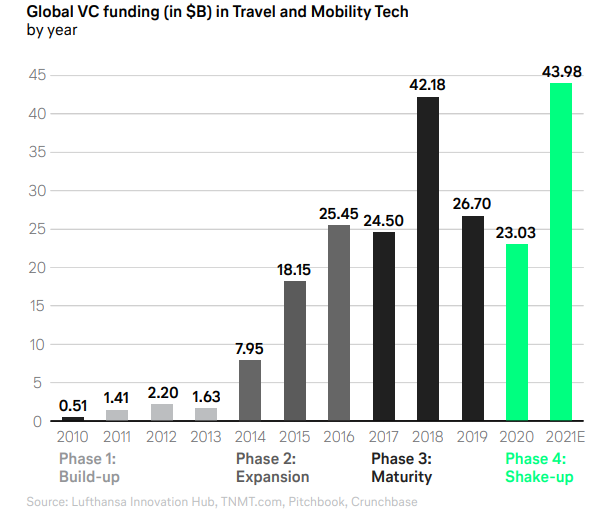 This regular section also now incorporates and expands on the charts produced in the 2020 air capacity series 'Coronavirus Statistics Snapshot'. These are based on an analysis of OAG schedule data and include a weekly look at how the pandemic is impacting global flight levels in the world's largest markets; a week-on-week and year-on-year comparison of flight departures by geographical region and a look at how weekly capacity is trending: the latter comparing levels to 2020 and also to the 2019 baseline performance.
HEADLINE FIGURES FOR WEEK COMMENCING 06-Sep-2021:
Departure frequencies down -0.85% versus last week; up+33.01% versus 2020 and down -30.69% versus 2019.
Seat capacity down -0.74% versus last week; up +37.38% versus 2020 and down -31.60% versus 2019.
CHART: Week-on-week change in flight departures by region
CHART: Year-on-year weekly departures performance for world's top 30 markets versus 2019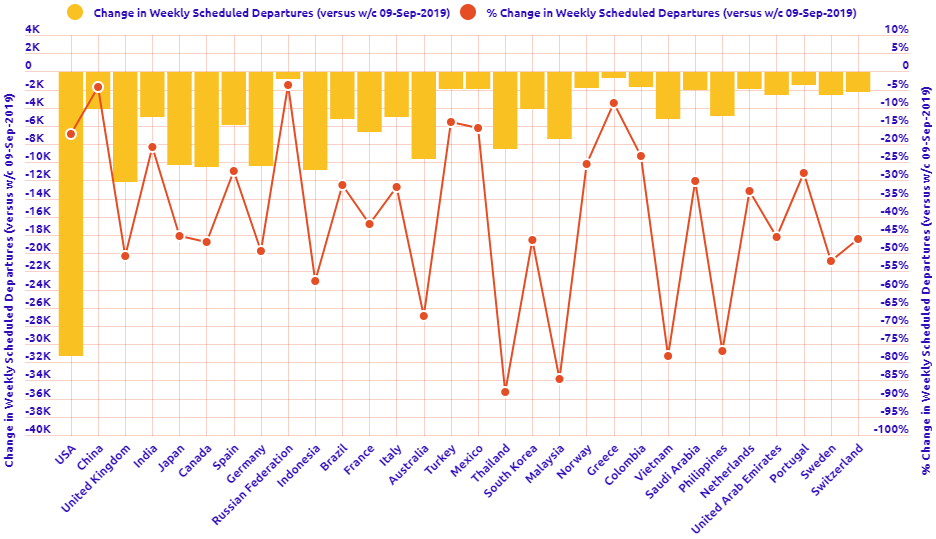 CHART: Year-on-year weekly departures performance for world's top 30 markets versus 2020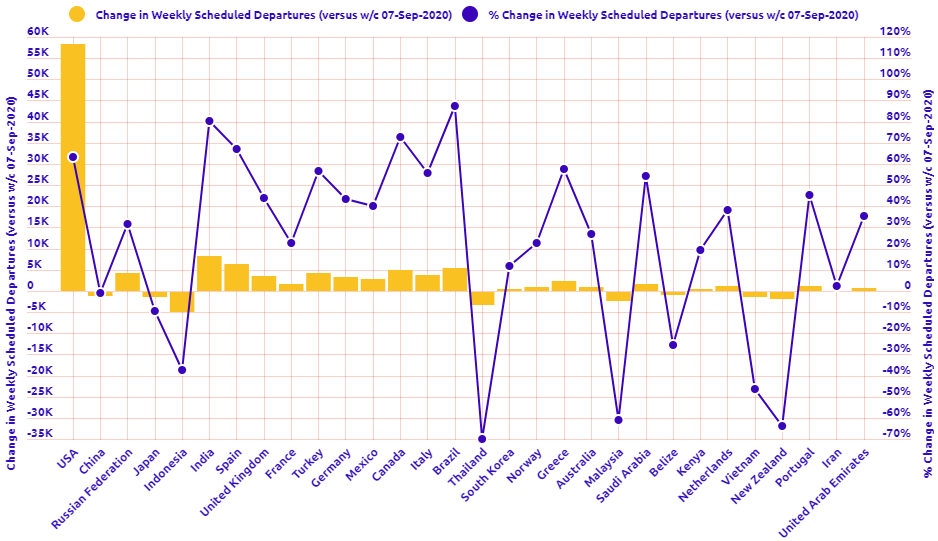 CHART: Departure capacity trends with year-on-year performance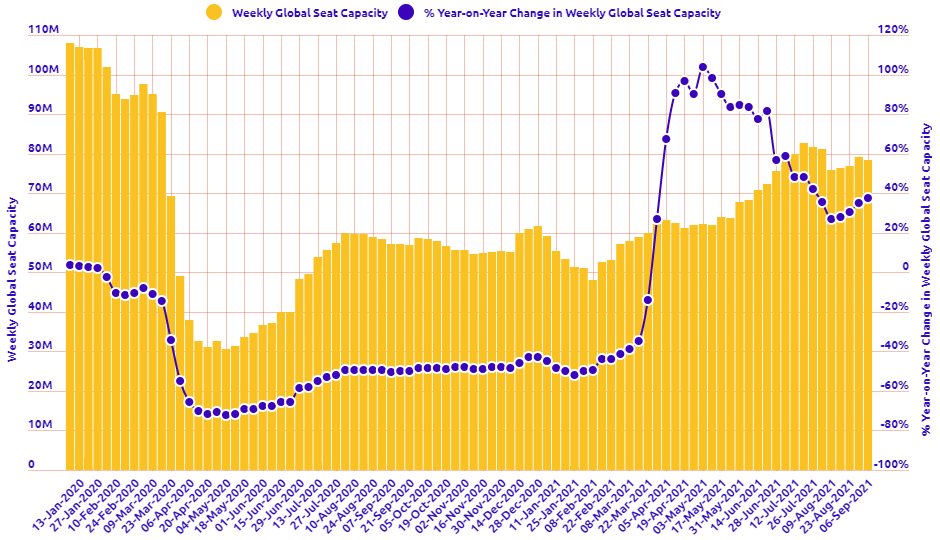 CHART: Departure capacity trends versus 2019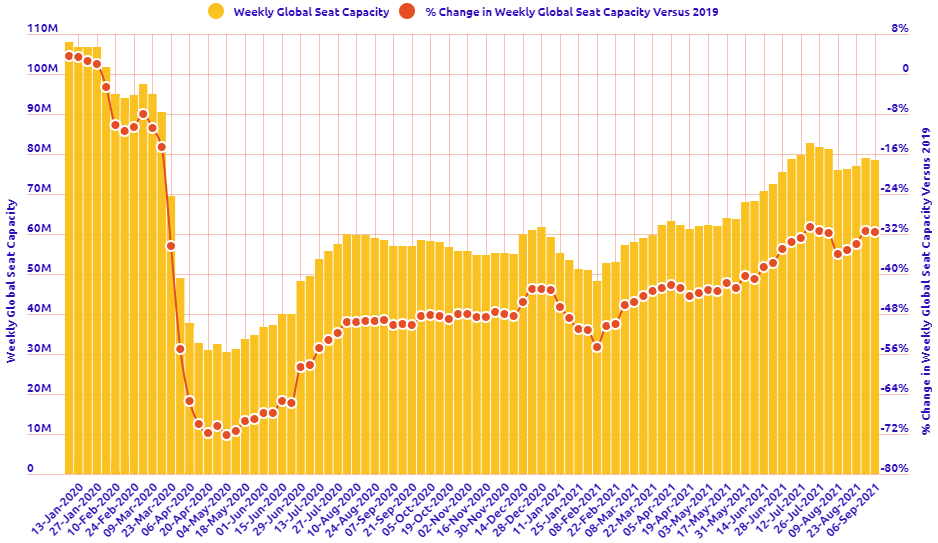 CHART: The world's biggest aviation markets by departure seats