Around three quarters of respondents (73%) now expect profitability for their own airline to improve further in the twelve months ahead, compared to less than half in the previous survey in Apr-2021. Very few of the executives now expect further decline, but close to a quarter thinks that profitability will not change from its low base.
With the COVID crisis hitting most of the world this time last year it is no surprise to learn that the majority of respondents have seen year-on-year profitability improve in the three months to Jul-2021, but the scale of growth compared to the same period in 2020 of around three in four airlines (72%) shows encouragement.
Following the pandemic trend there are some notable geographical differences between the responses with the executives that expected no improvement in airline profitability all working for carriers based in Europe and Asia Pacific.
Those executives that expect improvements in profitability suggested reasons such as the easing of travel restrictions, cost reduction efforts, higher passenger confidence and vaccination progresses. But improvements in profitability do not yet translate into profits with an air of cautions still hanging over the industry.
Many respondents to the IATA business confidence survey indicated that they did not expect profits but rather reduced losses, with recovery being slow and gradual from a low base. Among the airlines that do not anticipate changes, some cited lack of government coordination, or vaccines not being recognised by partner markets as key issues – the latter is a big concern for all auspices of travel and tourism.
There will be a continued impact on business performance regardless of the pace of recovery and IATA's results show that some respondents thought yields would go down, while others pointed out the significant uncertainty, with risks that the recovery could be reversed. IATA says the findings point to "cautious optimism, with a slow and vulnerable recovery despite recent progress, and a wide range of possible outcomes across markets".
They say 'a picture paints a thousand words'. In this regular section CTC – Corporate Travel Community offers an illustrative insight into a key industry observation or trend, this week highlighting a graph from IATA's Jul-2021 business confidence survey that highlights the improved optimism of airline CFOs and a projected positive shift in airline profitability over the coming 12 months.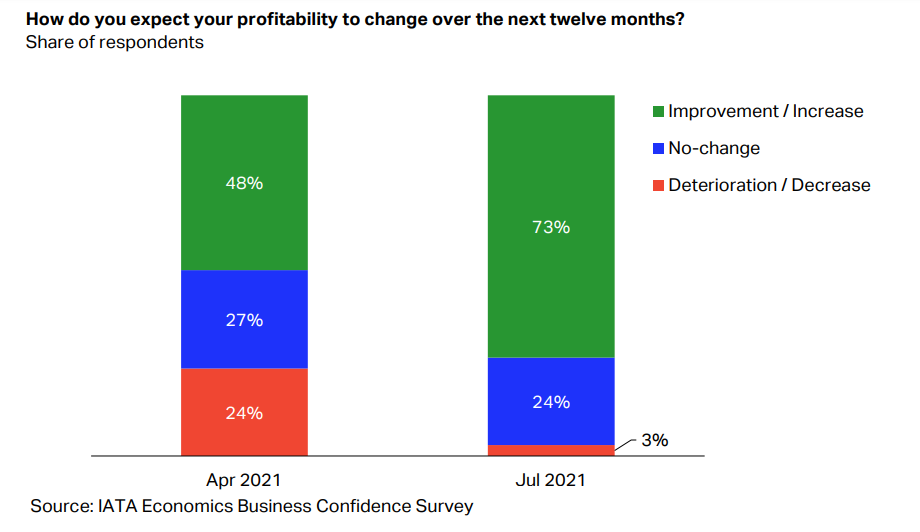 ---
This regular section also now incorporates and expands on the charts produced in the 2020 air capacity series 'Coronavirus Statistics Snapshot'. These are based on an analysis of OAG schedule data and include a weekly look at how the pandemic is impacting global flight levels in the world's largest markets; a week-on-week and year-on-year comparison of flight departures by geographical region and a look at how weekly capacity is trending: the latter comparing levels to 2020 and also to the 2019 baseline performance.
HEADLINE FIGURES FOR WEEK COMMENCING 09-Aug-2021:
Departure frequencies down-5.29% versus last week; up+25.96% versus 2020 and down -34.33% versus 2019.
Seat capacity down -6.53% versus last week; up +27.07% versus 2020 and down -36.05% versus 2019.
CHART: Week-on-week change in flight departures by region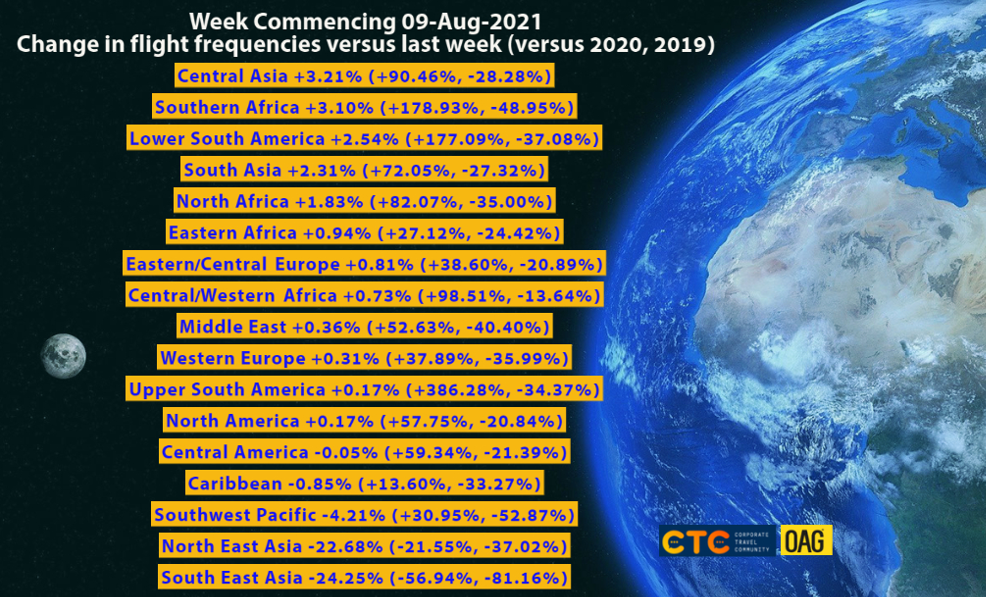 CHART: Year-on-year weekly departures performance for world's top 30 markets versus 2019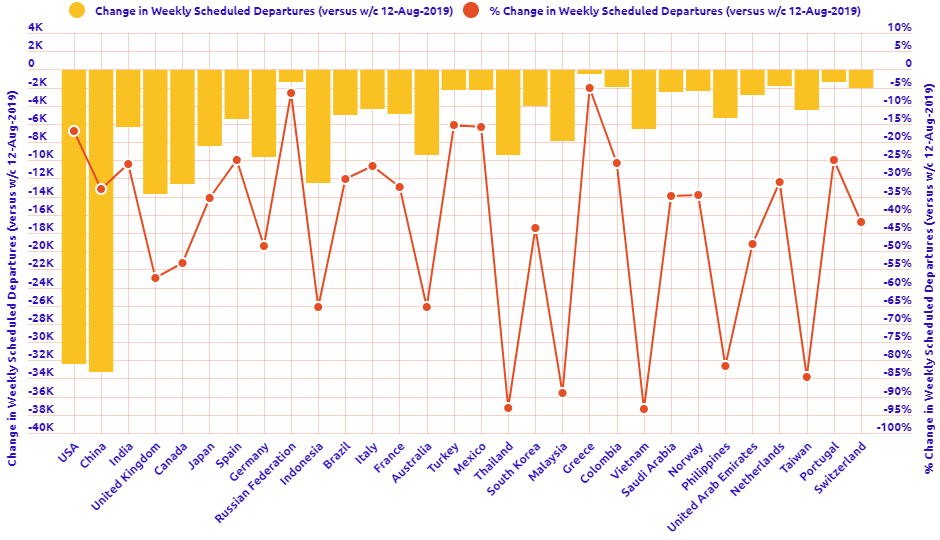 CHART: Year-on-year weekly departures performance for world's top 30 markets versus 2020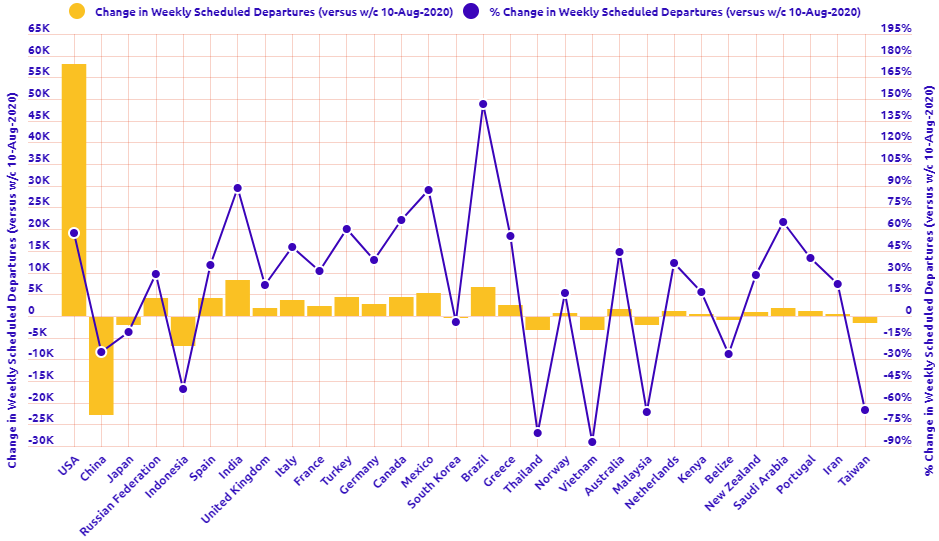 CHART: Departure capacity trends with year-on-year performance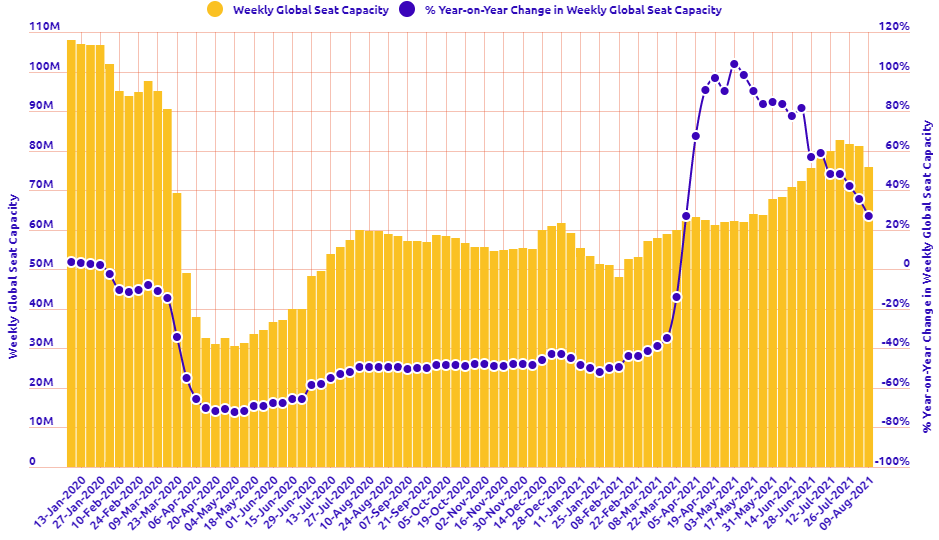 CHART: Departure capacity trends versus 2019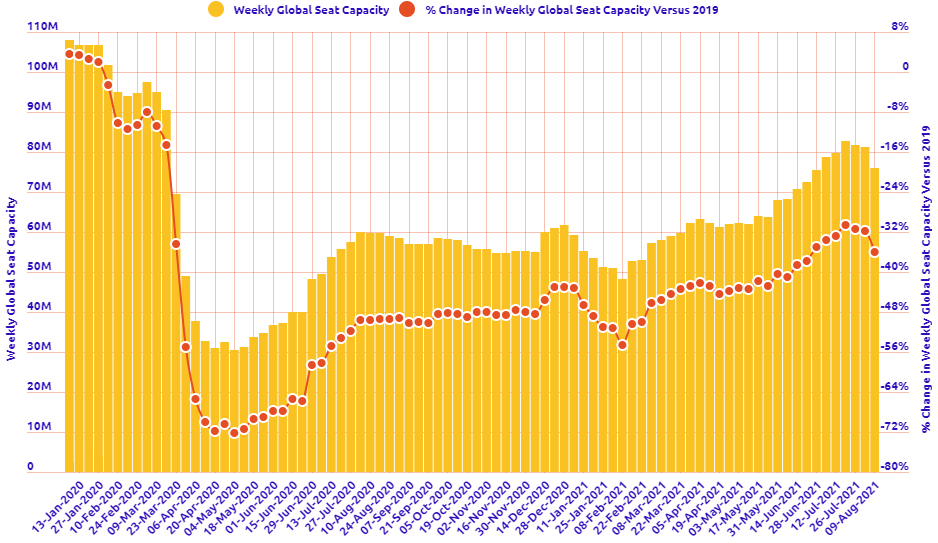 CHART: The world's biggest aviation markets by departure seats